Case Study: Blue Planet Enterprise helps Ciena automate its IT network
Paul McCluskey, Vice President, Blue Planet, gives insight into how the Ciena IT team was able to address some of their most difficult network challenges using the new Blue Planet Enterprise Automation Suite (BPE), and how the BPE solution can help enterprises automate and simplify their network operations.
For some time now, the Blue Planet team has had great success helping Communication Service Providers use intelligent automation to address some of their most difficult IT and network operations challenges. More recently, we've extended those proven capabilities to tackle the challenges facing enterprise network administration teams – and what better place to start than with our own IT team at Ciena!
Like most other enterprise IT teams, Ciena IT is responsible for all the myriad of tasks required to keep the company and its 7,000+ global employees operating efficiently. This includes the management of network infrastructure, which historically consumed a significant amount of time and attention. In fact, we are acutely aware that most configuration activities are still done manually today.
Thankfully, the Ciena IT team got some much-needed help from our new Blue Planet Enterprise Automation Suite (BPE). The suite consists of two separate yet related products which combine Network Configuration and Change Management (NCCM) and AI Operations (AIOps) capabilities to proactively eliminate most of the root-cause problems that impact network performance.
"BPE took less than 30 minutes to deploy across 900-plus devices in more than 35 locations."

- Babak Anvari, Senior Manager, IT Network Operations, Ciena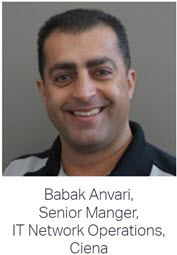 In 2020 – during a pandemic that was further straining the staff, the Ciena IT team began using early BPE releases on its production network – and the results were impressive. Babak Anvari, Senior Manager of IT Operations at Ciena with responsibility for network administration, spoke with me recently on what makes the BPE solution so much more effective than other products that they have tried in the past:
Rapid deployment: The first advantage that came to mind was rapid deployment. BPE took less than 30 minutes to deploy across 900-plus devices in more than 35 locations. Network inventory visibility and assessment came up quickly across subnets and IP address ranges. Replacement of SNMP strings was seamless, and the automation helped to avoid human error, while eliminating an identified security exposure.
Simplicity: Another noteworthy advantage was simplicity, including one-click reload of configurations. Babak commented that "BPE seems to have been designed by network administrators for network administrators, which makes it push-button simple" – a key point when pressure is on the team. Easily customized dashboards were also a hit with the team. "These user-configurable capabilities really make the solution our own – like a pizza where the admin team starts with a standard crust and can pick their own toppings."
Workflow integration: Point-and-click set-up also allows workflow integration with ServiceNow, Opsgenie, and other ITSM workflow automation tools Ciena IT uses. This allowed the team to use BPE when they need its specialized network capabilities for fault remediation or planning, without having a new UI to monitor.
Vendor-agnostic approach: The ability to seamlessly integrate with current infrastructure and systems was critical to the Ciena IT team, who use a wide variety of network devices and device types. BPE's vendor-agnostic approach protected these existing infrastructure investments and will provide freedom of choice as the network evolves.
AIOps-based approach: Babak also mentioned how impressed he is by the proactive possibilities offered in the AIOps-based approach that BPE provides: "Why wait for the flat tire to happen if BPE can see it coming and help us to change the tire in advance."
Now almost a year into its BPE deployment, the Ciena IT team has seen increased visibility and control with reduced operational costs.
The Unique Combination of Dynamic Visibility, Distributed Control and AI-driven Operations
The success that Ciena experienced with its BPE deployment provides a perfect case study for how enterprises can profit from intelligent network automation capabilities that had their origin in communication service provider networks. Making these new tools available in an enterprise-optimized package was the next step in the process.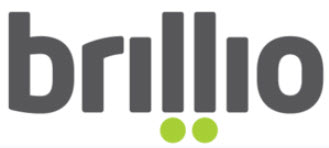 Our Blue Planet team is working closely with Brillio – a recognized leader in global digital business transformation and trusted by hundreds of Fortune 2000 organizations across the globe – to create the appropriate enterprise package. Together we are inviting enterprise teams who are interested in learning more about BPE to speak with our experts, request a demo, or start a free trial. Visit the Brillio microsite to learn more.
To build the package, we studied the problems that enterprise IT teams face. We realized the first order of business was to help them get a handle on the thousands of devices and software components, with multiple device types from different vendors, spread across huge geographical distances, all of which must work harmoniously together to deliver good-enough network service.
In response, we designed Blue Planet Enterprise to provide an accurate inventory of devices and network software, and to do this rapidly, with constant real-time updates, and with comprehensive views that include topology, path tracing, and geographic office location knowledge.
Once we accomplished this, we set to work on a solution to manage network software proactively, with easy-to-use network configuration control, which could in turn eliminate the ~80% of network problems that result from improperly configured network settings and human error.
We also knew that an AIOps approach was essential: network complexity creates a ton of data that can be overwhelming without automation to cut through the noise and find what matters – and then know what to do about it. Our AIOps approach provides technicians with push-button closed-loop remediation control to fix network problems effectively, based on rapid root-cause analysis of the most common incidents in networks. This enables even less experienced network administrators to confidently overcome and avoid persistent network problems that can otherwise tie up admin time and attention.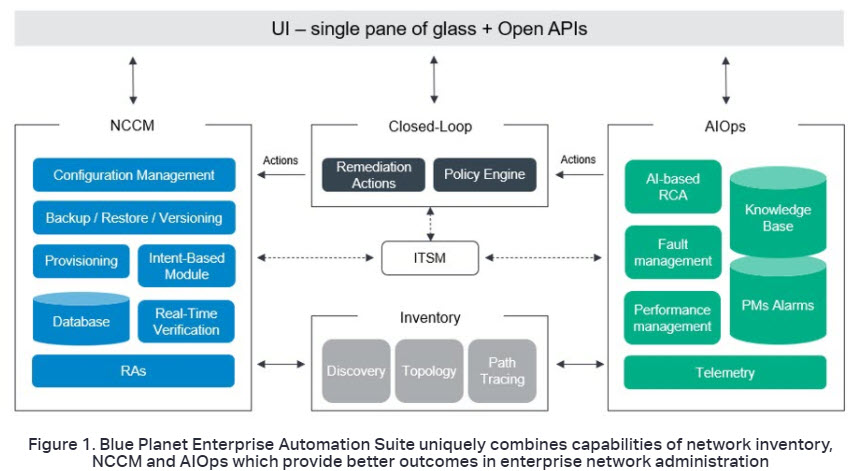 Finally, we had to make the Blue Planet Enterprise Automation Suite available in a package that made business sense for the enterprise as a whole, not just the IT team. To this end, BPE is offered from the cloud in a SaaS-based pay-as-you-go model that enables easy evaluation and deployment, as well as cost-effective scale and agility.
The time to automate is now.