Automate the design and provisioning of new MPLS services
In today's fast-growing and evolving telecom world, demands on MPLS services are increasing. Financial organizations are looking for gold priority for latency-sensitive applications. Broadcast networks are asking for temporary connectivity with the lowest delay and jitter. Mobile operators require 5G network slices with stringent QoS. And today's customers aren't willing to wait for these tailored MPLS services with explicit constraints. They're expecting MPLS service activation in hours—not weeks or months.
How would you like to design and provision new constraint-based MPLS services in minutes?
Blue Planet MPLS Network Automation is a vendor-agnostic, intelligent automation solution that can help you automate the planning, provisioning, and activation of MPLS services and their RSVP-TE or Segment Routing tunnels. Built on top of the Blue Planet Route Optimization and Analysis (ROA) and Blue Planet Multi-Domain Service Orchestration (MDSO) products, this solution also helps you gain real-time visibility into MPLS services performance, as well as automate the optimization of IP/MPLS networks to avoid or alleviate congestion issues and assure service delivery.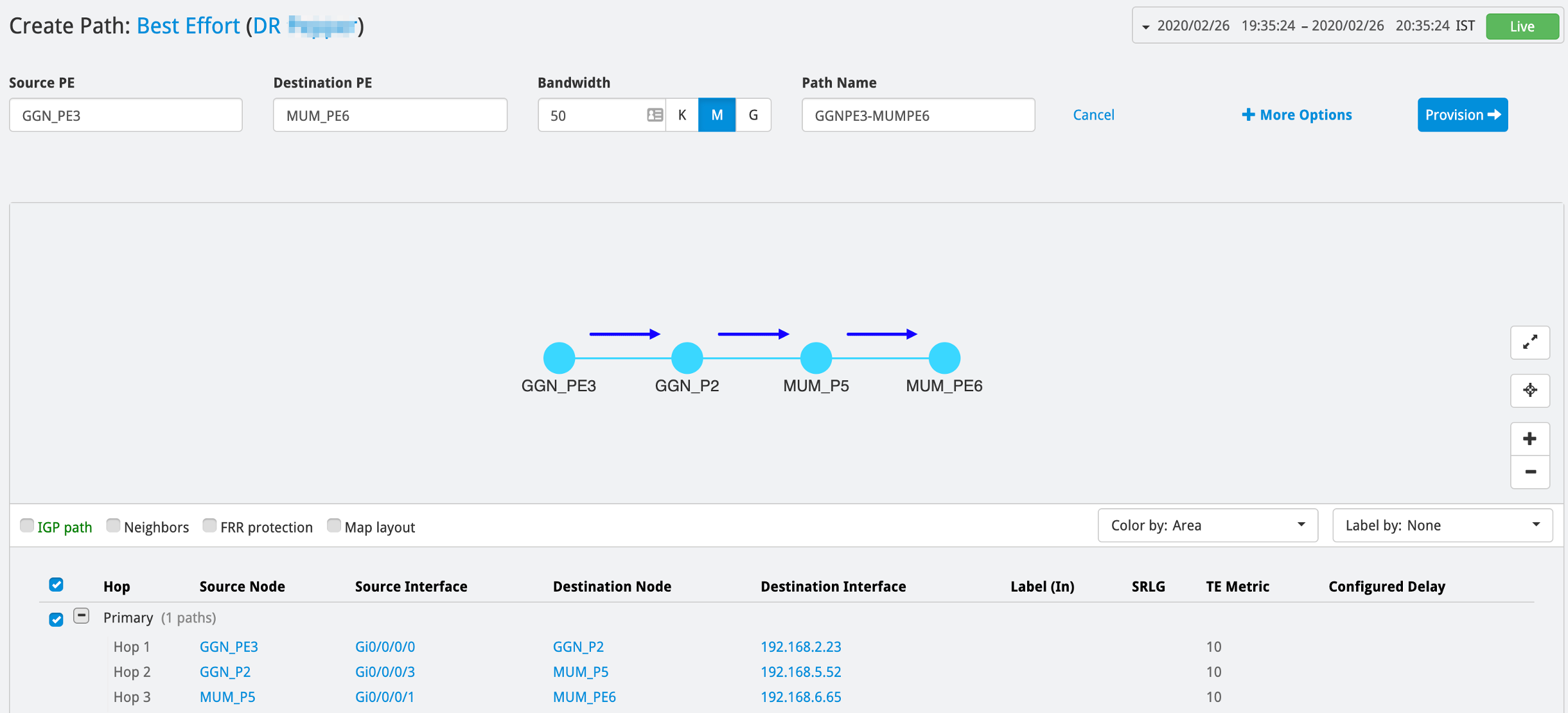 Business benefits

Increase competitiveness and accelerate time to revenue by activating new MPLS services in minutes, not weeks or months

Reduce design and provisioning OPEX by 95%—and cut down on human errors—through intelligent automation

Increase revenue by offering new transient, on-demand services enabled by rapid, cost-effective provisioning

Lower CAPEX through more efficient resource utilization while avoiding or alleviating congestion based on analytics and policy-based path computation

Reduce SLA violations, increase customer satisfaction, and reduce customer churn by meeting service constraints

Accelerate the migration to Segment Routing without disruption and overbuilds
Blue Planet MPLS Network Automation
Service providers need the ability to design and provision new MPLS services as quickly as possible. But the dependency on manual processes makes this challenging. In this demo video, we show how you can use the Blue Planet MPLS Network Automation solution to automate the design and provisioning of a TE tunnel, and accelerate the delivery and time to revenue for new MPLS services.
SOLUTION BRIEF
MPLS Network Automation
Learn more about the MPLS Network Automation solution and its capabilities.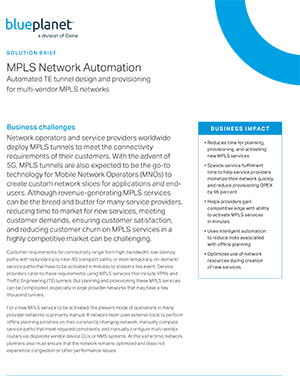 Request a personalized demo
Ask for a personalized demo to understand how Blue Planet MPLS Network Automation can help YOU and YOUR network.
Get started now