Open by Design
Blue Planet is a long-time champion of openness and standards, which are critically important in accelerating innovation, achieving operational scale, and enabling profitable new business models. Our commitment to these principles is evident in all we do, especially in our support for—and contributions to—multiple open-source projects and standards initiatives.
Blue Planet's cloud-native microservices- and container-based architecture easily incorporates open-source components, and we currently integrate over 30 best-in-class open-source software elements, including Docker containers, the Open Networking Automation Platform (ONAP) policy framework, a Kafka messaging bus, the Cassandra database, and the Angular user interface, to name just a few. Additionally, the Blue Planet DevOps Toolkit and DevOps Exchange Community leverages open-source tools that help our customers easily onboard resources and define new services.
Blue Planet also collaborates with global service providers and others to develop open standards that promote interoperability. We regularly participate in TM Forum, MEF, ETSI, and 3GPP initiatives, and we have publicly demonstrated support for TM Forum Open Digital Architecture/NaaS and an ever-expanding set of TM Forum Open APIs. We also contributed to the development of the MEF Lifecycle Service Orchestration (LSO) Open APIs related to Legato and Sonata.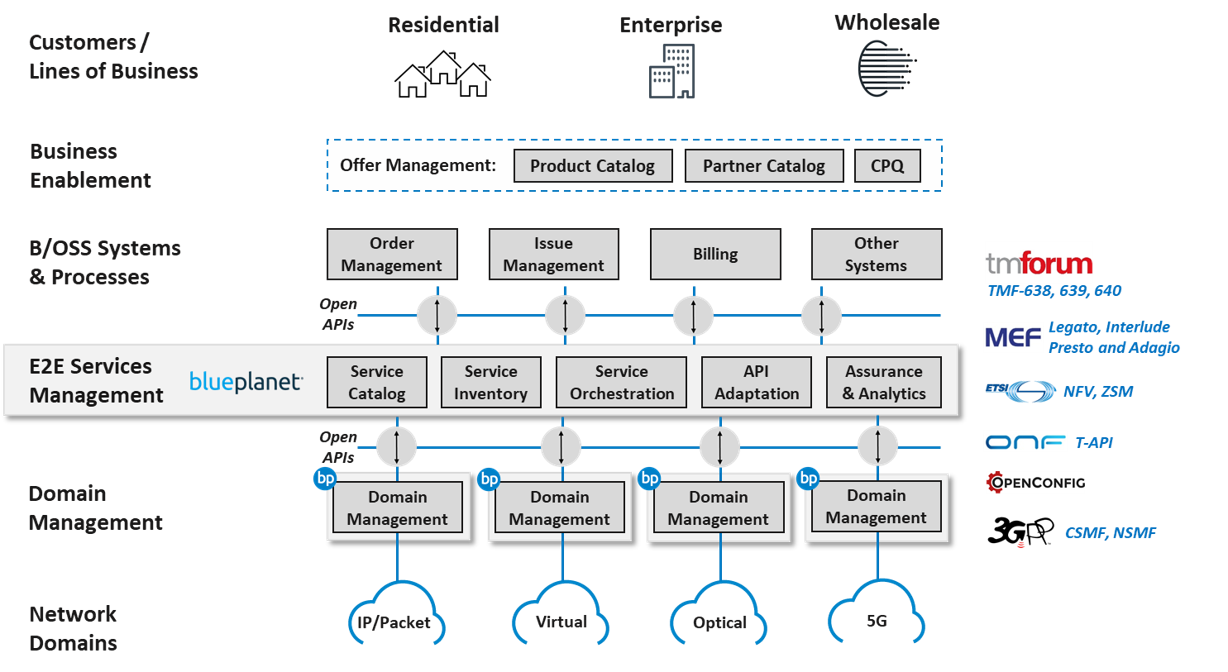 Benefits of Blue Planet's Open, Standards-based Approach to Intelligent Automation

Simplify Interoperability
Our commitment to openness and standards promotes multi-vendor interoperability, which helps CSPs avoid vendor lock-in and bring new solutions to market with speed and efficiency.

Business agility
Support for standardized reference architectures and open APIs accelerates automation initiatives and enables the efficient introduction of new products, services, partnerships, and business models that increase market appeal and competitive differentiation.

Innovation velocity
Modern cloud native microservices- and container-based architecture easily integrates open-source software components and open APIs, which accelerates the development of innovative solutions that directly benefit your customers and your business.

Freedom of choice
Support for open APIs and other standards speeds deployments and simplifies interoperability, helping you avoid the costs, delays, and risks associated with proprietary code development and vendor-lock-in.
Today, Blue Planet continues to work alongside network operators, our partners, developers, and the broader CSP community to create and improve open-source software and advance and validate open standards that address the industry's most urgent business challenges.
Get started now