A
Open by Design
Ciena has long been an advocate of openness – it is Ciena's guiding principle for enabling customer choice. As networks scale to meet explosive traffic demand, it is all the more critical to provide open APIs so that network operators can rapidly grow and evolve their networks, utilizing technologies of their own choice.
By design, Ciena's Blue Planet intelligent automation platform is architected with open, published REST APIs for ease of integration with operational support systems (OSS) such as order management and inventory systems, business applications and customer portals. This enables our customers to rapidly develop new network services, evolve their end-to-end network operations, and move to a more agile, adaptive network.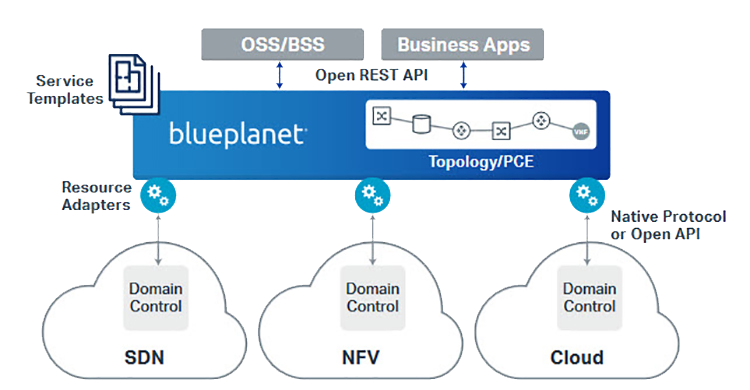 Resource Adapters for Flexible Integration
Of course, not all the network elements and resources that comprise a service support communication via open APIs. Blue Planet's Resource Adapters (RAs) provide the open southbound interfaces between the Blue Planet platform and the underlying multi-vendor resources, whether they are physical or virtual. RAs are highly flexible, supporting a variety of native protocols including CLI, TL1, SNMP, NETCONF/YANG, and REST API for connecting to domain controllers, network management systems, or directly to network elements. Ciena is continually building up its library of RAs to support third party network devices and systems.
Advancing Open Industry Standards
It is well recognized that open standards lead to more rapid innovations across the entire ecosystem. Ciena is doing its part to advance these efforts within industry forums, such as MEF, ONF and TM Forum. Open standards-based APIs, which enable automation, are most critical for inter-carrier service delivery, which currently involve lengthy and complex processes. Ciena is actively collaborating in winning proof of concepts that prove out APIs, based on the widely adopted MEF Lifecycle Service Orchestration (LSO) Reference Architecture. The Blue Planet intelligent automation platform participates in Allegro, Legato, Presto and Interlude interfaces.
Another active area of standardization, across ITU, MEF, OIF, and ONF organizations, is the Common Information Model (CIM). This works aims to define a common way of modelling a network, using Unified Modeling Language (UML), so that interface specifications would be derived directly from the CIM, and APIs could be machine generated. Ciena is engaged in these efforts to bring even more programmability to network operations.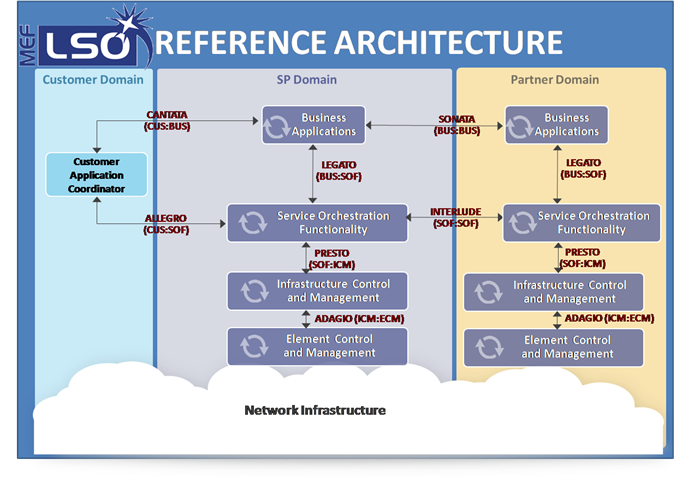 Rapid API Integration with Ciena's Emulation Cloud
Customers, partners and system integrators can leverage Ciena's Emulation Cloud virtual environment in order to quickly develop and test applications that interface with Blue Planet APIs, and do so cost-effectively. Because it is hosted in the cloud, the Emulation Cloud provides users the ability to integrate with Blue Planet's open APIs, without first having to build up their own physical lab environment. It also allows easy, web-based, 24 x 7 access from anywhere in the world. Now that's open!

Get started now