Automated slice lifecycle management for 5G
Delivering on 5G's promise to drive the next industrial revolution—one that could produce $13.2 trillion worth of goods and services and create 22 million jobs1—hinges on building agile and performance-driven 5G networks that consumers and industries can rely on to support their digital transformations. To achieve this, Mobile Network Operators (MNOs) need to establish an accelerated path to vendor-agnostic zero-touch networks and slice lifecycle automation.1Omdia (IHS Markit)
Destination 5G: Your path is finally open
With Blue Planet's standards based, vendor-agnostic 5G Automation solution, MNOs can finally apply zero-touch and automated slice lifecycle management to plan, design, and activate customized End-to-End (E2E) network slices that cater to new verticals, business models, and demands. There's now an open path on the journey to 5G. One that gives operators the ability to quickly and efficiently build and operate multi-vendor networks like never before.
"A key ingredient to 5G transition is building an open-standard based SDN/NFV network driven by intelligent automation. And when a full stack 5G network is in place, end-to-end network slicing is crucial to its commercial success. Network slicing will enable faster monetization of the 5G network."
Stéphane Téral, Technology Fellow – Telecommunications
Mobile Infrastructure and Carrier Economics
IHS Markit | Technology, now a part of Informa Tech
Network Slicing
The ability to quickly create E2E network slices that support custom requirements from applications, services, users—or even an industry—is critical to the success of your 5G network. Whether you're creating new slices or updating existing slices with more resources, your customers expect delivery in minutes – not days or weeks. The Blue Planet Network Slicing solution supports zero touch slice lifecycle automation that enables you to automate the creation, modification, and deletion of network slices—in minutes, as desired by your customers.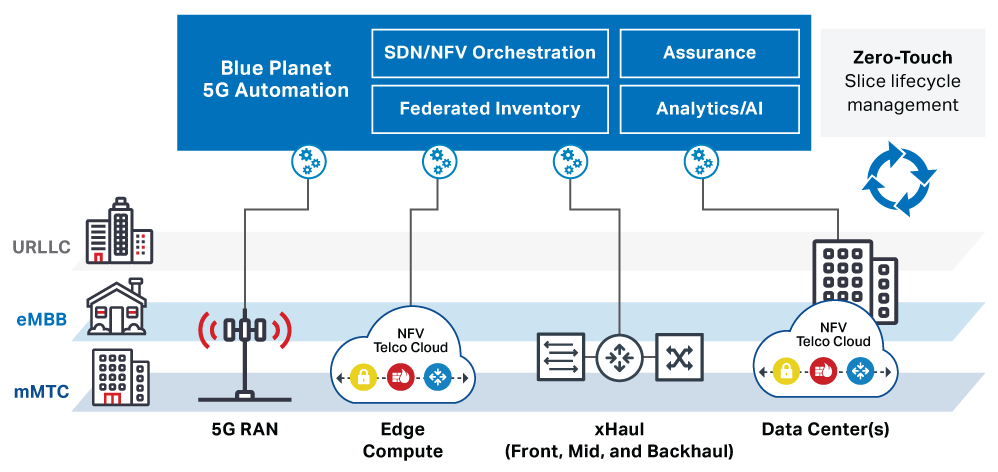 Built using capabilities from the Blue Planet Intelligent Automation Portfolio, this standards-based solution supports the orchestration of network resources for your entire multi-vendor 5G network—from the xHaul and Radio Access Network (RAN) to the 5G core.
Demo: Network Slicing with Blue Planet 5G Automation
In this demonstration, we showcase how you can use Blue Planet 5G Automation solution to enable Zero-Touch slice lifecycle management, and automate the design, creation, modification and monitoring of different end-to-end network slices across a multi-domain 5G infrastructure.
Dynamic Planning
Blue Planet 5G Automation incorporates dynamic planning capabilities to help simplify, optimize and accelerate 5G network buildouts —based on clear visibility of existing network and service resources, at any point in time. Leveraging Blue Planet Inventory (BPI) and Inventory and Network Synchronization (INS), you can anticipate, scale and adapt to meet ever-changing customer needs in a 5G world.
Blue Planet Dynamic Planning Demos
These demos show how you can evolve your network to 5G Non-Standalone (NSA) mode and onto 5G Standalone (SA) architecture, simply and efficiently.
Business benefits

Faster delivery of customized, SLA-based services to increase your revenue and differentiation by enabling a new user experience

Zero touch slice lifecycle automation simplifies operations, while reducing time to market for delivering new 5G network services

Flexible, vendor-agnostic solution built on GSMA and 3GPP standards supporting for TMF open APIs

Enable efficient and optimized use of your valuable network resources with better insights and planning

Use intelligent automation to gain an advantage in an evolving and highly competitive landscape

Quickly meet customer demands, ensure customer satisfaction, reduce churn, and increase revenue with a reliable and scalable 5G network
Read how Blue Planet 5G Automation can help accelerate your journey to network slicing and zero-touch slice lifecycle management.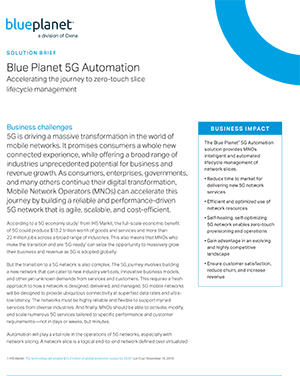 Request a personalized demo
Learn more about the Blue Planet 5G Automation solution and how it can help with your transition to 5G networks.
Get started now