State of the Art 5G Automation Solutions
Blue Planet's open, modular, and cloud-native 5G Automation solutions—which include Dynamic Network Inventory, Network Lifecycle Automation, and Network Slicing—accelerate every step of your 5G journey. . All of our standards-based, vendor-agnostic solutions include well-defined professional services to ensure successful outcomes, and can be flexibly deployed in the cloud or consumed in a SaaS model in full alignment with your business goals.
Blue Planet: A trusted intelligent automation partner for your 5G journey
Dynamic Network Inventory
Streamline 5G network planning
Destination 5G: Your plan for success
Blue Planet's Dynamic Network Inventory solution unifies hybrid resources and service data across multiple domains and systems to visualize the placement of physical and cloud-native resources and end-to-end service topology. This helps you accelerate 5G network planning, and anticipate and respond to evolving customer requirements.
Dynamic Network Inventory gives you the critically important data that you need to successfully plan your 5G services. Comprehensive and clean inventory data is the necessary first step to automate your 5G network and service operations, and provides the foundation for all your OSS modernization efforts.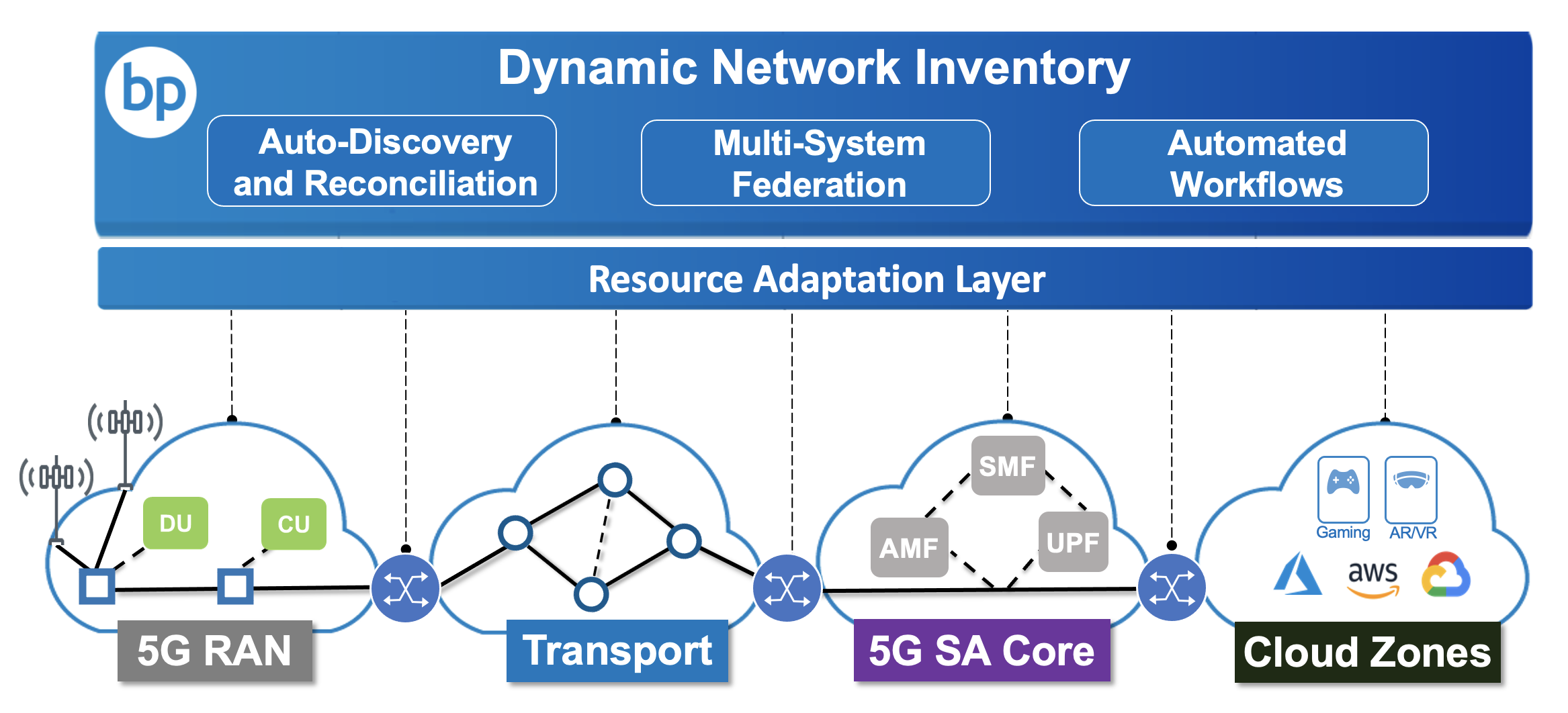 Business benefits

Auto-discovery and reconciliation capabilities improve data accuracy and quality by identifying and correcting discrepancies between active network resources and off-line inventory systems

Multi-system federation unifies data from multiple different vendor and domain specific data sources into a single pane of glass, eliminating inefficient 'swivel chair' management

Guided operations automate your planning processes across the RAN, transport, and 5G Core, enabling faster, better decisions and eliminating slow and error-prone manual processes
VIDEO
Dynamic Network Inventory demo
See how Blue Planet Dynamic Network Inventory unifies operational data from multiple sources to create a 'single source of truth' for your 5G network.
Network Lifecycle Automation
Zero-touch 5G network lifecycle management
The Blue Planet 5G Network Lifecycle Automation Solution provides zero-touch network lifecycle automation that streamlines resource deployment, configuration, and activation from RAN to 5G Core to cloud. The solution improves sustainability and increases operational scale across complex multi-vendor and multi-cloud networks.
.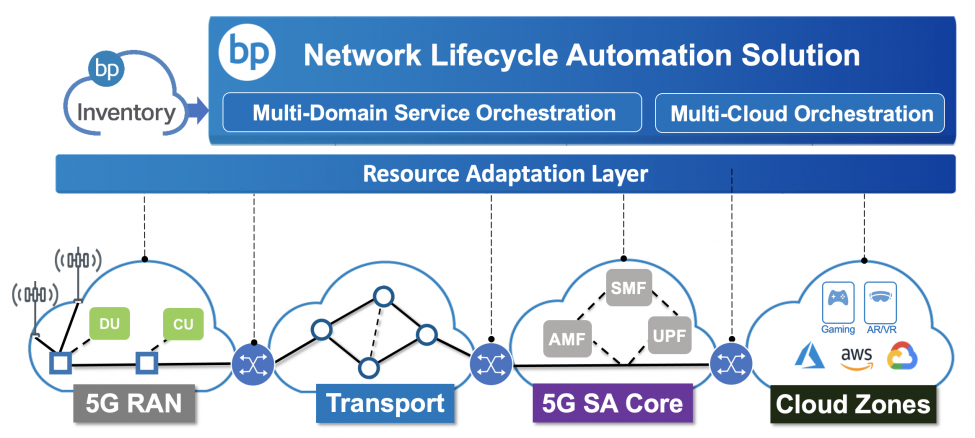 Business benefits

Promotes network evolution and avoids lock-in via an open, vendor-agnostic approach

Automates the optimal placement and deployment of Cloud-based Network Function / Virtual Network Function (CNF/VNF) resources in any Kubernetes-based cloud or data center, which reduces OPEX and improves sustainability

Simplifies troubleshooting with network / resource / service correlation and visualization
Network Slicing
Automated end-to-end slice lifecycle management
Destination 5G: Your path to monetization and ROI
Our 5G Network Slicing solution helps you fully monetize your 5G investments, letting you cater to new vertical markets, business models, and customer demands.
Blue Planet combines advanced multi-domain orchestration, AI-driven analytics, and ML-guided assurance software with well-defined professional services to provide a world-class zero-touch slice lifecycle automation solution end-to-end across complex multi-vendor and multi-cloud networks.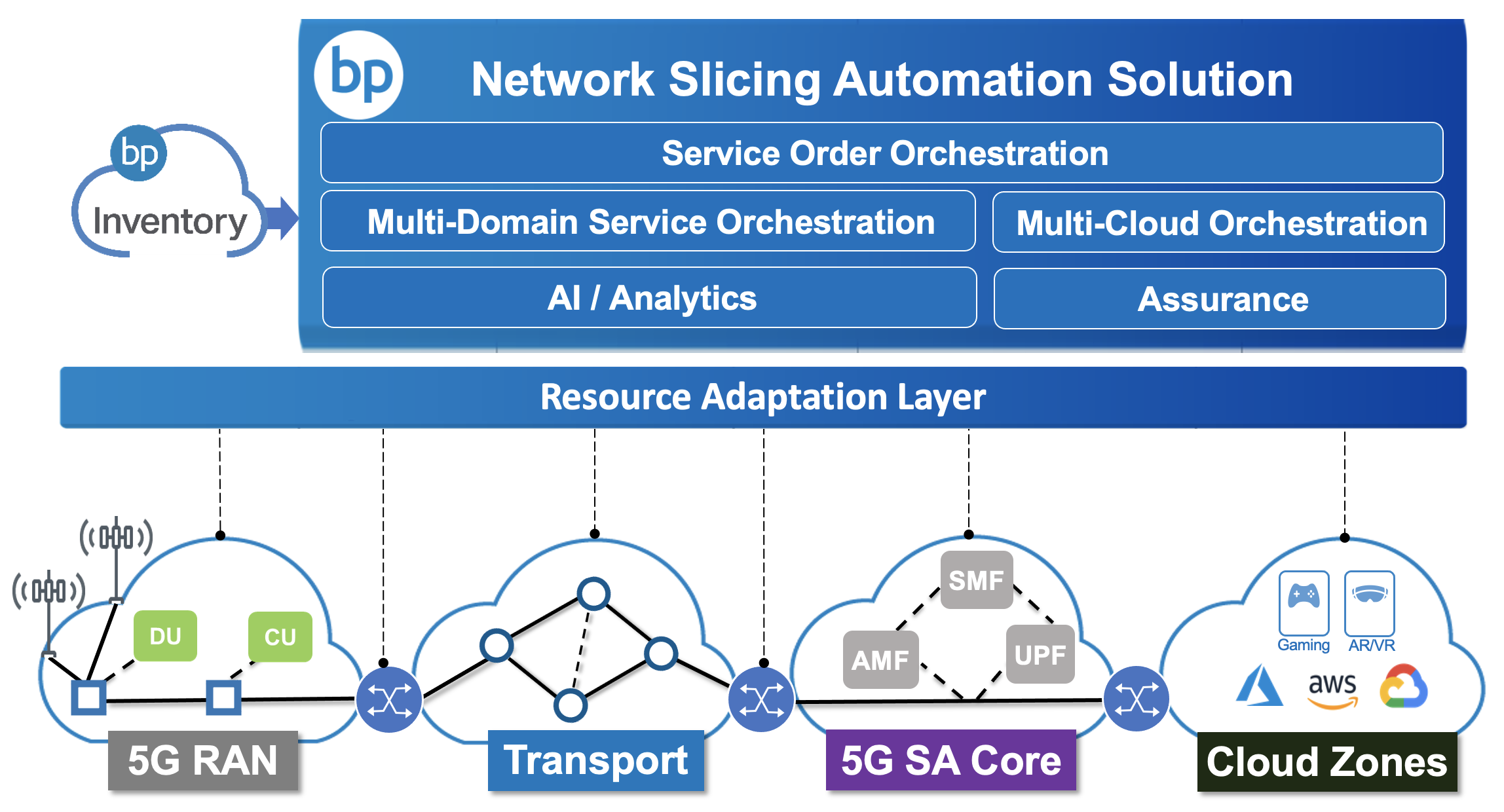 Business benefits

Accelerate time-to-market—and time to revenue—for compelling new on-demand slice-based services

Ensure multi-vendor interoperability with our 3GPP compliant solution and TMF Open API support

Protect SLAs and improve Net Promoter Scores (NPS) with automated slice monitoring and assurance
Blue Planet Network Slicing Demonstration
Watch Blue Planet's zero-touch slice lifecycle automation in action!
Read how Blue Planet's 5G Automation can help accelerate your journey to network slicing and zero-touch slice lifecycle management.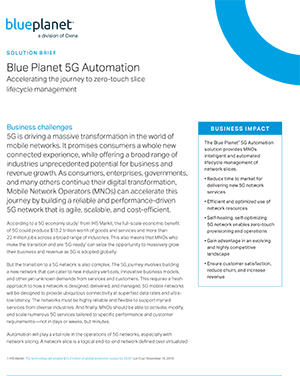 Request a personalized demo
Learn more about the Blue Planet's 5G Automation solution and how it can help with your transition to 5G networks.
Get started now