Network lifecycle automation: Overcoming 5G complexity for scale and profitability
5G promises new and innovative digital experiences for consumers and enterprises alike, but building and maintaining service-ready 5G networks is proving too slow and expensive for many network operators. Balaji Subramanian, Senior Director of Product Line Management at Blue Planet, explains how network lifecycle automation is helping forward-looking Communications Service Providers (CSPs) break free from the constraints of legacy approaches to operations and achieve their business goals.
The 5G journey continues
While CSPs have successfully rolled out over a billion 5G connections, they are still in the early stages of the 5G journey. Focus is now shifting beyond consumer markets, traditional RAN, and 5G Non-Standalone to 5G Standalone (5G SA), Open RAN, and cutting-edge enterprise use-cases that offer greater efficiency, agility, and scale, as well as exciting new business models and revenue opportunities.
As CSPs evaluate these innovative technologies and services, they are challenged by complexity every step of the way. This is due in part to the highly virtualized and cloudified nature of advanced 5G networks, with resources that span multiple domains and multiple clouds, which legacy operational support systems (OSS) struggle with when attempting to support critical plan-to-build, order-to-service, and trouble-to-resolve processes.

When complexity is the enemy, automation is your ally
For CSPs, overcoming this complexity is essential to realizing the full potential of their 5G investments – and automation holds the key. While automation can take many forms, individual processes are often automated in a piecemeal fashion, targeting specific pain points. 5G adoption provides CSPs the opportunity to do things the right way from the start.
In that spirit, I am encouraged to see network operators increasingly seeking automation solutions that holistically address the entire 5G network lifecycle - from planning and resource placement to Day 0 / Day 1 deployment and configuration to network monitoring and troubleshooting.
Importantly, the benefits of replacing cumbersome legacy OSS, vendor-specific automation tools, and manual operations processes with state-of-the-art automation go beyond saving time and money. It also increases revenue potential by enabling on-demand services and network slicing at scale.
Automating the network lifecycle
The first step in automating the 5G network lifecycle is to gather accurate and complete inventory data. The importance of clean inventory data in any automated process cannot be overstated. As experts in automation, Blue Planet recognized early on that you can't automate what you can't see.
Among many other uses, this inventory data is needed to plan the deployment of virtualized resources (Cloud and Virtual Network Functions (CNFs/VNFs)) in the RAN and 5G SA Core. Once the available infrastructure components have been identified, a path computation element can dynamically select the ideal location to deploy the resources. Optimal resource placement increases network efficiency, and by automating these initial steps, CSPs can reduce deployment preparation time by 90% or more versus traditional information gathering and planning processes.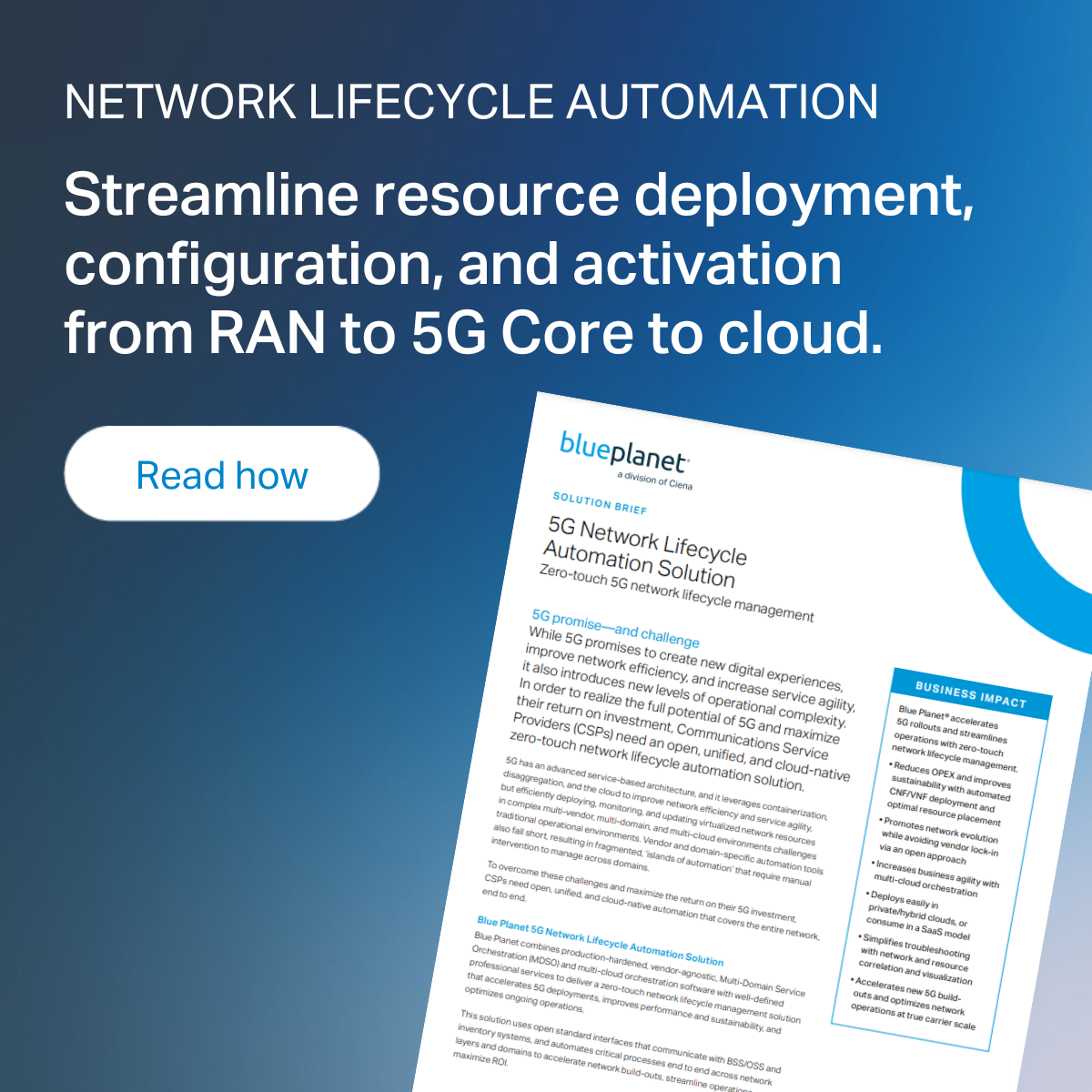 Automation can then be used to deploy, configure, and activate resources, which eliminates many hundreds of tedious, error-prone manual tasks that can easily overwhelm your technical staff. You will also need the business flexibility to deploy resources in multiple different clouds in the future, so multi-cloud orchestration capabilities should be high on your list of priorities.
Once your resources are activated, and you have a service-ready network, you can apply automation to simplify 5G network slicing. Network slicing lets you meet the latency, performance, and reliability requirements of different applications, services, and customers, making it perhaps the most strategic aspect of 5G by helping you create and monetize a wide range of services.
Automation not only overcomes the complexity of designing, activating, and assuring network slices end-to-end across your 5G network, it also makes it possible to offer premium on-demand services that customers can order from a self-service portal. And leveraging automation, these services can include any mix of applications in your partner ecosystem to help you fully monetize your 5G investments by targeting new vertical markets, and business models, to meet customer demands.
Finally, when resources or slices are no longer needed, automation can efficiently and dynamically de-activate them, and return them to the network inventory for re-use in the future. This optimizes your network investment by eliminating idle capacity and avoids using expensive manual intervention.
Lessons learned
Blue Planet has participated in 5G trials and operational deployments with some of the world's largest CSPs, and automation has consistently proven to be a key ingredient to success.
Whether you're implementing a complete 5G network lifecycle automation solution, or using multiple automation products to build a solution incrementally, keep these three software requirements in mind:

We have witnessed first-hand how traditional operational approaches fail to meet the challenges posed by virtualized and disaggregated resources and real-world multi-vendor, multi-domain, and multi-cloud 5G environments.
As you consider the next steps of your 5G journey, please take some time to talk with us at Blue Planet and learn how automation can help you tame complexity to accelerate and streamline your efforts and how our 3GPP-compliant, vendor-agnostic 5G automation solutions can help you reach your technical and business goals.