Ushering in unified multi-layer network management
Customers are demanding faster activation of new transport services and better service delivery assurance from network providers. But for network providers, doing this in multi-layer networks that consist of both IP/MPLS and optical layers is complex and time-consuming. Multi-layer networks have diverse network teams working in silos and managing each layer separately with little or no coordination between them. As a result, it takes weeks to months to do the planning and path computation required to activate a new service and many hours for service assurance—all leading to SLA violations and unhappy customers.
Would you like to avoid the finger-pointing between your different network teams and gain unified, single-pane-of-glass visibility into your multi-layer network?
Blue Planet's Multi-Layer Topology Insight (MTI) does this for you. A key use case that combines Blue Planet Route Optimization and Analysis (ROA) and Blue Planet Orchestration (BPO) products, MTI delivers unified visibility from Layer 0 to 3 in a single-pane-of-glass view. The unified view from MTI helps you quickly understand your multi-layer network without swivel-chair management or awaiting reports from different teams. You can see the IP overlay and the optical underlay and drill down up to Layer 0. This unified view adds agility, speed, and accuracy to network planning, service provisioning, and root-cause analysis.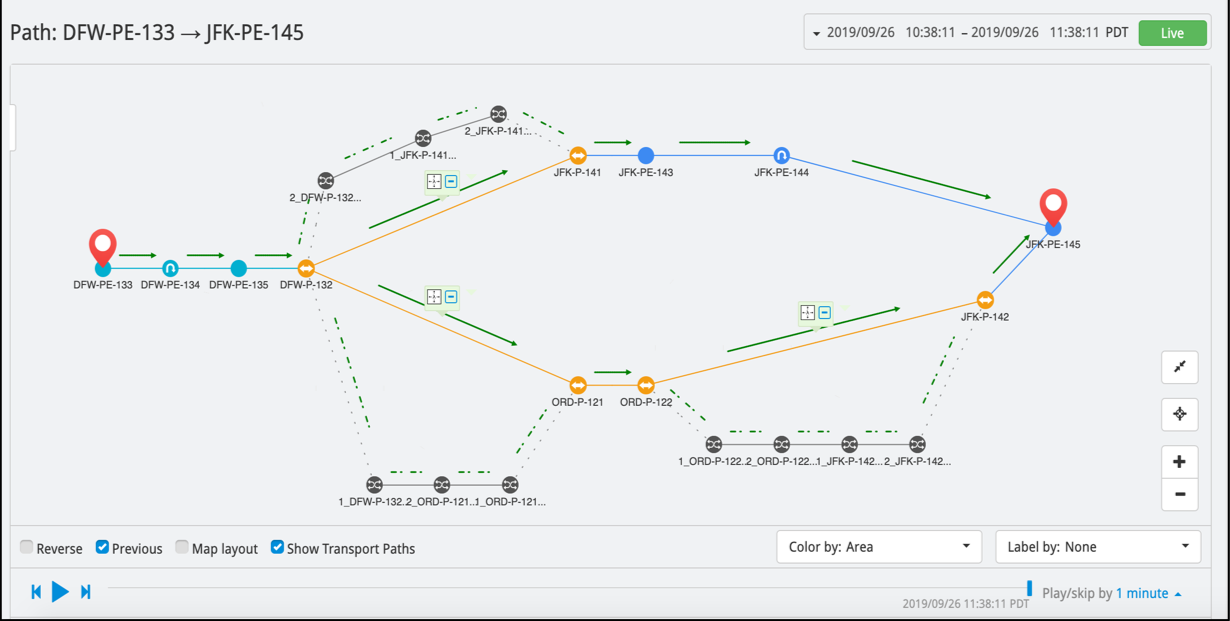 Multi-Layer Topology Insight provides single-pane-of-glass visibility into your multi-layer networks with real-time and historical insights to IP and optical paths.
Features
Vendor-agnostic correlated visibility in a single-pane-of-glass for your multi-layer network—from Layer 0 to 3
Unified and correlated view of optical underlay and IP/MPLS overlay
Analysis and troubleshooting of cross-layer network issues
Enables optical-aware provisioning of TE tunnels (with Blue Planet's MPLS Network Automation Solution)
Benefits
Accelerates network planning, optimization, and configuration changes
Better understanding of how changes or downtime on one layer impacts the other
Faster troubleshooting without finger-pointing between different network teams
Provides insights to speed up provisioning of new services
INFOBRIEF
Multi-Layer Networking
Read how Blue Planet MTI can help in the operations and management of your multi-layer network.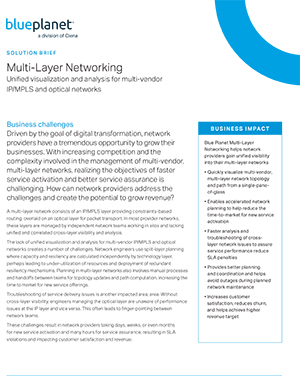 Learn more with a personalized demo
To learn more about MTI and how it can help you and your network, ask for a personalized demo.
Get started now