What is dynamic network inventory?
Dynamic network inventory unifies hybrid resources and service data across multiple domains and systems to streamline your operations and reduce complexity. It helps drive the automation of operational processes and lays the foundation for your OSS modernization journey.
New networks and services— like 5G, edge cloud and next-gen broadband—being delivered by Communications Service Providers (CSPs) rely on a mix of physical and cloud-based resources that are distributed across multiple domains and vendors. Planning and operating these hybrid services creates new requirements for the network inventory management systems that support them. All network resources and the end-to-end service topology must be visualized across domains in a single view that accurately reflects the current state of the network.
A huge challenge for CSPs is that most of their legacy inventory systems were designed to operate in domain silos (see Figure 1). Using a 5G network as an example, radio access networks (RANs), transport networks, standalone 5G core networks, and other domains all have their own network inventory systems and processes. This means that the operational data needed to manage these hybrid resources, and visualize the end-to-end services topology is fragmented. Operations personnel need to manually correlate data and ensure that actions taken in one system trigger the correct next action in another. This slows planning, fulfillment, and assurance processes and limits the CSPs ability to support highly dynamic services like 5G.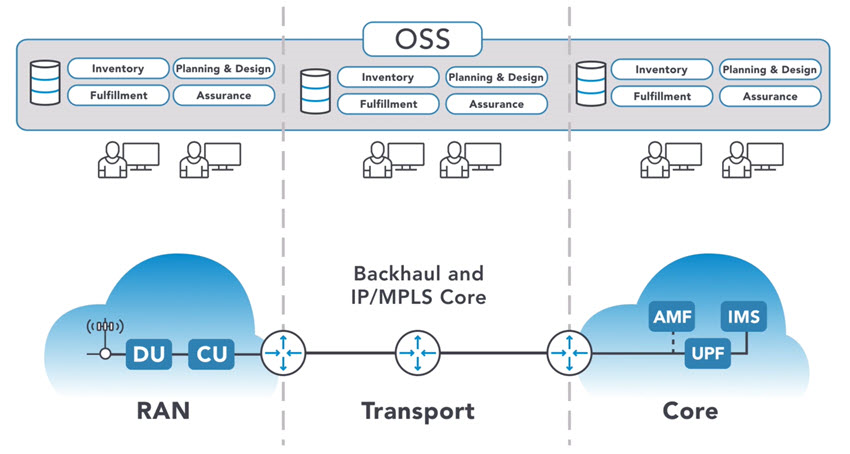 How can dynamic network inventory simplify planning?
Dynamic network inventory provides a comprehensive, end-to-end view of the resources needed to plan the deployment of new infrastructure like cell sites and fiber nodes in a Passive Optical Network (PON), as well as to manage capacity. This is critical for delivering dynamic services like 5G, including network slicing.
With dynamic network inventory, you can optimize the placement of network functions and capacity across multiple domains to support 5G network planning and design decisions (see Figure 3). The ability to visualize the physical and cloud-native resources that comprise a service such as Distributed Units (DUs) and Radio Units (RUs), as well as the end-to-end 5G service topology, helps simplify "Day 0" network planning and accelerate your 5G deployments.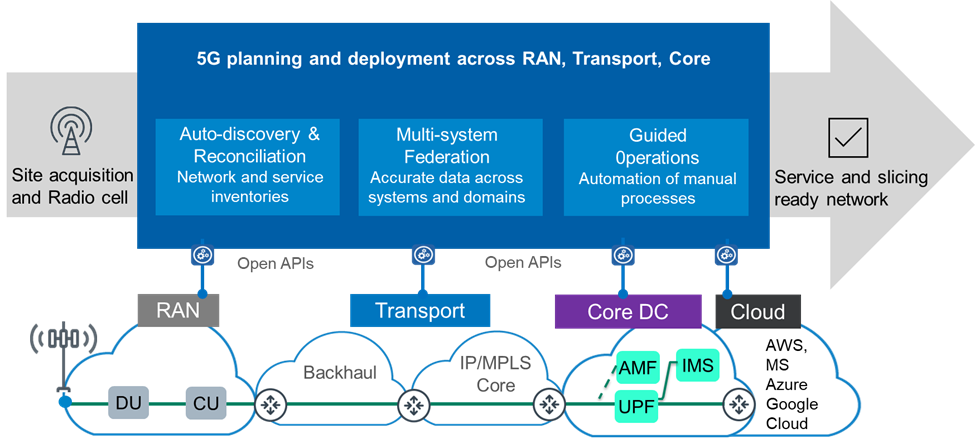 How Blue Planet can help
The MDSO capabilities provide an open software layer that eliminates management silos and enables network operators to automate end-to-end service provisioning and orchestration. With open APIs and model-driven templates, Blue Planet integrates with third-party SDN controllers, element/network management systems, and orchestration platforms to manage and orchestrate services composed of physical and virtual resources across multiple technology and vendor domains.
Blue Planet Inventory (BPI) is an open and multi-vendor solution that addresses your need to modernize without creating a new customized solution. It provides a unified, dynamic view of your hybrid resources and services across multiple domains to streamline your operations and reduce complexity. BPI's proven auto-discovery and federation capabilities leverage state-of-the-art graph database technology to accurately model and visualize complex, dynamic networks, enabling automated workflows to simplify and accelerate business processes. And because BPI is productized and cloud native by design, you can avoid extensive ongoing customizations to gain the deployment flexibility and operational agility you need to take advantage of new technologies and stay ahead of the competition.
Learn more about Blue Planet Inventory.
Get started now