What Is Network Slicing?
Network slicing is a method of creating multiple unique logical and virtualized networks over a common multi-domain infrastructure. Using Software-Defined Networking (SDN), Network Functions Virtualization (NFV), orchestration, analytics, and automation, Mobile Network Operators (MNOs) can quickly create network slices that can support a specific application, service, set of users, or network. Network slices can span multiple network domains, including access, core, and transport, and be deployed across multiple operators.
Network slicing, with its myriad use cases, is one of the most important technologies in 5G. It will support new services with vastly different requirements—from a connected vehicle to a voice call, which require different throughput, latency, and reliability.
The use cases identified for 5G and network slicing fall into three major categories:
Extreme (or enhanced) Mobile Broadband (eMBB). These applications are very video-centric and consume a lot of bandwidth and will generate the most traffic on the mobile network.
Massive Machine-Type Communications (mMTC). This is more commonly known today as the Internet of Things, but at a much larger scale, with billions of devices being connected to the network. These devices will generate far less traffic than eMBB applications, but there will be many magnitudes more of them.
Ultra-reliable Low-Latency Communications (urLLC). These will allow for things like remote surgery or vehicle-to-X (v2x) communications and require MNOs to have mobile edge computing capacity in place.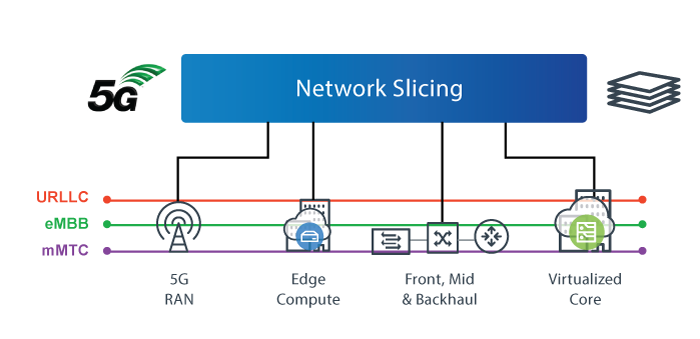 With network slicing, each slice can have its own architecture, management, and security to support a specific use case. While functional components and resources may be shared across network slices, capabilities such as data speed, capacity, connectivity, quality, latency, reliability, and services can be customized in each slice to conform to a specific Service Level Agreement (SLA).
Automation will be a critical component of network slicing, as it is expected that MNOs will have to design and maintain hundreds or thousands of network slices. MNOs cannot manage this volume of slices manually at the speeds required by their customers. Instead, end-to-end automation must be used to perform zero-touch slice lifecycle management dynamically at scale, and in real time, as traffic load, service requirements, and network resources change. Once this ability is in place, however, it will open many new revenue opportunities for MNOs.
With 5G, MNOs can now incorporate cloud-native applications into their networks, avoiding vendor lock-in and enabling lower-cost development, improved modification and upgrade abilities, and enhanced vertical or horizontal scalability. MNOs should strongly consider adopting cloud-native slicing applications to take advantage of this benefit and ensure they can support evolving 5G standards.
How Blue Planet can help
Blue Planet® is a vendor-agnostic intelligent automation software portfolio that helps MNOs transition to 5G. With the Blue Planet 5G Automation solution, MNOs can seamlessly manage the lifecycle of an end-to-end network slice by automating its design, creation, modification, and monitoring, and by provisioning underlying resources to a slice when required. The solution supports scaling and orchestrating network resources for 5G core, xHaul (combination of backhaul, midhaul, and fronthaul), and Radio Access Network (RAN), creating and operating network slices, and assuring service performance through closed-loop automation.
Learn more about the Blue Planet 5G Automation solution.
Get started now