Blue Planet utilizes disruptive software and technology advancements to enable network intelligence and automation and operational scale and efficiency to power your digital business.
Overview
Blue Planet takes a giant leap forward with a cloud-native software architecture that incorporates advanced service design, orchestration, and assurance methodologies to provide a scalable, vendor-agnostic, highly programmable software platform. This modular and extensible approach enables network operators to automate the service lifecycle across multi-vendor and multi-domain environments and scaled on demand. The result is a dramatic transformation of not just how services are delivered, but how networks are operated.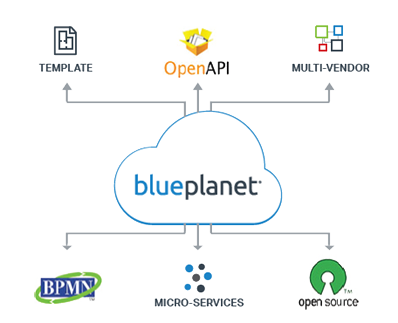 Cloud-native Architecture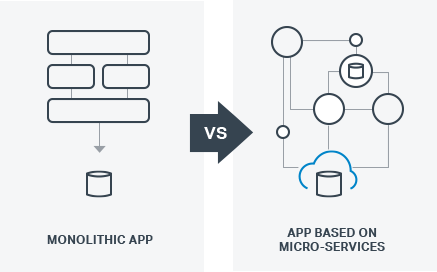 Modern web-scale software simplifies operations and accelerates innovation
Blue Planet's container-based, micro-services architecture provides a vendor- and domain-agnostic, fully programmable intelligent automation platform that is easily customizable by network operators and their partners. The benefits of this design include easy deployment on premises or in the cloud, reduced resource utilization, and the ability to add new features quickly and without service interruption, resulting in increased service and business agility and reduced OPEX.
Devops Programmability
Add network resources and program new services, at the speed your business demands
SDN and NFV deployments are introducing network operators to a DevOps-style culture for integrating network resources and developing new services. The DevOps approach enables better collaboration among internal product development, IT, and network operations teams which improves operational agility, increases innovation, and accelerates 'concept-to-revenue' times for new services. The Blue Planet DevOps Toolkit gives network operators greater control over their infrastructure and reduces their dependence on customization and integration services associated with updating legacy back-office systems.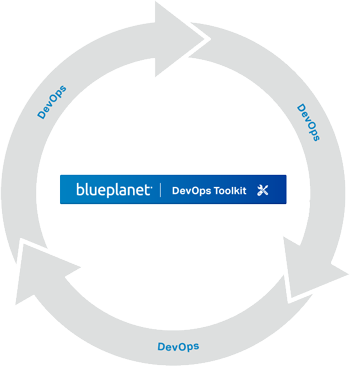 Open APIs
APIs transform the network into a programmable, easy-to-use resource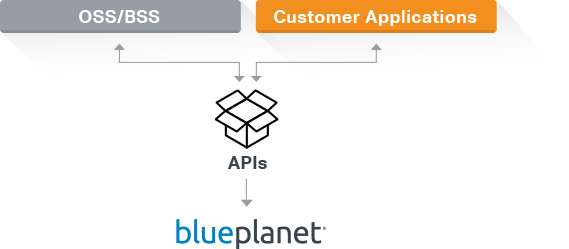 Blue Planet's open northbound APIs enable integration with existing OSSs and other critical software systems, including third-party SDN controllers and cloud orchestration applications, for service management and automation across the WAN. These open REST APIs allow operators and partners to align the network with the needs of different applications.
BPMN Approach for OSS Integration
Business Process Model and Notation (BPMN) ensures seamless and cost-effective integration with the OSS/BSS
Leveraging BPMN, Blue Planet streamlines integration with legacy OSS/BSSs, simplifying the process and lowering the cost to create, integrate, and operate new services. In addition, BPMN simplifies network operators' ability to offer programmable self-service tools to their end-customers for provisioning NFV-based managed services.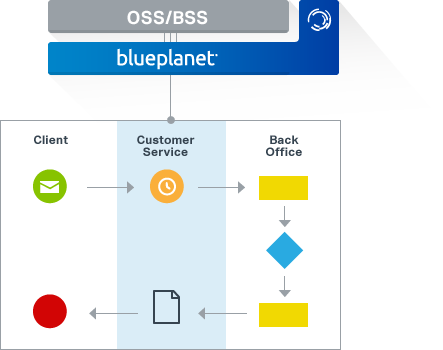 Machine Learning and Big Data Analytics
Machine learning and big data analytics can address a wide range of business and operational initiatives

Big data analytics refers to sophisticated and modern techniques that uncover deep, meaningful patterns in data that help organizations make intelligent decisions for meeting specific business and/or operational objectives. Because of the large volumes of data that must be dealt with (and hence the term, 'big data'), it lies in its ability to process the data at the right speed, as well as its ability to assimilate and classify them in a meaningful way. The recognition of data patterns, classification and clustering are handled by 'machine learning', a technique implemented as software algorithms. In contrast to traditional analytics, where the process involves gathering data manually and requires significant time and human effort in their analyses, big data analytics that employ machine learning relies on compute power and storage, which are now very affordable and can be deployed at large scale.
Network providers worldwide are adopting Software-Defined Networking (SDN) and virtualized services. They're embracing agile development and operational processes.
They're doing what it takes to avoid disruption from more nimble competitors—and that includes opening up, in a way they never have before, to open-source.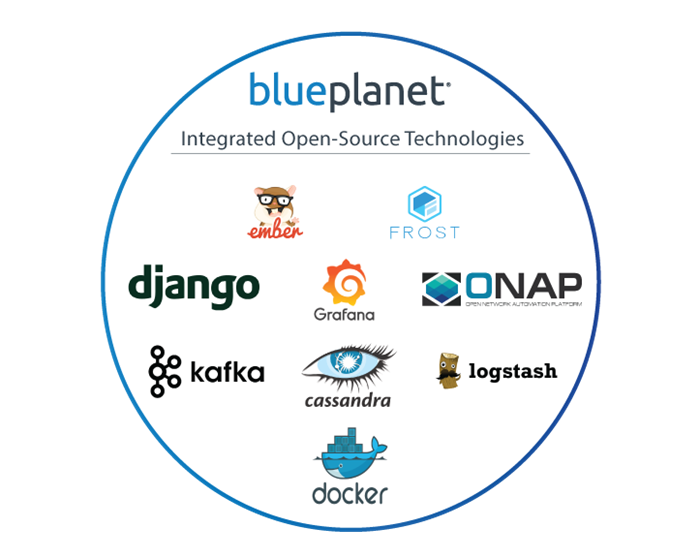 Model-driven Programmability
The Blue Planet® Intelligent Automation portfolio incorporates sophisticated modelling and service templating to help Communication Service Providers (CSPs) break away from their legacy service creation and activation processes.
Blue Planet creates a single, common, vendor-independent model of the entire network topology—including all elements, interfaces, and connectivity—that describes all the relevant aspects of the orchestrated domains. All domain orchestration and control is initiated via interactions with the model, and service templates—which can be easily created by customers—can be used to dynamically introduce and activate services across any mix of physical and virtual resources, independent of the underlying domains.
This model- and template-driven approach to programmability and automation helps CSPs modernize and transform their operational environment, utilize DevOps methodologies to speed time-to-market for new services, and gain a true competitive advantage in the marketplace.
Get started now