Network providers worldwide are adopting Software-Defined Networking (SDN) and virtualized services. They're embracing agile development and operational processes. They're doing what it takes to avoid disruption from more nimble competitors—and that includes opening up, in a way they never have before, to open-source.
Open-source software is driving much of the technology innovation network providers need to achieve their overall digital transformation. It harnesses the power of a community—and the collaboration that happens within it—to break through many of the traditional constraints associated with development. With open-source, technology improvements happen faster—which is why we've been using open-source innovations to create value for our customers for years.
Openness and collaboration are core to who we are at Ciena, and they're key pieces of our Adaptive Network vision. We actively contribute to numerous open-source initiatives and projects, and incorporate multiple open-source components into our Blue Planet Intelligent Automation Platform. Blue Planet's microservices-based architecture enables the platform to integrate best-in-class open-source software elements with our own innovations to provide a more flexible and extensible solution to meet our customers' evolving requirements.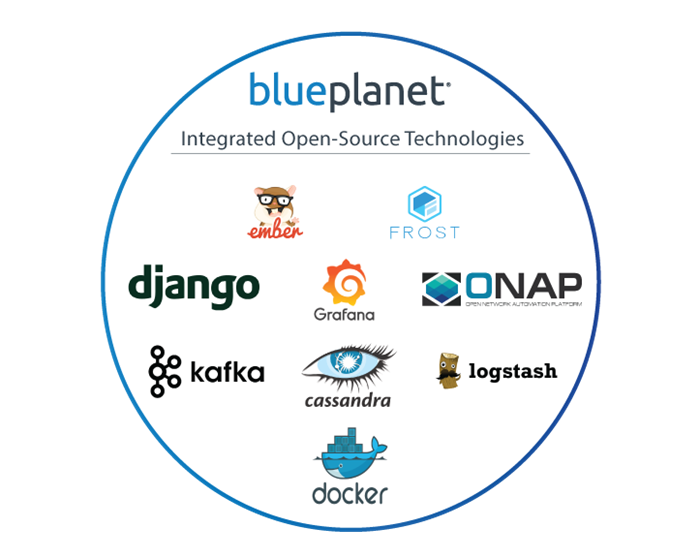 Ciena is directly involved with the following open-source projects:
ONAP: Ciena is a Silver Member of the Linux Foundation's Open Networking Automation Platform (ONAP). In addition, we're integrating components from ONAP into our Blue Planet platform, creating a Policy Subsystem optimized for supporting advanced closed-loop automation use cases. This integration gives network providers the control needed to realize smarter, more agile networks.
ONOS and CORD: Ciena is a sponsor of ON.Lab, and has worked closely with their leadership on various projects over the years. We're also a founding member of ON.Lab's ONOS Project, and a strategic collaborator on the related Central Office Re-architected as a Data center (CORD) initiative.
MEF LSO open APIs: Ciena has been an active contributor to the MEF Lifecycle Service Orchestration (LSO) initiative since it was introduced in 2015. The Blue Planet architecture aligns closely with LSO, and has demonstrated support for multiple LSO open APIs, as well as contributed to their open-source development.
Blue Planet open-source components: The Blue Planet architecture integrates more than 30 best-in-class open-source components. Some of the principal open-source innovations used within the platform include Docker containers, ONAP policy framework, Kafka messaging bus, Cassandra database, and Ember user interface, among many others.
Open-source DevOps tools: The Blue Planet DevOps Toolkit and DevOps Exchange Community leverage a number of open-source tools to facilitate our customers' and ecosystem partners' ability to onboard resources to the platform, as well as develop and operationalize new services.
Get started now