The BPMN standard helps drive integration with legacy systems
BPMN is the global standard for process modeling and one of the most important components of successful business/IT alignment. BPMN is widely used by network operators, particularly in OSS/BSSs. Blue Planet's BPMN support provides seamless integration with legacy OSS/BSSs and instant familiarity to those who use such systems, making it easier to integrate and operate.
With BPMN support, network operators have one more tool to help them easily program the leading orchestrator, Blue Planet, and create new and derivate services. Network operators will also be able to provide BPMN as a programmable self-serve GUI tool to their end-customers. This will simplify self-service provisioning of even complex services, such as creating an Ethernet service from a branch office to a private or public cloud using managed NFV services that can seamlessly switch vendors based on cost, bandwidth, and other strategic features.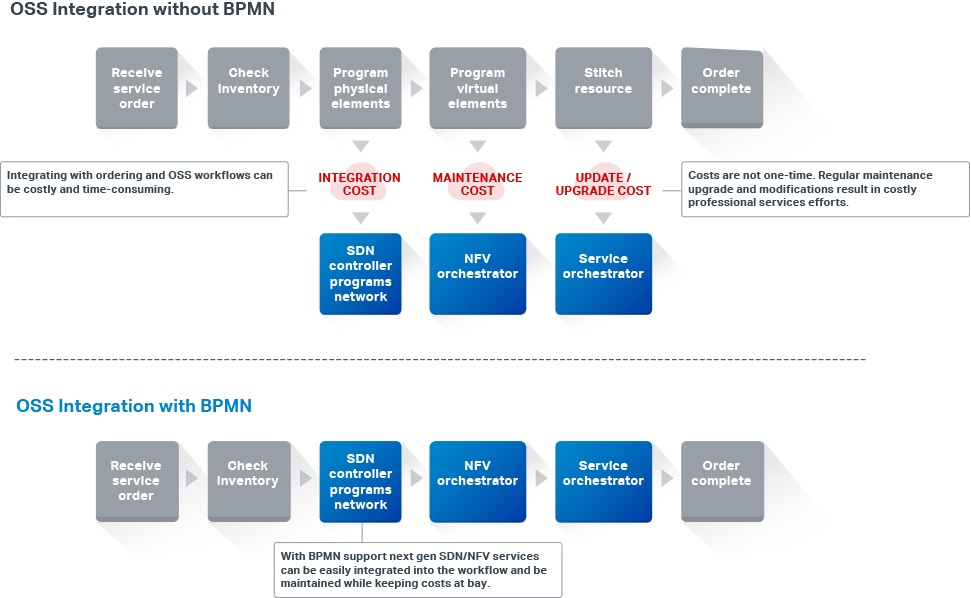 BPMN improves operational efficiencies
Provides the ability to simulate processes and services; allows analysis and understanding of the process flows and helps organizations know if there is room for further optimization and efficiencies
Helps spot needed improvements and reduces process cycle time
Increases productivity of existing resources and staff; allows the team to do more with less
Facilitates risk-free experimentation and encourages exchange of ideas around process improvement
Facilitates risk-free experimentation and encourages exchange of ideas around process improvement
Encourages a mindset of continually optimizing business-critical processes to incrementally improve operational efficiencies
Enables better resource utilization through process analysis
By deploying a next-generation orchestration platform that supports BPMN, users can link the high-level organizational strategy to well-defined business processes and align operational activity with business goals and expectations. Such alignment throughout the organization creates a well-oiled machine that delivers services very efficiently and rapidly integrates new technology. Furthermore, BPMN supports iterating and re-engineering practices that help identify bottlenecks and inefficiencies, facilitating continuous improvement.
Get started now