It takes a village to monetize the dynamic 5G edge
Blue Planet and MATRIXX Software have teamed up to provide a game-changing solution for 5G monetization. Blue Planet's Kailem Anderson explains how combining intelligent automation, real-time monetization, and open standards empowers Communication Service Providers (CSPs) to deliver self-service, high-quality experiences for customers while generating a return on their investment in 5G technology.
According to McKinsey & Co., mobile operators globally will spend more than half a trillion dollars on their 5G networks between 2022 and 2025, on top of the billions they've already spent (Source: McKinsey & Co., Navigating the three horizons of 5G business building, Feb 2023). But monetizing these massive investments is not a given. Indeed, McKinsey warns that if telcos continue their current approach to 5G monetization, "they are poised to regain just a fraction of the $600 billion-plus they are expected to invest."
To get a return on their investments in 5G spectrum, infrastructure, software, and services, CSPs need many ecosystem partners all sharing a common journey map and vision to deliver dynamic 5G services. That's why Blue Planet and MATRIXX are teaming up to provide orchestration and dynamic charging tools to help operators create marketplaces that take advantage of hyperscalers' edge computing capabilities to reduce latency and improve the quality of service for end customers. Now, let's pull back the curtain and take a closer look.
Our integrated solution, which features Blue Planet Intelligent Automation and the MATRIXX Digital Commerce Platform (DCP), helps CSPs unlock new revenue by enabling innovative business models and digital experiences that are as agile as those born in the cloud. Blue Planet provides intelligent orchestration of multi-access edge computing (MEC), network, and cloud resources to configure connectivity for advanced consumer and enterprise services like mobile gaming and industrial Internet of Things (IoT). MATRIXX provides multi-party charging and revenue sharing across B2B2X value chains to ensure that all ecosystem partners are able to share in the revenue from services delivered to end-customers.
We demonstrated our approach with Microsoft Azure at Mobile World Congress in Barcelona in February this year and with Amazon Web Services (AWS) at re:Invent in Las Vegas in November 2022. The combined offering is the result of Blue Planet and MATRIXX teaming up to solve a challenge presented by CSPs in a multi-phased TM Forum Catalyst proof of concept, which was demonstrated at Digital Transformation World in September 2022 and received an award for Best Ecosystem Design for the second year in a row.
How it works
The video posted on the web page below showcases our combined offering in a B2B2X gaming scenario for consumers, where a dynamic edge service allows the CSP to offer a gamer the ability to self-order a premium experience on the fly. This is all done in partnership with an online gaming application partner and an edge cloud operator. Automating key operational processes – from self-service ordering through dynamic inventory management, provisioning, charging, and settlement – is key to scaling 5G edge services like the scenario featured in the video.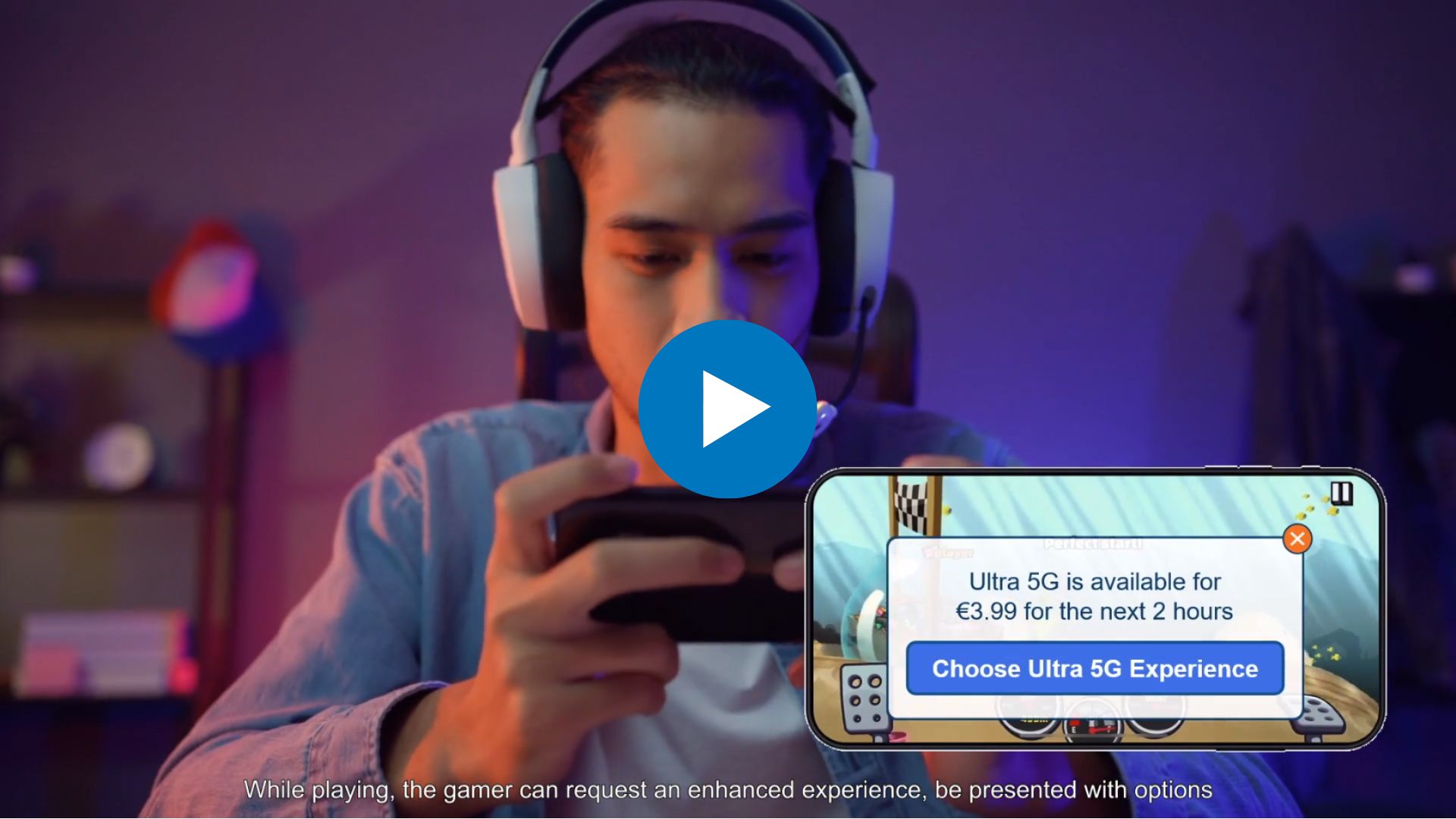 Blue Planet provides Intelligent Automation at the Operations Support System (OSS) layer to determine the feasibility of the service. This includes validating the ability to provide a low-latency connection, the availability of a MEC public edge zone to place the application, and the current price for provisioning the connectivity. When an end-customer orders a high-quality service, Blue Planet then orchestrates a low-latency network slice from end-to-end and deploys the application on the MEC zone to reduce latency and deliver the enhanced user experience.
The MATRIXX Digital Commerce Platform (DCP) provides Business Support Systems (BSS) functionality. As the monetization platform, it supports any combination of charging relationships such as cost- and revenue-sharing charges between participants in the value chain (the application provider, the CSP and the cloud operator) in order to generate charges for multiple parties in real-time and distribute the revenue. The gamer could even opt to pay for the service using a gaming currency.
This approach could also be applied in industrial IoT scenarios. During the TM Forum Catalyst, for example, we demonstrated a worksite safety application that used drones and a cycling helmet outfitted with sensors to transmit data in real-time about a worker's activity to ensure safety on a job site. Watch the video below to learn more about this award-winning Catalyst project.
Standards for interoperability
Blue Planet and MATRIXX rely on open standards to make our solutions interoperable. For example, the Blue Planet platform leverages TM Forum Open APIs to enable CSPs to expose capabilities of their 5G network and other on-net resources to the application partner for determining the feasibility of the service. Similarly, MATRIXX DCP uses Open APIs for partner settlement.
This is absolutely critical. The only way to have an open digital architecture is to use standards-based data models and APIs from groups like TM Forum, MEF, 3GPP and ETSI to drive consistency. If you don't do that, you end up with 'spaghetti' integrations that stifle agility and innovation.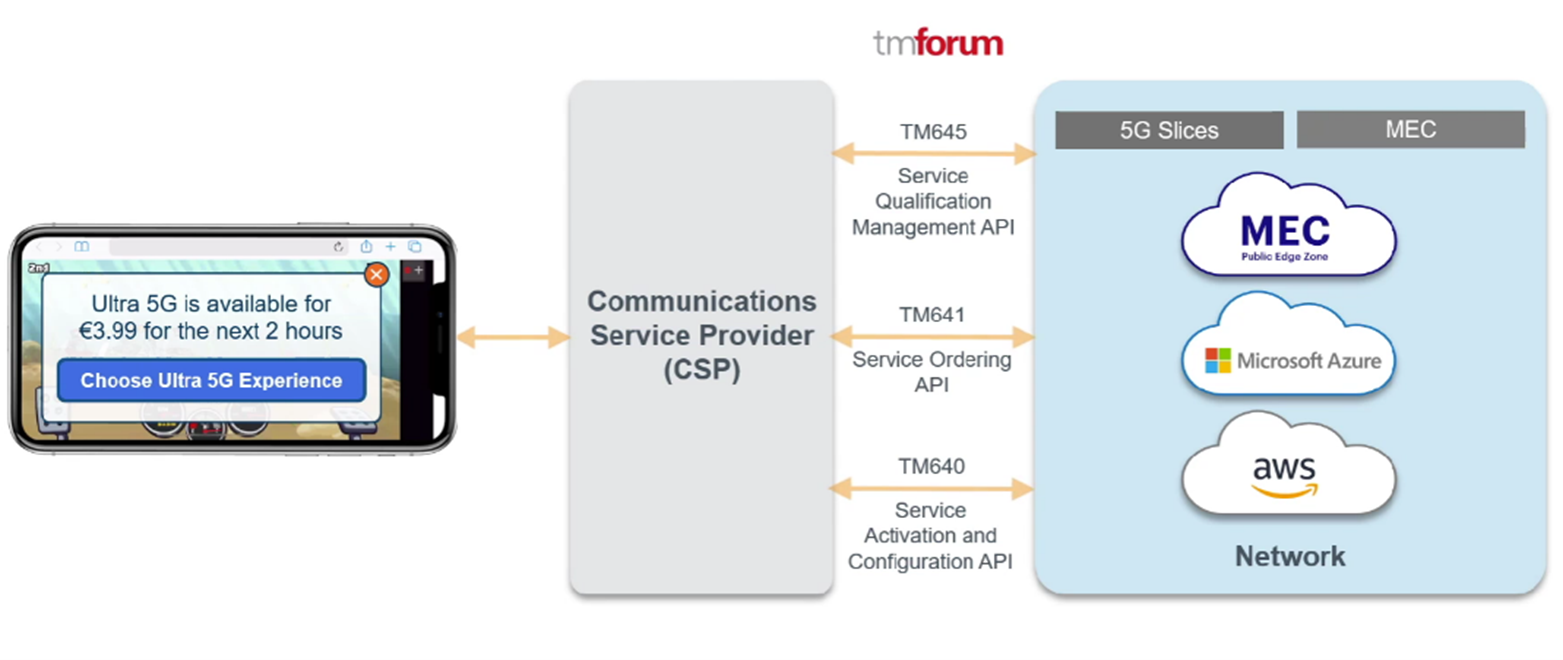 Figure 1: Use of TMF Open APIs for qualifying, ordering, and activating dynamic edge services
Summing it up
Unifying Blue Planet's intelligent automation and orchestration capabilities with MATRIXX's real-time monetization offers dynamic 5G experiences that leverage CSPs' network and edge applications for optimized outcomes. In today's rapidly evolving environment, our combined solution gives CSPs the necessary flexibility and scalability to provide the self-service, high-quality experiences customers have come to expect from digital companies.
Together, Blue Planet and MATRIXX can help you develop your journey map to 5G monetization so that you can innovate quickly and generate a substantial return on your investments in new technology. Contact us to get started.