Analyst Insights: Understanding the key factors for 5G success
Appledore Research's Francis Haysom details the analyst group's Telco as a Platform (TaaP) research and the six investment needs it identified for platform-based digital transformation, enabling CSPs to overcome the three critical scaling issues for new 5G innovation.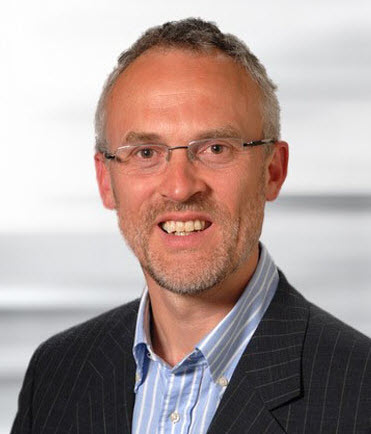 Francis Haysom is Principal Analyst at Appledore Research, with more than 25 years experience in the telecommunications and software industry. He is an acknowledged expert in inventory, fulfillment, and the transition to model-based orchestration, and has led the design and implementation of OSS products at some of the industry's leading CSPs.
We've all been hearing over the last few years about the amazing services 5G will offer, from self-driving cars to remote surgery. While many of these use cases can be technically feasible, most of them won't be commercially successful because of issues in operations, and supply chains, which limit a telco's ability to innovate.
The recent Blue Planet 2022 Virtual Insiders Forum (VIF) provided an opportunity to discuss issues facing telcos in maximizing the monetization of new 5G services and justify the massive investment in 5G networks.
At VIF I explored a humorous advert from U.K. operator EE for remote shaves on a mountaintop. Actor Tom Ellis sits in a barber's chair on top of the highest point in Wales. Ellis sits nervously as a robotic hand and blade, remotely controlled by a professional barber, provide an extremely close shave.
Zoom out and you'd see EE engineers, anxiously waiting to see how Tom's acting career turned out.
This is a crazy use case, but it illustrates the challenges of new 5G use cases: Safety critical end-to-end services; specialist end device supply chains; low volume but potentially high-value services; and indirectly sold services.
Appledore's Telco as a Platform (TaaP) research has identified six investment needs for platform-based digital transformation, which enable a CSP to overcome the three critical scaling issues for new 5G innovation.
Appledore Research sees the key to telco 5G success as a scalable platform that supports a wide variety of 5G services, including remote shaves, a "Telco as a Platform" (TaaP). By adopting TaaP, operators can realize dramatic improvements in innovation and monetization, while removing many of the technical barriers restricting business growth.
The challenge has always been understanding where to invest to enable the digital transformation of an operator's service platform. Appledore's TaaP research has identified 6 investment needs for platform-based digital transformation, which enable a CSP to overcome the three critical scaling issues for new 5G innovation: Operational scale to enable the efficient delivery of new services; Supply chain scale to enable secure, diverse and flexible new services; Innovation scale to enable the easy creation and assembly of new services in partnership with anyone.
"Expanding the network comes with challenges. We are setting out a path to be ready for the future. The building blocks are in place"
Other VIF speakers shared their perspectives on digital transformation for network operators, and the shift towards an automated and open service platform.
Darron Christopher, the lead architect for NEOS Enterprise Networks, spoke at the Blue Planet VIF event about the need to deploy an inherently flexible and highly scalable platform. NEOS is a transport provider that is supporting wholesale customers providing 5G services. Darron reviewed their deployment of Blue Planet's platform in the NEOS Network, creating a broader ecosystem. Blue Planet's platform is helping accelerate NEOS Networks' business plans and new services.
NEOS benefits from having a clear platform vision and understands the value that automation, security, and a cloud-native network each bring to enabling platform scale. NEOS networks are a great example of digital transformation, one that benefits the entire industry by highlighting the value that comes when vendors can align with business objectives to achieve platform goals.
All services will require an ecosystem; nobody will provide end-to-end services. Those who learn to thrive in an ecosystem can succeed.
Blue Planet's Rick Hamilton discussed the different Blue Planet building blocks in place to implement and scale 5G services, aligned with the Appledore investment needs and scale challenges 5G has been accelerating the need for telcos to quickly scale products and deliver them more consistently and cost-effectively. Blue Planet is taking an active leadership position, promoting a platform solution that enables scale with advanced automation, with a common factory for innovation, and that encourages open ecosystems.
Plotting a course to platform success – know your start point
To gain a broader understanding of where the industry is in its transformation to a platform, VIF participants were surveyed about their company's position against the six TaaP investment needs. Participants ranked themselves in terms of achieving each factor from 0 for "having no activity" to 5 for "actively implemented."
Participants could compare their position relative to a leading telco platform industry leader with the comparison of the aggregate attendee results against the industry leader shown here.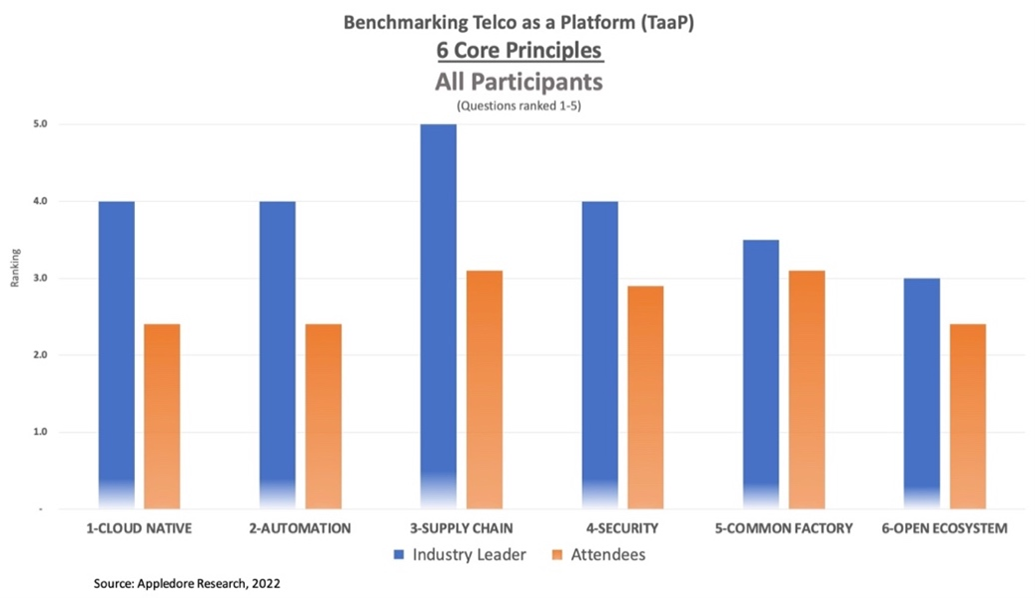 The survey revealed an industry where progress in adopting TaaP is still at an early stage. In the categories of cloud-native, high automation, and supply chain flexibility, participants considerably lag behind industry leaders. While in security, common factory, and open ecosystems, there is less progress both for leaders and participants.
The time for Telco as a Platform is now
Creating new services underpinned by common automated operational environments will become increasingly important. If telcos want to fully monetize their investments in 5G, they will need to invest in a platform for 5G success – TaaP. Investing in cloud native, automation, dynamic supply chains, security, a common innovation factory and an open ecosystem available to all. This investment will allow CSPs to scale operationally, diversify and scale their supply chain, and innovate at scale.