The importance of enterprise network automation, and how to get started on the right path
Brandon Butler, IDC Research Manager, Enterprise Networks, shares insights on how enterprises can get started on the right path when starting their journey to network automation, and the best practices to consider that ensure the network is an enabler, not an inhibitor, of enterprises' digital transformation goals.
It's a dynamic time in enterprise networking with significant changes afoot in how organizations are thinking about managing their networks to increase automation. Getting started on the right network management and automation path can be challenging, but there are best practices to consider that ensure the network becomes an enabler – rather than an inhibitor – of digital transformation goals.
The evolving edge of the enterprise network
First, it's important to recognize the critical importance of enterprise networks as a conduit for connecting users and devices to the applications their businesses rely on. A myriad of factors is converging to drive significant changes in enterprise networking and are leading organizations to reconsider how their networks are managed.
The enterprise network looks much different today than it did just two years ago. The edge of the enterprise network must now extend beyond traditional campus and branch locations to also include remote and hybrid workers. Meanwhile, it's not just users that are more distributed; so too are the high-bandwidth and latency-sensitive applications enterprises rely on. The rise of cloud-native and multi-cloud services has created a complex, distributed environment that today's networks must support.
Managing the enterprise network in this new reality is a challenge. Scale and complexity are causing enterprises to prioritize platforms that help ease management and enable automation. IDC survey data shows that the past two years have reignited the need for agility in operations. Shortly after the COVID-19 pandemic began, IDC asked U.S. respondents the ways in which managing their network changed: the top response, chosen by one-third of respondents, was an increased use of automation tools to enable user onboarding, service activation, and remote maintenance.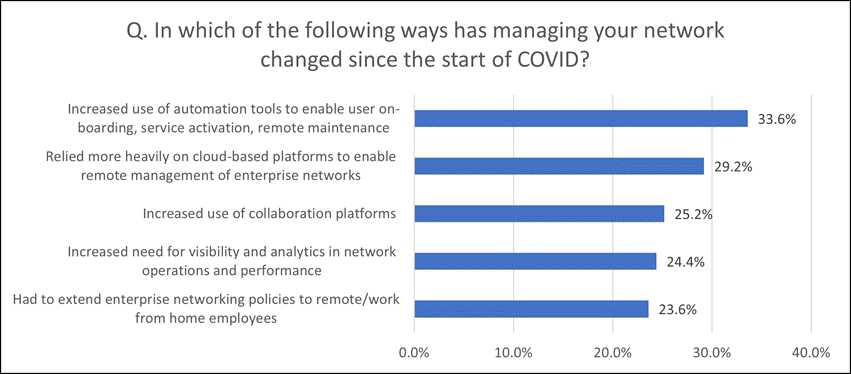 Source: Source: Enterprise Networking: Emergence of The New Normal Survey, IDC, December 2020, U.S. n=250
Another challenge is finding the right IT skills and trained workforce to execute network automation tasks. The IDC FutureScape: Worldwide Future of Work 2022 predictions research noted the skills gap as an industry-wide problem. The research forecast that DX-related IT skill shortages will affect 90% of organizations by 2025, costing over $6.5 trillion globally through 2025 due to delayed product releases, reduced customer satisfaction, and lost business. Relying on automation tools can help overcome this challenge, while also improving network operations.
Enterprises around the globe are rethinking their approaches to network management with a goal of embracing automation. Network automation helps ensure the network meets the needs of the business, while enabling the network to be agile enough to respond to changes in business plans.
The journey toward network automation
Enabling increased levels of network management agility will be a journey for many businesses, but no matter what stage enterprises are at in their automation journey, there are certain core elements that IDC recommends:
The foundational role of visibility. You can't automate – or secure – what you can't see. A building block toward easing operational network management and implementing greater levels of automation is having the ability to see what is happening within the network. High-level, network-wide insights are helpful to provide metrics into the overall performance of the network while granular, device-level identification provides information into the users and devices on the network.
Look for low-hanging fruit. Network automation can be overwhelming; where is the best place to start? Automating repetitive tasks that are done manually is a good place to begin. Examples include deployment, configuration, patching, updating and compliance checks. These critically important tasks can – and should be – executed consistently across the organization, even in heterogenous environments with infrastructure from multiple vendors. Doing so can ensure conformity and improve performance.
First automate…then confirm. There is an important step beyond automation that is often overlooked: making sure automation has been executed correctly. Doing so creates a complete automation feedback loop that consists of gaining insights, automating tasks, and ensuring successful execution. Confirming the successful execution of automated tasks should be applied across all points of network management, from day one deployment to day N ongoing management and troubleshooting.
Next step: optimize. Once organizations are comfortable with initial automation exercises, then there are opportunities to optimize the environment. Consider ways to expand automation across more points in the network or across multiple sites or expand for more complicated tasks. Explore ways to customize network controls and policies or consider writing scripts to automate tasks specific to your business. The key is embracing a platform approach that provides a consistent network management toolset that stretches across all points of the enterprise network.
Benefits of Network Automation
Enterprises around the globe are rethinking their approaches to network management with a goal of embracing automation. Network automation helps ensure the network meets the needs of the business, while enabling the network to be agile enough to respond to changes in business plans.
An IDC study in July 2021 on the Future of Connectedness asked more than 600 global respondents what their organization's top digital transformation priorities were. The top response, by 38%, was to improve operational efficiency across the entire organization. Other top responses included improving business continuity and reliability; and improving employee productivity. Automation platforms can enable each of these goals by ensuring consistency, which improves the performance and security of the network. Automation can have another key benefit too: automation allows precious IT staff to focus on business-enabling tasks rather than managing the day-to-day network operations. Enterprises are increasingly realizing that advanced network management tools don't just improve the network; via automation, they can help digitally transform the entire business too.