How NetDevOps automation enables a culture of proactive network management for enterprises
For years, the typical approach to network management has been to "set it and forget it," which limits visibility into what's happening within the network, but with NetDevOps, enterprises can now take a more proactive and automated approach to network management, helping them to continuously improve their network operations. Paul McCluskey, Vice President, Blue Planet, details below.
So, what is NetDevOps? NetDevOps is the practice of applying DevOps principles within the network team. How does DevOps improve network operations? It enables a more proactive approach, breaking down traditional silos – between application and network management, or between security and network operations. NetDevOps also enables collaboration, making it easier for NOC team members to work together within their team and with related IT teams. This type of proactive approach is important for all types of organizations, and, as it turns out, it is even more critical for mid-tier enterprises.
Most certainly, NetDevOps requires network automation to avoid human error, lessen the burden of repetitive tasks, and ensure compliance with policies that govern network settings and operations. Network automation has the power to reduce operational costs, speed network provisioning, and enable better network security and quality of service for your applications and users.
Perhaps more importantly, NetDevOps enables a cultural change in your approach to network management that takes it from "set-it-and-forget-it" (until there is a problem) – to a proactive and continuous improvement approach with smaller, incremental network configuration changes happening more frequently. Because this is better for your operations.
Critical capabilities for network-as-code automation
NetDevOps leverages the power of network-as-code to enable systematic and frequent control of the network while lowering the risk of human error. However, with vitualization comes increased complexity – not to mention the additional skills needed to enable continuous improvement. To help address this, many network teams have adopted the use of Ansible playbooks – which is a great start. But they still face the challenge of developing the playbooks, testing them, and maintaining them over time.
To gain simplified adoption of network-as-code automation, you need these critical capabilities:
Out-of-box proven playbooks for your most popular network device families, to avoid human error and save time on playbook development
Easy and fast playbook editing with limited control for newer network engineers, to apply playbooks to your network
Simplified ITSM workflow approval that takes edited playbooks through a required edit/propose/review/approve/test/release for production process – simpler and faster than with git
Role-based access to enable your entire NOC team to collaborate effectively – even with larger teams or with newer team members coming up to speed
Capability to upload your proven Ansible playbooks into a repository for central access and maintenance – with simplified editing that's easier than Ansible Tower but which still preserves deep access and full control when you need it
Unified capabilities that combine all of this along with proactive, intelligent monitoring – so you not only control the network, but you also see how it is working
How NetDevOps enables culture change
I've worked with many network teams over the years. For most of them, the need to "set-it-and-forget-it" with network configuration comes from a lack of time on the one hand, and on the other, a lack of real depth of knowledge on what is actually happening in the network. The idea of proactive change management is attractive but intimidating.
To make this less intimidating, teams need tools that bring together all the information that the NOC team requires and the simplified control that makes it easy and fast to manage. Making this multi-vendor and multi-device type is also critical – otherwise, teams will be swamped with tool adoption. We know that most teams in the enterprise are using 12-15 different fragmented tools for network management – not because they want to do so, but because they cannot find a single toolset that provides them with everything they need all in one place.
With the right tools and approach, the opportunity for NOC environment is to enable proactive and on-going management of networks for better network health, security, and less burdensome operations. Effectively, NetDevOps enables continuous improvement for networks with:
On-going small changes that are easier and faster to manage, with less risk and stress than once-a-quarter style wholesale network upgrades
Immediate-term network security and quality of service benefits
Less reliance on passive monitoring techniques that wait for forensic-style examination of syslogs and config settings when things go wrong by using:

Proactive test and control of key network settings that avoid network impacts before they happen
Intelligent alerts that signal when settings need attention and adjustment with exact guidance on what needs to change
Automated closed-loop remediation to enforce configuration settings if changes occur unexpectedly – such as can happen with remote network devices
Correlation of application settings and relevant syslog details all in one place with CPU and memory utilization and other key indicators – along with SNMP – breaking down the silos between application and network management
What are the implications for mid-tier enterprise teams?
Success with NetDevOps requires an end-to-end, holistic lifecycle approach to network operations. This means considering the on-going Day 2 requirements to manage complex, multi-vendor networks and Day 0/Day 1 planning and provisioning. This also means breaking down silos between physical and virtual, between vendor and device type, and between application and network management – so that NOC teams can collaborate more effectively within their team and with other IT teams like SOC, compliance, dev, and test.
While key for any organization, finding a practical approach to NetDevOps is particularly critical for mid-tier enterprise teams who need to manage the network capabilities common for larger enterprises – but usually with less budget, less people and less experience in their teams. Having too many fragmented tools is another challenge for mid-tier teams, so adopting network automation that is multi-vendor, multi-device type and holistic to the entire end-to-end network lifecycle is also critical for enabling the NetDevOps for these organizations.
GigaOm names Blue Planet Enterprise a market Leader and Fast Mover for NetDevOps
At Blue Planet, we simplify network operations through intelligent automation. Our proven software and expertise are offered as-a-Service to make them available for the first time in a package designed for enterprise teams and MSPs. Blue Planet Enterprise Automation Suite (BPE) is modular and multi-vendor—with robust NetDevOps capabilities designed to get the most value from your network.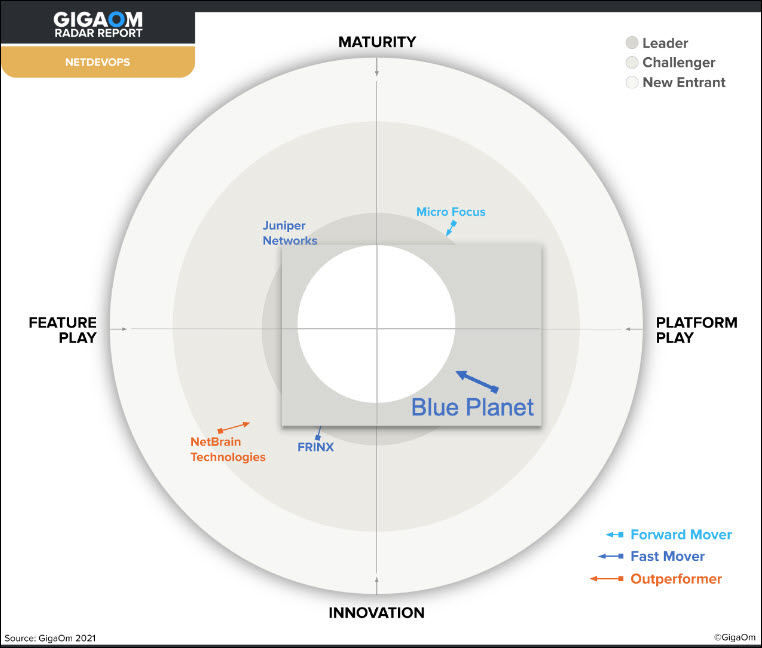 Source: GigaOm, GigaOm Radar for NetDevOps, December 2021
Blue Planet Enterprise Automation Suite was recently named a market Leader and Fast Mover for NetDevOps by GigaOm. BPE was recognized as having exceptional capabilities for:
Configuration Validation
Monitoring & Telemetry
Policy Creation
Network Resilience
Topology Visualization
In short, BPE is described as taking an end-to-end lifecycle approach that combines network visibility for plan purposes, with configuration and compliance control for day-to-day management, and intelligent alerting to keep the network performing well.
GigaOm also cited BPE as offering a top-rated breadth of features, resource consumption benefits, vendor support, along with roadmap and vision.