What Is Network as a Service?
Communications Service Providers (CSPs) often spend up to 80 percent of their budgets on integration, and only 20 percent on innovation. They need to reverse this ratio to be competitive in the platform economy; Network as a Service (NaaS) can help.
Often, NaaS is described simply as a way for CSPs to offer enterprises dynamic NFV-based services—for example, a managed SD-WAN, or VPN with optional, value-added virtual services.
But that's not the whole story.
NaaS is an operational framework that leverages model-driven abstraction, open APIs, and service lifecycle automation to enable true operations and network transformation. It applies to physical and virtual resources as well as retail, enterprise, and wholesale services. NaaS not only automates the order-to-service process, it also streamlines new service and technology introductions and trouble-to-resolve processes. From a business perspective, NaaS helps CSPs adopt modern cloud-based business models and offer compelling services and experiences to all their customers.
The limitations of traditional operations
Traditional CSP operational processes and network domains are tightly coupled, and new network elements must be integrated with the Business and Operations Support System (B/OSS)—a collection of offline systems that support specific service- or network-related functions, such as order management.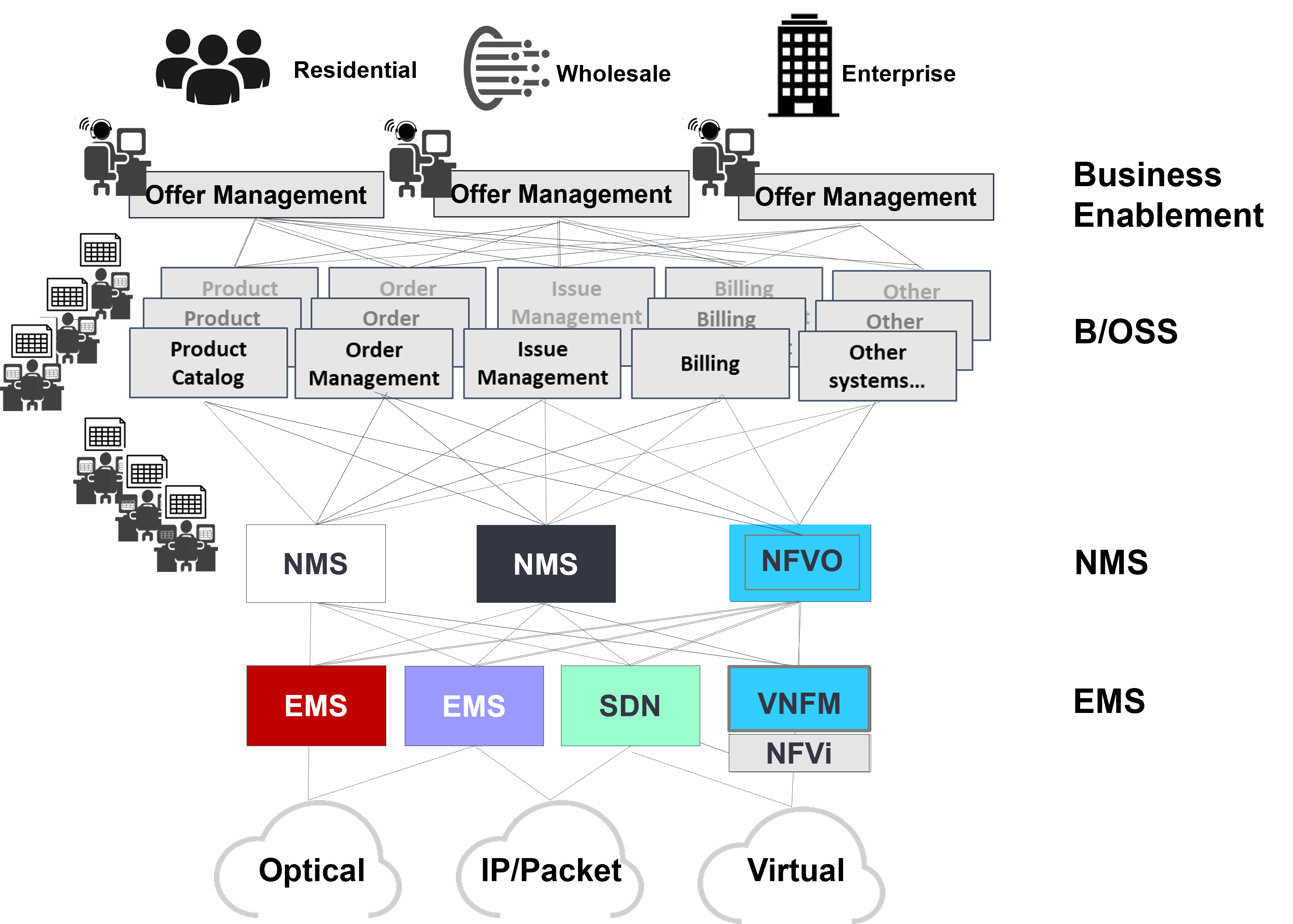 This integration is cumbersome and expensive, and it typically takes 12 to 18 months to roll out new services. Contrast this with cloud providers that continuously integrate and test new capabilities, turning up new services in hours, and the problem for CSPs becomes even clearer.
Traditional operations also prevent CSPs from offering enterprises the flexible, cloud-like services they want. Order processing is fragmented, and technicians must manually access multiple OSS systems to gather and correlate the information they need to design and provision services. This results in a slow and error-prone service fulfillment process, and it can take weeks or even months to activate—or even modify—a service. As a result, CSPs are largely restricted to static service offerings that come with long-term contracts.
Many of these same issues negatively impact the trouble-to-resolve process. Technicians must manually correlate events and alarms from multiple different monitoring systems, which slows troubleshooting and remediation efforts and puts Service Level Agreements (SLAs) at risk.
The industry moves forward
Several industry consortia support ongoing projects to foster collaboration among CSPs and other stakeholders to address these issues. Efforts such as MEF's Lifecycle Service Orchestration (LSO), the Linux Foundation's Open Networking Automation Platform (ONAP), ETSI's Zero-touch Service Management (ZSM) project, and TM Forum's Open Digital Architecture (ODA) provide reference architectures and standardized interfaces that streamline and automate operations.
For instance, MEF's LSO offers specifications that enable standardized end-to-end service orchestration across one or more network domains, while TM Forum has contributed a suite of more than 50 REST-based Open Application Program Interfaces (APIs) that enable standards-based interoperability and seamless, end-to-end management of complex digital services.
These efforts enable NaaS operational models that provide automated end-to-end service design and activation, as well as ongoing service monitoring and optimization in a closed loop. This approach can be applied to any type of network service, and use cases leveraging these efforts have been publicly demonstrated in many NaaS-related proofs of concept.
NaaS: A modern operational model
NaaS leverages model-driven abstraction to decouple the OSS and network layers. All of the network's capabilities and resources—virtual and physical—are summarized and published in a service catalog. Industry-standard APIs are used to expose these summarized capabilities to the B/OSS layer.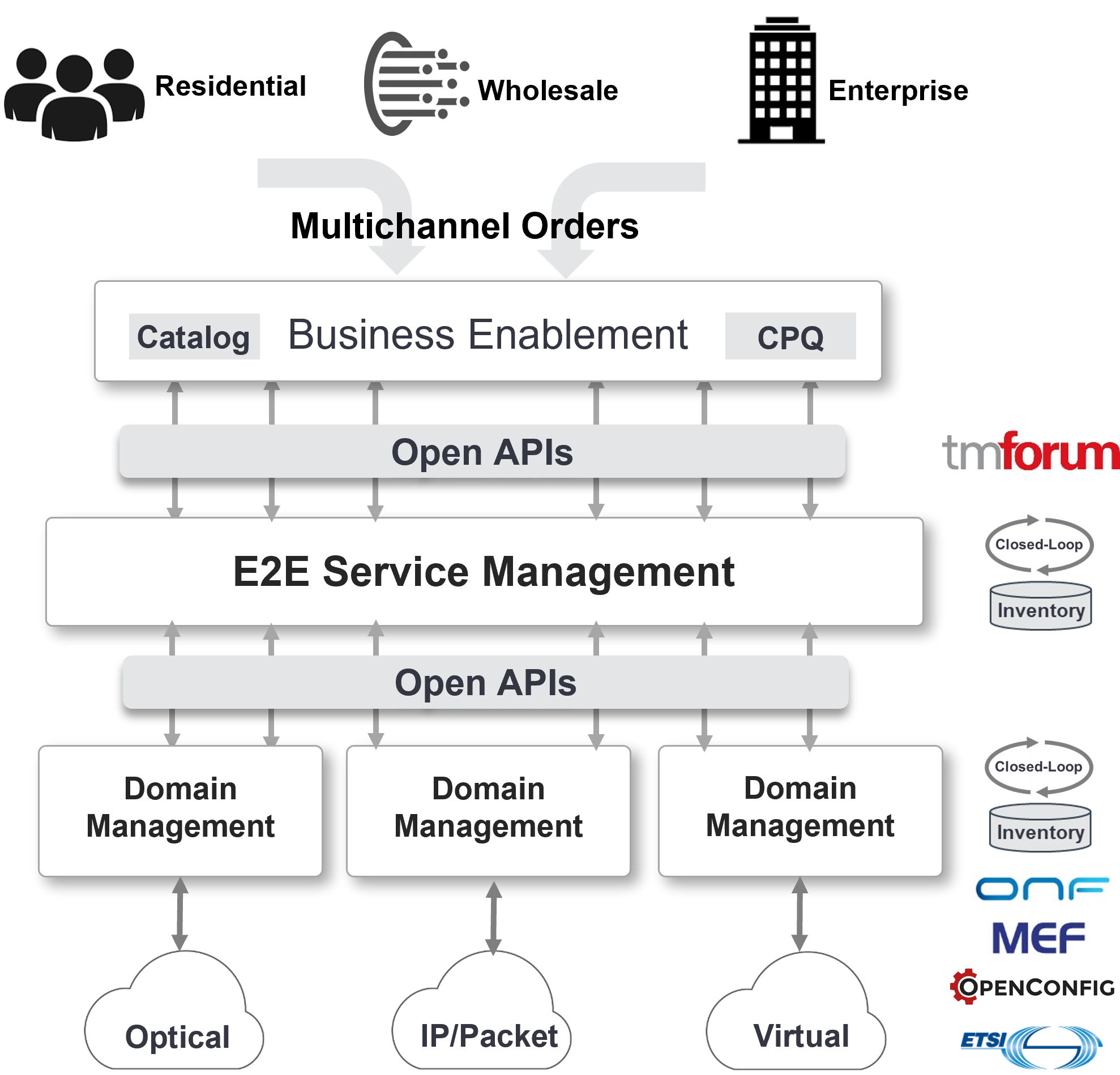 Additionally, NaaS eliminates manual intervention from the service fulfillment process. Service order management coordinates the service activation process, and orchestration automates service design and provisioning. Furthermore, the entire service lifecycle is managed in a closed loop, using customer intent, policy, analytics, and AI to provide ongoing service assurance and optimization.
In summary, a NaaS framework goes well beyond enabling dynamic NFV-based enterprise services. It also helps CSPs de-risk and accelerate new service and technology introductions and increase revenue by combining any mix of physical and virtual elements and resources to create a broad and highly differentiated service portfolio for their consumer, enterprise, and wholesale customers. In addition, NaaS helps improve customer experience by enabling error-free service activation in minutes, not months, and by reducing the time it takes to remediate issues when they develop. With this agility, CSPs can offer services on-demand—and with flexible consumption and subscription-based models.
How Blue Planet helps
Blue Planet® understands how networks are built, scaled, and maintained, and builds on this experience to deliver a state-of-the-art and holistic NaaS framework. Blue Planet is a member of ONAP, the TM Forum, and MEF, and has incorporated standardized interfaces and architectural principles into its vendor- and technology-agnostic Blue Planet Intelligent Automation portfolio. With its deep OSS and network expertise and support for true closed-loop automation, Blue Planet powers OSS and network transformation and provides a business-driven evolution to NaaS.
Learn more about Blue Planet NaaS.
Get started now