Overview
An open ecosystem fosters innovation, opens up new market opportunities, and accelerates the development and adoption of disruptive technologies through a community of trust. Ciena's mission to preserve the open, multi-vendor approach that the industry increasingly embraces. As a customer, you benefit from flexible 'choice'. You can select best-of-breed technologies and solutions that best suit your specific business needs. We showcase our commitment to open collaboration at both the company and industry levels.
The Blue Planet Community and DevOps Exchange bring together domain expertise and partnerships across a multitude of areas to help accelerate network transformation—enabled by Ciena's Blue Planet platform for intelligent networking and automation. And we're an active participant in industry-wide open source initiatives. As experts in end-to-end service lifecycle automation that helps you meet the needs of today's on-demand services, we regularly share our ideas, knowledge, and best practices in these communities.
"It's the technologies that enable the greatest degree of choice for customers that will win"
- Gary Smith, President & CEO, Ciena
Blue Planet DevOps Exchange
Dedicated to Blue Planet developers in a technical role, the Blue Planet DevOps Exchange provides access to tools and technical resources ranging from basic learning materials to advanced programming documentation. The Blue Planet DevOps Toolkit, an SDK which enables developers to build Blue Planet Resource Adapters (RAs) and Blue Planet evaluation software, are also available here for download. Whether you're an experienced developer or have just started, these assets will support you in your current project development as well as help you plan your next.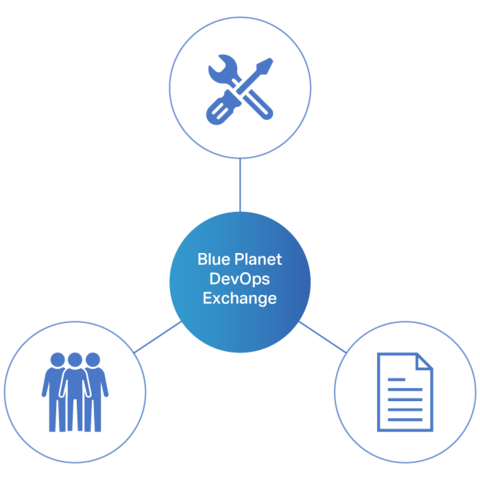 Blue Planet Gitlab and DevOps platform
Blue Planet Gitlab allows developers using the Blue Planet DevOps Toolkit to code to build and test their software. Together, the Gitlab and DevOps Toolkit provide a complete shared DevOps platform that can be used by developers across the entire ecosystem. The platform includes areas for shared code development and private development and complete pipeline services to enable adoption and optimization of each organization's continuous integration (CI) and continuous delivery (CD) needs. Users also have access to a repository of RAs developed by Blue Planet's Engineering team. We encourage Blue Planet users to share their RAs with the broader community.
Blue Planet Community
Blue Planet Community is designed to help enrich your Blue Planet experience no matter where you are in your journey to the Adaptive Network. This is a where you can ask and answer questions and find answers to commonly asked questions about Blue Planet and our solutions. If you're a developer you can also connect, contribute, collaborate, and share your technical knowledge with other Blue Planet users and experts.
Get started now