In order to profitably gain market share in the competitive managed SD-WAN services market, service providers need to broaden their service portfolios, accelerate service fulfillment and increase their operational efficiency.
The open and standards-based Blue Planet SD-WAN Automation solution combines state of the art inventory, service order management, orchestration, assurance, and analytics software to provide service lifecycle automation that helps CSPs achieve their business goals. The MEF 70.1 compliant and vendor-agnostic intelligent automation solution lets service providers use any mix of SD-WAN platforms and VNFs to create a highly differentiated service portfolio while concurrently reducing the time and OPEX associated with service activation and assurance.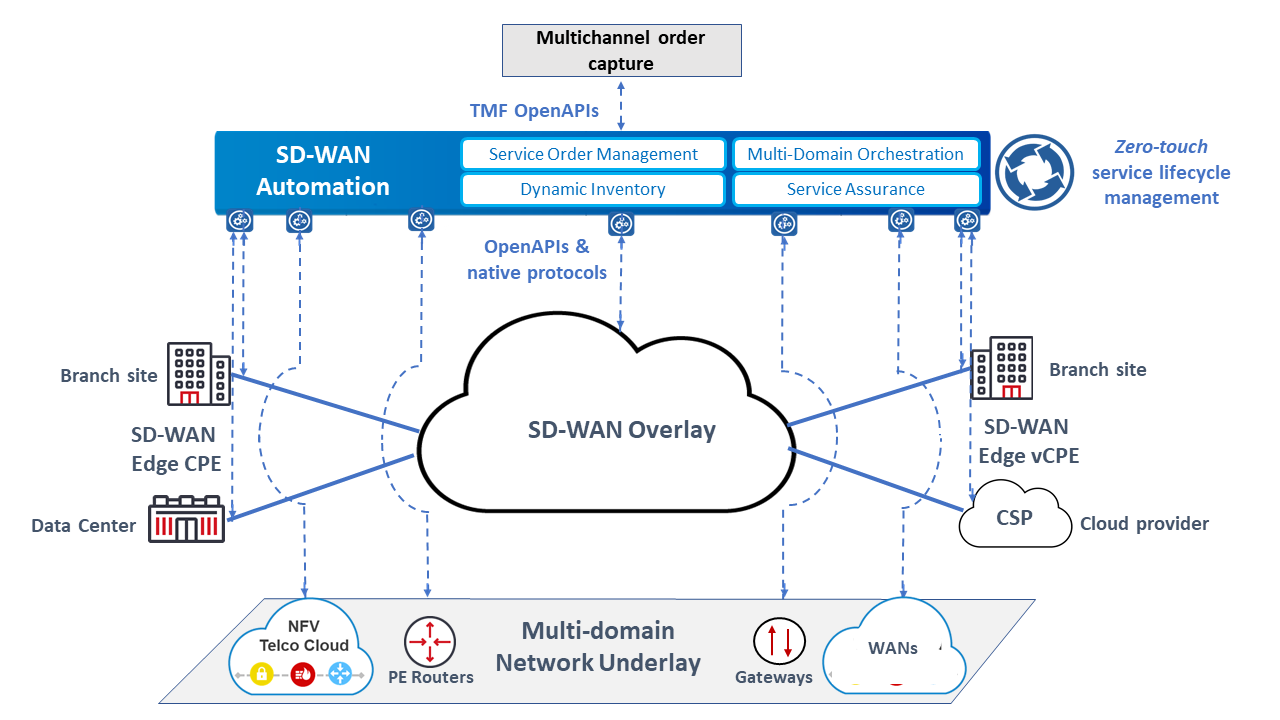 ON-DEMAND WEBINAR
Transforming SD-WAN Services with Automation
Join us and our special guests from Doyle Research and Windstream Enterprise for an in-depth look at the state of the SD-WAN market and the critical role automation plays in providing agile SD-WAN services that deliver impactful business results.
Key Features

Multi-vendor support lets service providers build a managed SD-WAN portfolio that meets the broadest set of customer and market requirements

Accelerates service fulfillment and reduces OPEX by automating order-to-service and trouble to resolve processes

Uses the MEF service model, TMF OpenAPIs (an API Adaptation layer), and vendor-native protocols to streamline deployments and reduce operational costs

Incorporates state of the art inventory, service order management, service orchestration and assurance software to automate service lifecycle management

Closed loop assurance maintains tunnel and application performance even during periods of underlay degradation, improving customer experience and maintaining SLA adherence

Improves operations and uptime with real-time network and service visualization by correlating alarms, faults, and events between the overlay and underlay network
Solution Snapshot: SD-WAN Automation
The managed SD-WAN market is growing rapidly. Don't let your outdated order-to-service and trouble-to-resolve processes slow you down. Blue Planet's SD-WAN Automation solution helps you accelerate service activation and reduce fulfillment costs, even as your multi-vendor service portfolio grows. Stay on top of the SD-WAN market with Blue Planet.
SOLUTION BRIEF
Improve your SD-WAN Services with Blue Planet
Learn how the Blue Planet SD-WAN Automation solution helps increase service agility, improve operational efficiency and optimize customer experience.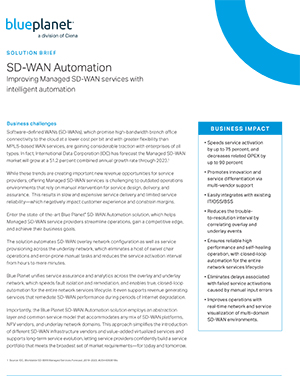 Get started now