Intelligent automation for 5G networks
Delivering on 5G's promise to drive industry 4.0 hinges on building a scalable, agile, and performance-driven network that consumers and enterprises can rely on to support a multitude of digital use cases and services. And the key to this? Intelligent automation.
With Blue Planet, there's now an open-standard based path on the journey to 5G. The Blue Planet 5G Automation solutions, including Dynamic Planning and Network Slicing, give operators the ability to quickly build a scalable and agile multi-vendor 5G network, and efficiently roll out new on-demand slice-based services from end-to-end across multiple domains.
Blue Planet - A trusted automation partner in the journey to 5G
Network Slicing
Automating E2E slice lifecycle management
Destination 5G: Your path is finally open
With Blue Planet Network Slicing, communication services providers (CSPs) and mobile network operators (MNOs) can plan, design, and activate end-to-end (E2E) network slice-based services that cater to new verticals, business models, and customer demands.
Beyond high-performance access, network slicing is one of the most anticipated aspects of 5G because it empowers network operators to offer a new suite of differentiated, on-demand services that meet the needs of diverse users, applications, and industry verticals. Leveraging SDN and NFV, network slices are dynamically delivered across the RAN, virtualized core, and transport domains, making intelligent automation an imperative. The Blue Planet Network Slicing solution supports zero-touch slice lifecycle management that automates the creation, modification, assurance, and deletion of network slices—in minutes, as desired by customers.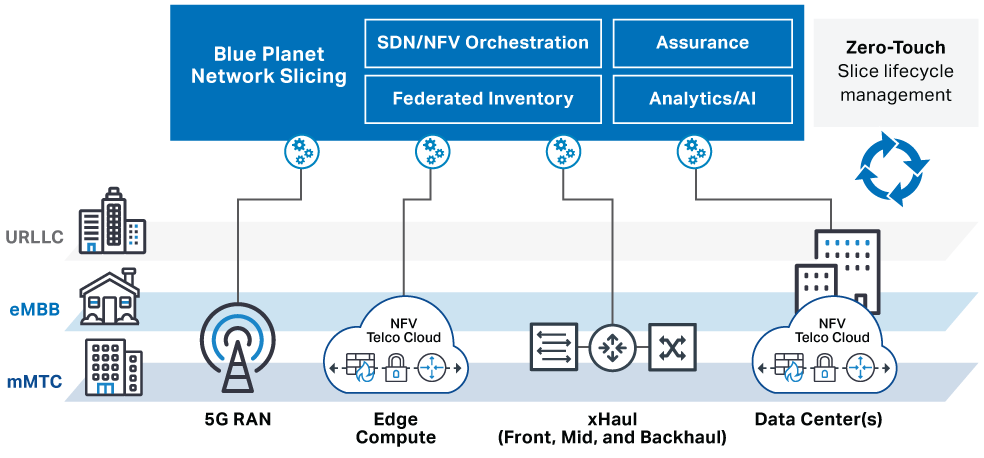 Front-haul, mid-haul and backhaul transport provides the high-performance underlay connectivity that serves as the foundation of today's 5G network. In addition to supporting the 3GPP Communication Service Management Function (CSMF) and end-to-end Network Slice Management Function (NSMF) standards, the Blue Planet Network Slicing solution is built with Network Slice Subnet Management Function (NSSMF) capabilities for slicing in multi-vendor packet-optical transport and 5G core networks. With its multi-layer Path Computation Element (PCE), and support for both hard slicing (ex. FlexEthernet and OTN) and soft slicing (ex. Segment Routing) and analytics, Blue Planet provides on-demand, end-to-end control, and assurance for transport network slices.
Demo: Network Slicing with Blue Planet 5G Automation
Network Slicing enables zero-touch slice lifecycle management to automate the design, creation, modification, and monitoring of different E2E network slices across the RAN, and transport to the 5G core. Watch a product demo.
Dynamic Planning
Accelerate your 5G network buildouts
Destination 5G: Your plan for success
Dynamic Planning helps simplify, optimize and accelerate 5G network buildouts —based on clear visibility of existing network and service resources, at any point in time. With Blue Planet Dynamic Planning you can anticipate, scale and adapt to meet ever-changing customer needs in a 5G world..
As CSPs and MNOs accelerate their journey from 4G to 5G, they need to be able to easily plan their network buildouts using a systematic approach, with a clear view of their multi-vendor network resources—from cell site to core. They also require the ability to expand their network incrementally and cost-efficiently, optimally placing and configuring network resources where capacity demand is the greatest, while allowing for flexible adjustment of resources as conditions change.
A comprehensive view of existing and planned, physical, logical, and virtual network resources is essential to optimize network buildouts for 5G macro and micro cell densification, thus enabling a variety of new, innovative services differentiated by bandwidth and latency requirements.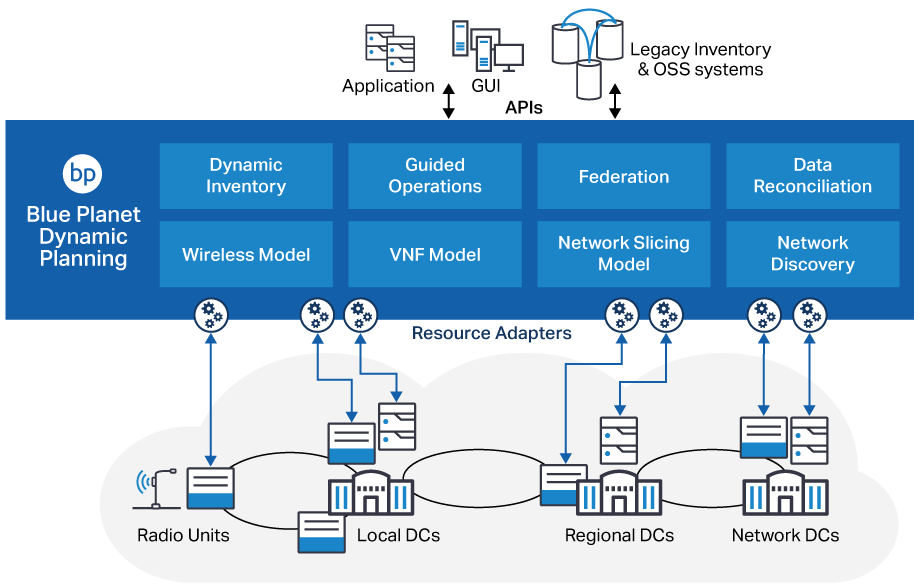 The Blue Planet Dynamic Planning solution incorporates capabilities to help simplify and optimize network buildouts to support macro and micro cell deployments—based on clear visibility of existing network and service resources, at any point in time. Leveraging Blue Planet, you can anticipate, scale, and adapt to meet ever-changing customer requirements in a 5G world.
Blue Planet Dynamic Planning Demos
These demos show how you can evolve your network to 5G Non-Standalone (NSA) mode and onto 5G Standalone (SA) architecture, simply and efficiently.
Business benefits

Accelerate time-to-market for new on-demand, network slice-based services to monetize your 5G investments

Open, standards-based solution aligns with 3GPP and ETSI NFV MANO framework and supports related TMF and MEF Open APIs

Simplify and accelerate your 5G network buildouts—be it physical or logical devices, VNFs or CNFs—from the RAN to the 5G core

Use proven intelligent automation to gain advantage in a highly competitive landscape

Attain efficient and optimized use of valuable network resources driven by better insights and dynamic planning

Reduce costs and simplify operations with zero-touch slice lifecycle automation

Quickly meet customer demands and increase revenue with a reliable and scalable 5G network

Assure network slice performance and adhere to service SLAs to ensure customer satisfaction and gain upsell opportunities
Read how Blue Planet 5G Automation can help accelerate your journey to network slicing and zero-touch slice lifecycle management.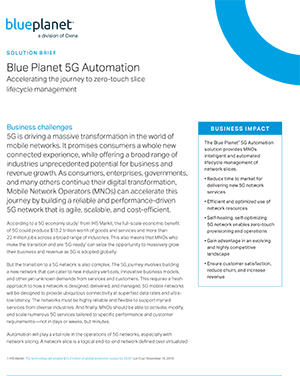 Request a personalized demo
Learn more about the Blue Planet 5G Automation solution and how it can help with your transition to 5G networks.
Get started now