Automation: Take the fast lane on the path to 5G
For years we've been hearing that 2020 would be the year that 5G networks would begin to be deployed. Well, it's finally here, and MNOs are indeed starting to roll out 5G services. But beyond new phones and RAN technology, it's going to be those that embrace automation who will ultimately drive faster transitions to 5G. To that end, Blue Planet has unveiled new capabilities for 5G automation.
As we watched the standard come together, 5G set some lofty expectations in terms of performance gains that 5G networks will deliver to users over 4G. These included things like 10 to 100 times faster speeds, 1000 times the bandwidth, support for 10 to 100 times more devices, 99.999% availability, and latency as low as 1 millisecond.
This vastly improved speed, capacity and latency opens up all kinds of new use cases for mobile network operators (MNOs). The increase in users and use cases also means the number of network services connections required of 5G networks is unprecedented and, more importantly, the speed at which these services need to be created and managed, typically in a multi-vendor environment, is significantly faster than what today's OSS, NMS, and manual processes can handle. This velocity and volume will affect the entire network lifecycle, including planning, designing and deploying services, and day-to-day operations. Automation will play a critical role in helping operators meet these challenges to speed the delivery of 5G networks and derive new revenues.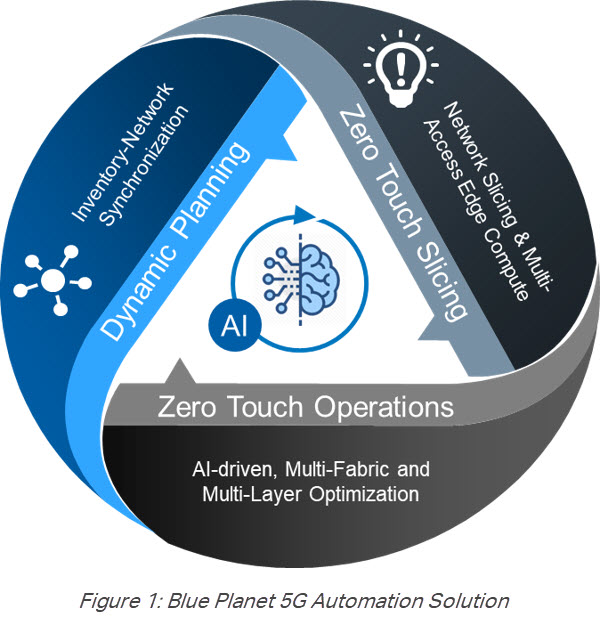 Finally, with 5G still being an emerging technology, the standards associated with it too are evolving. In order to adhere to the emerging 5G standards, MNOs need a cloud-native 5G solution that is designed and developed based on openness and works in a multi-vendor network with no vendor lock in.
As 5G scales, automation will, in turn, increasingly rely on AI and ML (machine learning) to fully automate some operational processes, including predicting situations like a network fault before it occurs and taking corrective actions before it impacts customers, or understanding when specific network resources are near capacity and scaling them up to meet the growing requirements of the services that rely on them. Of course, this type of AI-assisted operations is a topic I've been discussing for quite some time.
The promises of 5G, automation and AI are great, but the path to get there is filled with many technical hurdles. Here on the Blue Planet team, we've been working hard to deliver an intelligent 5G automation solution that helps MNOs lessen the bumps.
The speed at which 5G services need to be created and managed, typically in a multi-vendor environment, is significantly faster than what today's OSS, NMS, and manual processes can handle. Automation will play a critical role in helping operators meet these challenges to speed the delivery of 5G networks and derive new revenues.
To enable this essential element in the path to 5G, Blue Planet has unveiled our new intelligent automation solution designed to enable 5G service automation in an open, multi-vendor environment.
Our new Blue Planet 5G Automation solution (Figure 1) is focused on providing a comprehensive approach – incorporating Dynamic Planning, Zero Touch Slicing, and ultimately Zero Touch Operations – that will help operators automate network planning, design and operations to bring 5G to market faster, lower costs, and monetize their 5G investments. Unlike other vendors, Blue Planet provides an open and vendor-agnostic 5G automation solution that enables reliability, agility, and scalability, while avoiding vendor lock-in.
Dynamic Planning: 5G uses higher frequencies and densification with new micro and macro cells to deliver its bandwidth gains to customers. To provide the best experience, MNOs will want to provide maximum coverage as quickly as possible. That's where Blue Planet Dynamic Planning can help. It provides MNOs with the ability to optimize network buildouts, simply and efficiently, based on clear visibility of existing network and service resources at any point in time. Because micro and macro cells, and network slices, have strict requirements in terms of speed, capacity, and latency, it's critical to plan and deliver network resources optimally, wherever and whenever they're required. With Blue Planet Dynamic Planning, MNOs can anticipate, scale and adapt to meet ever-varying customer needs.
Zero Touch Network Slicing: Blue Planet's Network Slicing solution enables MNOs to automate the full lifecycle management of network slices, including end-to-end design, creation, modification and monitoring. This ensures they can optimally place network resources like virtual network functions (VNFs) within a network slice. It also lets them reallocate unused resources to other slices. With its advanced analytics, AI, ML, and automated orchestration capabilities, the Blue Planet zero-touch Network Slicing solution lets MNOs build self-driving, self-healing and self-optimizing 5G networks that can create slices end-to-end across 5G RAN, transport (xHaul), core, and NFV/Cloud domains.
Zero Touch Operations: Zero Touch Operations increasingly adopts AI and ML to optimize service management seamlessly and autonomously. Blue Planet 5G Automation will ensure operators have the zero-touch management ability in place to continuously optimize 5G services and operations across seamlessly interconnected network layers and cloud fabrics. We're preparing for this future today.
The Final Destination
In 2020, the waiting is over and the 5G rubber is finally hitting the road. But it's still going to take some time for network operators to really get rolling and extend the full benefits of 5G to their customers. Fortunately, ML and AI technology are now also ready for prime time and operators can use them to start automating their networks from end to end to get services into subscribers' hands faster. And with the Blue Planet 5G Automation Solution providing support along the way, your road to 5G can be much smoother.
Visit our 5G Automation solution page, read the solution brief, watch the webinar or request a demo to see these 5G automation solutions in action.