Automation Paves the Way to 5G Network Slicing
While automation is important to every stage of the 5G journey, the complexity of end-to-end network slicing makes automation essential. Monica Paolini, Principal at Senza Fili, looks at how automation tames the complexity of 5G network slicing, and shares her expertise to help you select the best automation approach.
5G is a journey that CSPs take in multiple stages. It starts with planning, progresses through commercial launch, and then shifts to expanding CPSs' 5G capabilities to maximize the new functionality and revenue opportunities that 5G offers. In the Accelerating Your 5G Journey webinar series, American Tower Corporation and Blue Planet experts joined me to discuss how CSPs can best prepare for, effectively operate, and fully monetize their 5G networks.
Automation to Prepare, Operate and Monetize
In the first discussion with Mark Gibson, Director of Product Line Management at Blue Planet, we talked about the foundational role of inventory in getting ready for the journey. It is like packing your suitcase to make sure you have all you need for a road trip. A unified view of the resource and service inventories is the necessary first step to automating and optimizing service planning and design processes in support of the end-to-end operations of the network.
We then moved to the role of automation in enabling the 5G journey. Youssef Abdelilah, Global Innovation and Strategy at the Office of CTO at American Tower, showed us how automation in 5G hybrid networks enables industry 4.0 and enterprise IIoT applications through network slicing. Tying everything together, Marc-Antoine Boutin, Vice President of Product Management at Blue Planet, explained how CSPs can implement automation in their 5G networks to support these new use cases, including ones for enterprise and IIoT services.
"How do you know whether your network has the resources to support a service that your customers need? Can you meet the SLAs? Can you dynamically add new services on scale? At Blue Planet, we give CSPs the inventory tools they need to support and monetize new use cases, including those based on dynamic, end-to-end network slicing." - Marc-Antoine Boutin, Vice President of Product Management at Blue Planet
Automation Underpins Network Slicing
While automation is important to every stage of the 5G journey, the complexity of end-to-end network slicing makes automation essential. This complexity will only increase as the number and types of slices increases over time. In response, the scope of automation widens as network slicing evolves from a traffic management tool to an end-to-end, dynamic service framework, and becomes more deeply integrated into network operations and service provisioning.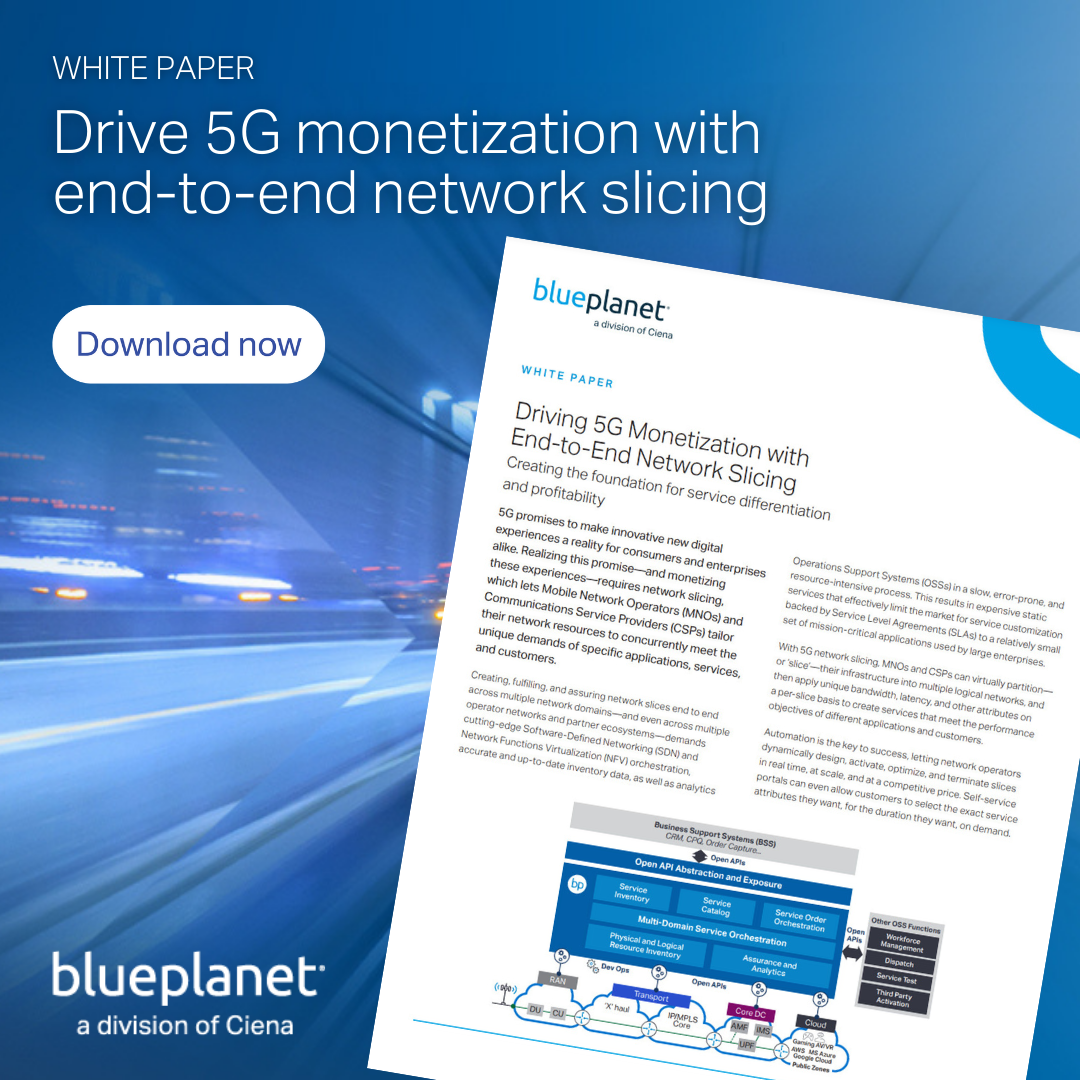 CSPs will roll out network slicing incrementally, gradually adding capabilities, testing that everything works as expected, and learning to benefit it. Initially, CSPs will keep the number of slices low and constant through time, and implement slicing separately in the core or in the RAN. As they progress through their 5G journey, CSPs will increase the number of slices, tie them to specific customers, locations, and services, and move to end-to-end slicing to meet customer SLAs and optimize the use of network resources. At this point, CSPs will be able to introduce network slicing as a service, with real-time service provisioning and predictive capabilities to make sure they can meet the requirements of their clients.
Automation Tames Complexity
Within the 5G journey, networks evolve along multiple dimensions in parallel and in synergy. As network slicing gets deployed in phases, the role of automation evolves, and its capabilities and effectiveness expand.
The growth in slicing capabilities triggers an increase in operational complexity. The network has to manage more slices, optimize network performance across more parameters and their interactions, and change slice definitions in real time to optimize SLA enforcement. Automation lets CSPs overcome the challenging task of managing the slice lifecycle as the scope of network slicing widens and maintain profitability at scale.
"The combination of automation and network slicing can reduce the TCO, mostly by lowering the cost of operating the network. By more effectively sharing the network infrastructure among multiple use cases, we expect 30-40% cost savings, which may rise to 40-60% with the addition of virtualization and Open RAN." - Youssef Abdelilah, Global Innovation and Strategy at the Office of CTO at American Tower
Choosing the Best Automation Approach
5G automation is not a ready-made product you bolt onto the network. Instead, a successful automation implementation requires a carefully planned, building-block approach. There is no single right way to automate a wireless network: CSPs have to identify their specific goals, pick the automation approach that works best for them, and execute their plan in an incremental approach.
Targets. End-to-end network slice lifecycle automation is the ultimate goal, but it will come at the end of the automation journey and require time. The first step for CSPs is to decide what must be automated at each stage of the 5G journey, keeping in mind that what is automated at the beginning lays the foundation for what comes later. For this reason, automated, dynamic resource discovery and inventory federation are the best places to start.
Scope and depth. As automation becomes embedded in the network, its scope and depth will increase. Still, CPSs will need to choose the appropriate initial scope and depth levels that the network can manage and that CSPs can use as the basis for further learning and vendor engagement.
Learning strategy. Knowing what you want to automate does not mean you know how to do it. Learning is essential, and not just initially. It is an ongoing effort to improve the automation processes that continues as the network, its capabilities, and the services it supports change. AI and ML underpin the learning process, initially using supervised approaches to steer the learning in the right direction. Eventually, AI and ML will move to unsupervised and closed-loop learning modes to further refine automation capabilities.
Trust. Rigorous testing and monitoring are also crucial to ensure that automation works as intended and to establish trust. With automation, CSPs have to give up direct, hands-on control of many aspects of network operations. Both at the organizational level and at the personal level, automation requires a cultural change that can be challenging. And trust goes beyond the CSP: it must extend to the processes of ecosystem partners and automation vendors.
Link to service provisioning and service assurance. Automation will eventually go beyond streamlining operations and become a necessary component to support a new way to provide services and service assurance – e.g., with network slicing. CSPs need to chart their roadmap to integrate automation within the end-to-end service management process.
Automation From the Ground Up
Automation is not an option in 5G – and even more so in network slicing. Network complexity, in conjunction with the need for dynamic end-to-end service provisioning and network management, requires deep and wide automation to extract the value of the new technology.
At the same time, 5G gives CSPs a clean slate to develop an automation strategy and deploy automation tools that will lead to more efficient and intelligent networks, lower operating costs and complexity, and a better user experience. Achieving this will require careful preparation, efficient execution, and continuous refinement through coordination among the CSP IT and network teams, automation vendors, and ecosystem partners.