The road to 5G network slicing begins with automation
This year is pivotal for 5G. Mobile operators will continue to deploy 5G network globally and are increasingly investing in standalone 5G, which will help enable network slicing at scale. But getting there is a journey that requires intelligent automation every step of the way - from network planning through implementation.
Blue Planet's Kailem Anderson outlines how Blue Planet's new 5G Automation solution provides operators with an open-standard based path on their journey to 5G giving them the ability to quickly build a scalable and agile multi-vendor 5G network.
This year will be pivotal for 5G. The Global mobile Suppliers Association (GSA) predicts that by April, mobile operators will have deployed more than 200 5G networks globally, and the group is tracking 98 operators that are investing in Standalone 5G, which will enable network slicing at scale. But getting there is a journey that requires intelligent automation every step of the way – from network planning through implementation.
Network slicing is exciting because it allows operators to support a diverse set of applications over a shared infrastructure, with guaranteed levels of latency, availability, security, and throughput. Most Mobile Network Operators (MNOs) and Communications Service Providers (CSPs) envision using network slices to monetize services delivered by an ecosystem of partners.
Automation is essential at every stage because ultimately thousands, if not tens of thousands, of dynamic network slices will need to be provisioned in real-time across physical, virtual, and cloud-based domains. The resulting complexity simply will not be manageable using manual processes.
Along the way, operators need to be able to manage and automate the entire service lifecycle starting with network inventory and planning, then moving on to activation, orchestration, and assurance. Automation is essential at every stage because ultimately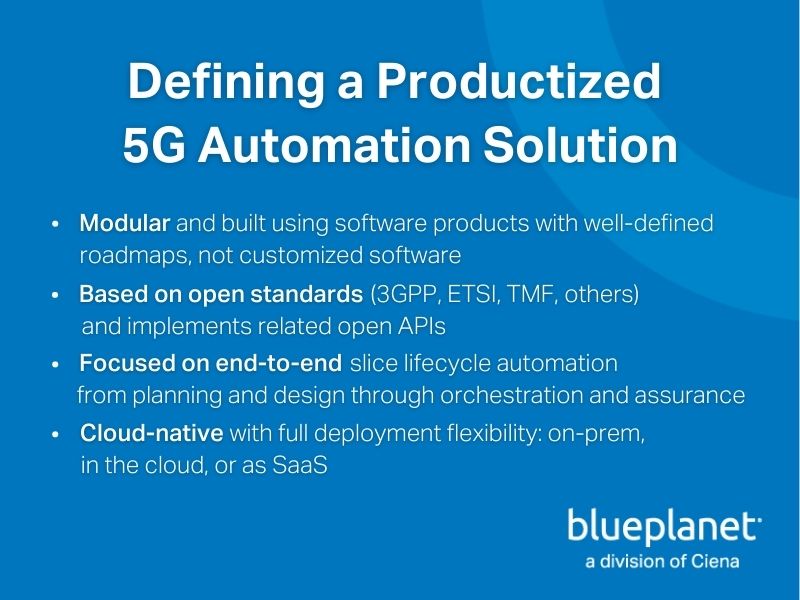 thousands, if not tens of thousands, of dynamic network slices will need to be provisioned in real-time across physical, virtual, and cloud-based domains. The resulting complexity simply will not be manageable using manual processes.
What operators don't need or want is yet another closed legacy Operational Support System (OSS) that requires expensive customization. To deploy 5G and network slicing, operators need a software partner with a proven, productized 5G Automation solution that can evolve with their changing needs. It is critical that the solution be open, vendor-agnostic, modular, and cloud-native to support multiple unique operator paths to 5G .
It starts with inventory
We have a mantra at Blue Planet that says "you can't automate what you can't see." By using federation to unify inventory data from multiple legacy OSS and other sources, operators can create a "single source of truth" for the network – a dynamic inventory showing the current state of the radio access network (RAN), transport and packet core network domains. This accurate, real-time view of network resources and the service topology helps automate key operational processes to design and activate dynamic new services like network slicing much more quickly.
Telefónica confirmed that modernizing their inventory was a major step in its OSS transformation journey. The company is using the Blue Planet Intelligent Automation Portfolio to turn OSS silos into a "data democracy" – making data available to anyone in the company that needs it – which demonstrated the ability to reduce the time it takes to deploy new services from hours or days to just minutes.
Next up: order management
The next step on the journey is the automation of service activation and order management. DISH Network is building a cloud-native, open RAN-based 5G network with their operational systems hosted in the AWS public cloud. This includes Blue Planet Inventory and Service Order Management.
Blue Planet Inventory unifies downstream systems with the active RAN components, enabling thousands of records to be available using open APIs. This helps DISH understand the capabilities of their physical and virtual infrastructure, at any point in time. Then service order management uses a real-time service catalog to match network resources with customer orders and automate the assignment of resources based on the service order description. Together these capabilities lay the groundwork for DISH as they deploy the greenfield 5G network, incorporating network slicing from the get-go.
"In a traditional network your inventory is the sum of many parts built over time," DISH's Chief Network Officer, Marc Rouanne, told Fierce Wireless. "It's hard to have one global inventory of the network, then it's very hard to slice it and automate it because you don't have a real-time database that tells you at any time how your network is doing." Using Blue Planet Intelligent Automation solves this problem and allows DISH to assign the necessary resources to a slice based on the service order description.
Managing end-to-end orchestration
As the journey continues further, the next step is to automate delivery of services end-to-end across multi-vendor physical and virtual domains that span the RAN, edge, transport and packet core. M1, Singapore's first digital network operator, is using Blue Planet Inventory and Blue Planet Multi-Domain Service Orchestration (MDSO) to accomplish this as part of its bold transformation program to become a platform-based digital services provider. The company is eliminating all legacy OSS/BSS, replacing the systems with a cloud-native, best-of-breed digital platform.
In a recent Blue Planet podcast, M1's Chief Digital Officer, Nathan Bell, described its digital platform as "Amazonesque," noting that M1 now offers customers a zero-touch process for ordering services which includes the ability to "order it online – no human touches it – and it comes out the other end as a fully activated and integrated service ."
Open, model-driven orchestration plays a foundational role in the digital platform approach defined by the TMF's Open Digital Architecture (ODA), as well as within the 3GPP's 5G network slicing standards. Blue Planet MDSO provides robust, field-proven service and network orchestration capabilities spanning diverse applications such as SD-WAN as well as multi-vendor IP and optical transport – with many customers already leveraging transport slicing features today.
Guaranteeing quality of service
The final operational step on the journey to network slicing and 5G monetization is automating service assurance. CSPs must be able to monitor services across RAN, transport, and core domains to ensure that customers' service level agreements (SLAs) are being met.
Blue Planet Unified Assurance and Analytics (UAA) and Route Optimization and Analysis (ROA) use Artificial Intelligence and Machine Learning to collect and process data at scale for continuously monitoring network conditions, traffic demands, and resource availability in real-time. This enables visualization of the 5G topology from end-to-end, service impact analysis, and rapid root cause identification to resolve issues much more efficiently, and when combined with orchestration it provides the ability to dynamically modify network slices to meet SLAs.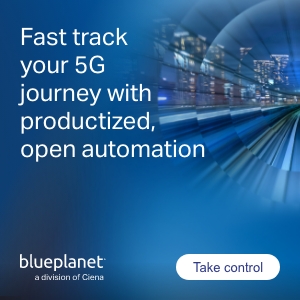 UK-based Colt Technology Services is using UAA to monitor its IQ Network, which provides 5G backhaul transport to mobile network operators. "Deploying UAA for fault management enables us to leverage automation and AI to rapidly analyze and resolve network issues, as well as to proactively identify opportunities to enhance the reliability of our network," says Shane Sura, Vice President of Network Operations at Colt. "This is a key enabler in providing the fastest detection and resolution of network issues for exceptional customer service."
Pulling it all together
It's clear that operators need a well-defined roadmap to successfully realize 5G network slicing. They need to be in the driver's seat on this journey, and they need to be able to complete it at their own pace.
Manual operations for delivering pre-defined, static services must be replaced with automated cloud-native solutions that are open and standards-based. Each component must be model-driven to enable operators to programmatically expose their network's capabilities and become true DSPs.
Finally, an operators' flexibility and agility requirements drive them to select the software deployment option that provides them the optimal return, or the fastest time to market. Consuming automation software-as-a-service (SaaS) is becoming more attractive as operators look at deploying one or multiple open software components as SaaS. Blue Planet's 5G Automation provides a fully productized network slicing solution today that is modular and able to support diverse deployment models to align with different operators' evolving paths to 5G.