Want to Monetize 5G? Start with Dynamic and Federated Inventory
Network inventory management has become a huge pain point for CSPs because they have so many legacy systems operating in silos. Blue Planet's Sandra Lowenstein details how federation technology can unify inventory data to provide a single 'source of truth' in an evolutionary approach to OSS.
"We can't automate what we can't see." - Telefónica's Alberto Pereira Fernández, OSS Architecture
During his recent presentation at Blue Planet's Virtual Insiders Forum, Alberto Pereira Fernández explained that the OSS team have adopted Blue Planet's mantra that you can't automate what you can't see – meaning if Communications Service Providers (CSPs) are unable to visualize all their networks, data, support systems, and processes, how on earth will they ever automate them?
Like Telefónica, most of our customers are focusing on the growing importance of service lifecycle automation, which starts with real-time network inventory management. In fact, dynamic, federated inventory provides the very foundation for next-generation networks and delivery of new services like SD-WAN and 5G network slicing. Without it, CSPs won't be able to monetize all the new and exciting use cases that 5G promises.
What is a network inventory system?
Telcos' inventory systems maintain data about many network- and service-related resources. These can be physical resources like a router or firewall, virtual network functions, or logical resources such as chains of interconnected network functions and services. Inventory systems are the most important part of the "Plan to Build" phase of the service lifecycle because they support all other processes, from planning network capacity, to ordering and fulfilling new services, to optimizing them and resolving problems.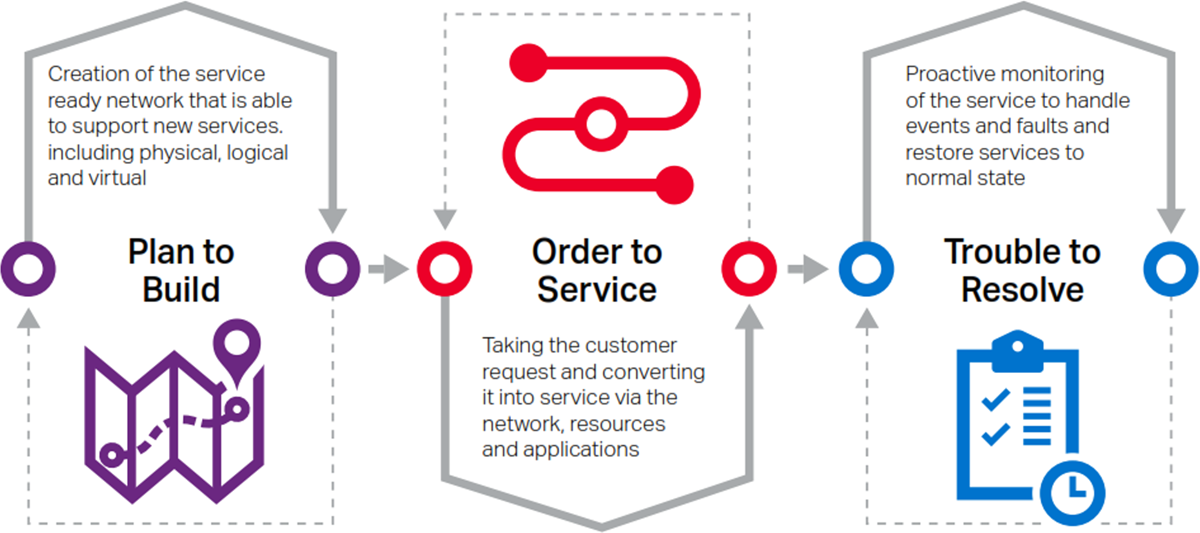 Mission-critical processes for a service provider's business
What needs to change?
Network inventory management has become a huge pain point for CSPs because they have so many legacy systems operating in silos. These legacy inventory systems are typically built on relational databases that cost a fortune to maintain, and it's also still very common for data to be stored in offline systems like Excel spreadsheets.
This fragmented approach makes automation impossible. Instead, manual 'swivel-chair' management is the norm, and the result is excruciatingly slow time-to-market – in a world where enterprise customers are demanding that CSPs provide the same fast innovation and self-service control they get from hyperscale cloud providers.
A single 'source of truth'
There is a better way to manage network inventory, and operators can get there using an evolutionary approach as opposed to a lengthy "rip and replace" transformation. Using federation technology, service providers can unify inventory data from multiple existing Operational Support Systems (OSS), Network Management Systems (NMS), and other sources to create a single 'source of truth' that reflects the current state of the network.
Federation offers a welcome alternative to ripping out systems and replacing them, which often results in high integration costs and even more vendor lock-in. Instead, CSPs can implement an overlay on their legacy inventory platforms and other OSS to create a comprehensive, unified view of their network resources and customers' services. This approach lets them retire legacy systems at their own pace.
Blue Planet Inventory (BPI) unifies network and services inventories into a comprehensive view for the automation of operational business processes. This visibility helps simplify, optimize, and automate key operational processes such as network planning, service fulfillment, and service assurance.
Importantly, BPI gives CSPs the ability to visualize inventory using a graph database, which is different from traditional inventory systems that rely on relational databases. Graph databases are much better at modeling complex environments like networks, where many dynamic relationships exist between data. Modeling the network in graph form makes placement decisions, such as where to locate a node, much easier. Graph databases also help with path calculation by providing a connectivity model across heterogeneous vendor and data environments.
In addition, BPI is cloud-native and can be consumed as software-as-a-service. It is standards-based, using TM Forum Open APIs to interface northbound with other OSS/BSS, and APIs from IETF and the Open Networking Foundation to connect southbound to network infrastructure.
Evolution, not revolution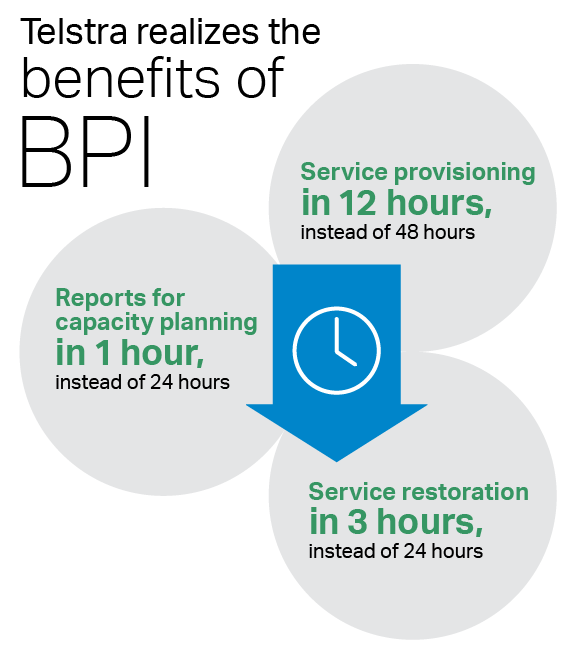 Telstra International is an excellent example of BPI in action. As explained in this case study, the company is using federation to evolve its home-grown inventory systems, which reduces risk and costs. The company is deploying BPI in three phases. The first, which is now complete, focused on inventory in the optical transport network. Phase 2 includes inventory for Ethernet and IP services, and the final phase will add inventory for additional IP services as well as satellite, voice, wholesale, and reseller services.
The results so far are impressive. For example, Telstra engineers used to have to view 10 screens to evaluate potential paths, bandwidth, hops, latency, and other factors when trying to find capacity for a new service between two network locations. Now, just six clicks show all available routes on a single screen with Google Maps.
Get started with Blue Planet Inventory
This ebook explains much more about how your company can get started on the four-step path to automated network inventory management:
Federate – BPI collects data from existing operational systems into a single, unified model.
Migrate – Critical inventory data moves into the flexible BPI graph database to provide an accurate, end-to-end view.
Retire – New network services are modeled in BPI, rendering legacy inventory obsolete.
Automate – BPI's open interfaces enable operational workflows to be automated for maximum efficiency.