Reduce the need for rigid, costly professional services
For network operators, developing and deploying services remains a rigid, time-consuming, and inefficient process that is heavily dependent on vendor-controlled back-office software systems. The process typically requires manually updating these monolithic and 'hard-coded' software platforms—almost always with help from costly professional services—which lengthens service delivery cycles, and increases costs, while decreasing competitiveness. The Blue Planet DevOps Toolkit 'turns over the keys' to Blue Planet, giving network operators greater control over their infrastructure and operational agility, enabling them to deliver new on-demand virtualized services more quickly to meet today's business challenges.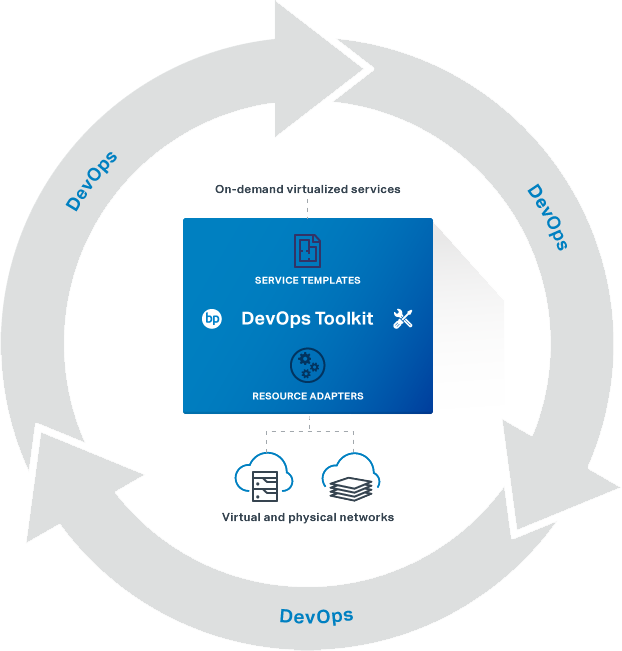 With the Blue Planet DevOps Toolkit, network operators can utilize in-house Product Development, IT and Operations personnel to on-board physical and virtual network resources and accelerate service deployment
The DevOps Toolkit leverages Blue Planet's model- and data-driven architecture, allowing network operators to extend and enrich the management and programmability of a wide range of physical and virtual network components and devices. For example, with the DevOps Toolkit, customers can quickly on-board network resources such as Virtual Network Functions (VNFs), routing equipment, or network domains, and use these new resources to automate and accelerate the delivery of new services.
The Blue Planet DevOps Toolkit offers the following features and benefits:

Gives operators self-service control over networks and services. Operators can, on their own, incorporate new technologies, networking equipment, and VNFs onto the Blue Planet platform.

Uses in-house personnel, rather than expensive professional services, to integrate physical and virtual resources and develop new services.

Helps network operators successfully migrate away from static, individualized processes to more collaborative DevOps tools and techniques to optimize revenue, cost savings, and customer satisfaction.

Enables operators to quickly adapt network services to changes in market demands, so they can improve service quality, and address diverse and ever-changing customer requirements.

Transforms current operations by bringing multiple corporate functions together to collaborate quickly and easily on the delivery of new services with more targeted functionality.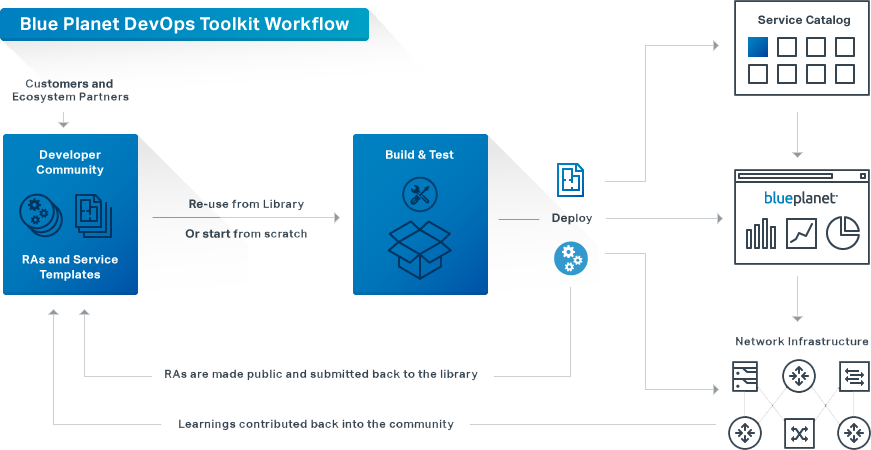 The Blue Planet Developer Community and the DevOps Toolkit allow customers and ecosystem partners to access resources, share ideas, and collaborate to extend the programmability of SDN and NFV enabled networks
Along with the DevOps toolkit, Blue Planet offers a related online community for customers and ecosystem partners to share ideas and collaborate on development to extend the functionality of their deployments. In addition to facilitating open collaboration, the Blue Planet Developer Community provides information on downloading, getting started, and using the DevOps Toolkit. Blue Planet is currently the only SDN/NFV software platform supplier offering this type of open development forum to help network operators take control of their destinies, along with the network orchestration processes required to deliver new apps and services.
Get started now