Now more than ever, Communications Service Providers (CSPs) need to transform their legacy service introduction and fulfillment processes—which are too slow and resource-intensive—into a competitive advantage that accelerates time-to-revenue and improves customer experience.
Blue Planet® Service Order Management (SOM) meets these needs with catalog-driven zero-touch service order fulfillment that dynamically discovers the network's service capabilities, automates service activation, and provides complete order workflow visibility and control.
Importantly, Blue Planet SOM uses standard APIs to easily integrate with customer order management systems and together with other elements of the Blue Planet Intelligent Automation software portfolio, it also provides a solid foundation for Network-as-a-Service (NaaS) business models.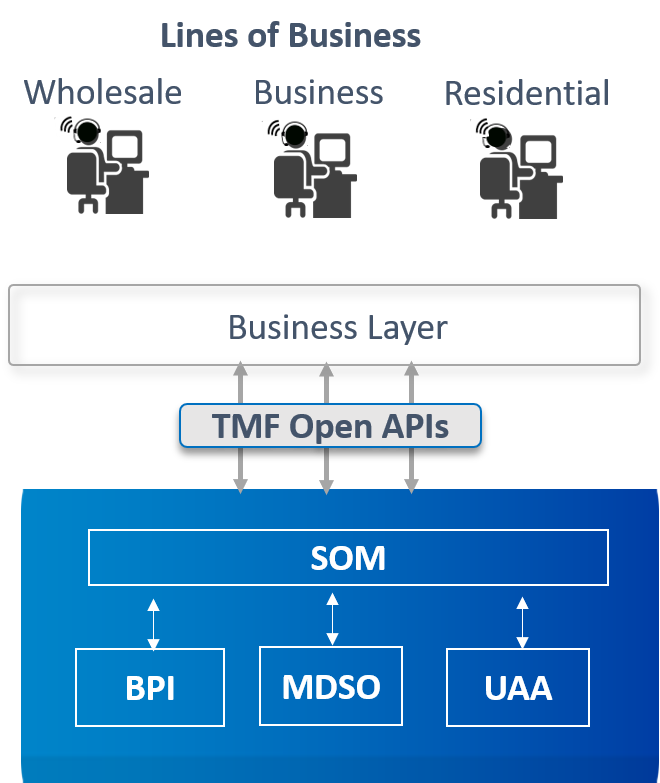 Highlights

Zero-touch service fulfillment accelerates the order-to-service interval and time to revenue by up to 99%—from months to minutes

Promotes innovation by reducing the time, cost, and risk associated with new technology, service, and product introduction

Eliminates the OPEX and staff burdens associated with manual order processing, fragmented workflows, and inconsistent procedures

Provides 'at-a-glance' order progress, highlights risks to on-time service fulfillment, and reduces order fallout related to manual errors to less than 0.1%

Reduces order fallout due to manually-introduced errors to less than 0.1%

Complements Blue Planet's inventory, orchestration, and assurance products to accelerate the realization of automated service lifecycle management and NaaS
Blue Planet SOM leverages Blue Planet Inventory (BPI) and Blue Planet Multi-Domain Service Orchestration (MDSO)—as well as any pre-existing inventory, orchestration, and provisioning platforms—to create well-defined, reusable service catalogs. SOM validates new service orders against these catalogs before coordinating the service activation.
Throughout this process, SOM provides insight into the order status and flags risks to on-time fulfillment, allowing technicians to re-prioritize tasks when customer commitments are in jeopardy. The result: rapid and efficient service fulfillment that helps CSPs delight their customers, improve margins, and gain share.
Get started now