Pave a clear path to service lifecycle automation
Is your legacy inventory system slowing down your automation strategy? With Blue Planet Inventory (BPI) you can set your own pace by federating all the valuable data from existing Operational Support Systems (OSS) and your multi-vendor network into a single source of truth. No need to rip and replace. Build upon your current OSS assets by collecting operational data, synchronizing it with dynamic network information, and using it to drive automated business processes. No more manual swivel-chair between IT and Network Operations. Operational processes that include network planning, service fulfillment, and service assurance can be completed with a few clicks, providing end-to-end service lifecycle automation. That means faster rollout of new services—with an improved customer experience.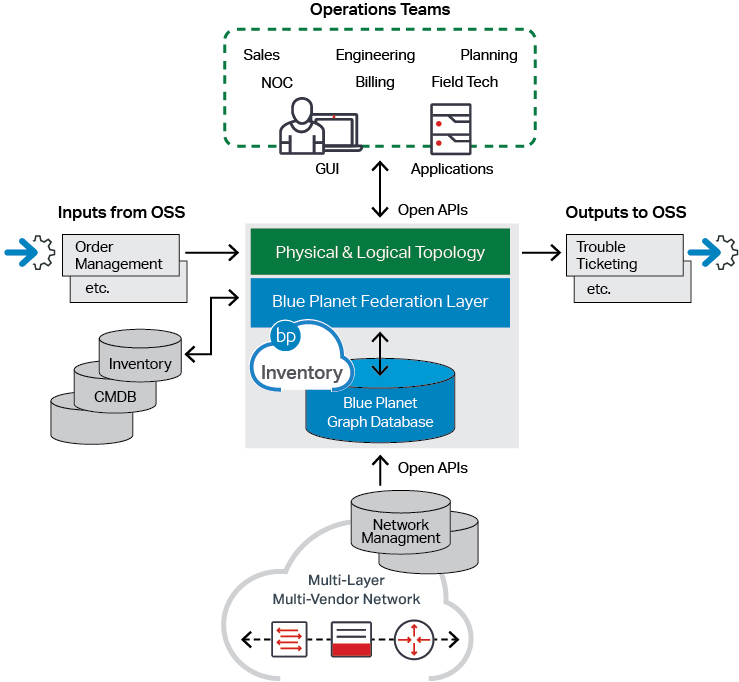 ON-DEMAND WEBINAR
Break Away from Your Legacy Inventory System with Blue Planet
"The Blue Planet team understands the challenges of having multiple, legacy inventory systems and the adverse impact on business processes.By gaining a single view of our network assets and systems, INS is an optimal way to transition to automated operations which ultimately drives greater agility and stronger customer satisfaction."
Kevin Coyne, Chief Operating Officer, FiberLight
"Our customers increasingly want a very simple and seamless experience when working with us, similar to how they interact with everyday consumer digital offerings. With automation from Blue Planet, we are able to execute on our customer-first strategy by building a network that is fast and dependable—and enables them to have greater control."
Features and benefits

Federate data from multiple inventory and operational systems into a single user interface to dramatically reduce swivel-chair operations, achieving greater levels of operational efficiency.

Create an up-to-date, comprehensive view of all multi-vendor network resources and multi-layer services through network discovery and reconciliation, improving operations accuracy and reducing effort.
Leverage BPI's open APIs to streamline and automate key operational processes such as network planning, service fulfillment, and service assurance—reducing lead times and increasing customer satisfaction.

Take advantage of Blue Planet's flexible implementation options: consume BPI in an elastic Software as a Service (SaaS) model, or deploy BPI in the cloud or on-premise.
BPI's flexible and modular architecture
BPI Core provides the federated abstraction layer, consolidating and reconciling data from multiple inventory and OSS across multiple domains and multiple vendors to provide a unified view of operational data.
Guided Operations is an automated process workflow environment with a common dashboard and an execution engine based on Business Process Model and Notation (BPMN) designed to accelerate the completion of business-critical operational processes.
Dynamic Inventory supports multi-vendor, multi-layer physical and virtual network functions (VNFs), and logical service modeling to enable an end-to-end view of service-to-resource mapping.
Rapid Path Search provides the ability to find routes, paths, and circuits between two locations or network elements across any network technology in real time, optimizing service planning.
Technology Packs support device and connection models for a variety of network technologies, including OTN, optical FlexGrid, TDM , Ethernet, IP VPN, SD-WAN, and 5G, including network slice management.
Blue Planet software development and services experts are ready to help you deploy BPI software into your specific operational environment and get you started on the transformation to automated operations.
Get started now