Break away from your legacy inventory with Blue Planet
In today's evolving environment, you are seeking to deliver new, dynamic services such as 5G network slicing and SD-WAN in an agile manner. However, the data needed to offer these services is typically siloed in legacy inventory and Operational Support Systems (OSSs) with proprietary interfaces, making the data complex to correlate and understand. As a result, your key operational processes such as network planning, service fulfillment, and assurance involve numerous slow, error-prone, manual tasks that delay new service offerings.
What is unified inventory?
Blue Planet Inventory (BPI) offers a modern approach. It uses federation technology to unify inventory data from multiple existing Operational Support Systems (OSS), Network Management Systems (NMS), and other sources to create a single 'source of truth' for network and IT users that reflects the current state of the network. Unified inventory becomes the backbone of service lifecycle automation.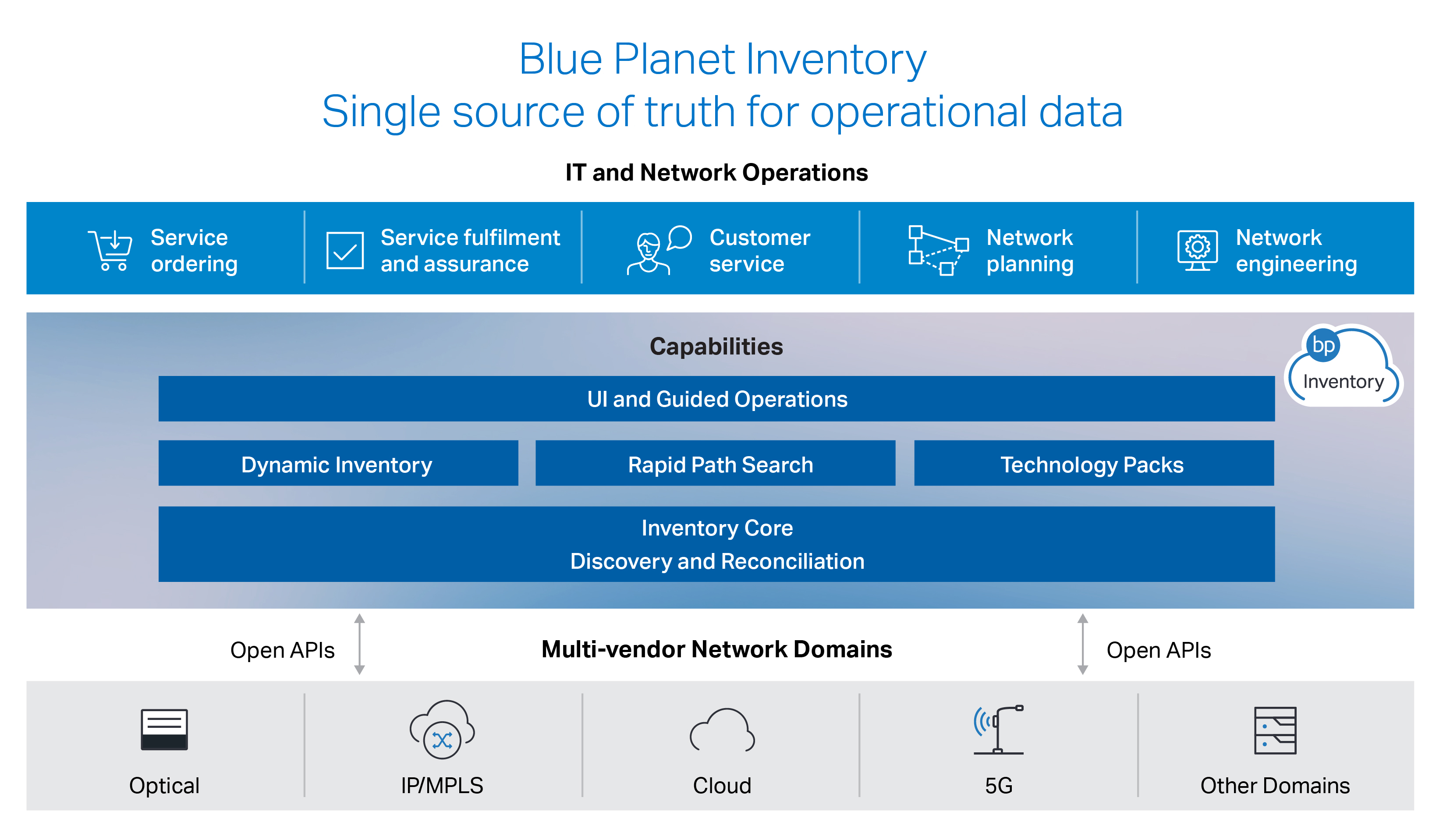 Automate and accelerate 5G network buildouts
Whether you are evolving a 4G network or building a 5G standalone, the journey begins with the ability to make critical planning and placement decisions from cell site to core. 5G brings additional multi-vendor, multi-domain complexity, and legacy and siloed OSS systems across Radio Access Networks (RANs), transport, and core also slow your ability to intelligently plan and scale based on coverage, utilization, and capacity across multiple services and technologies. Find out how Blue Planet's zero touch planning can help.
Progressive migration to unified inventory
BPI is deployed using an overlay approach to unified data federation that allows you to run legacy and new inventory systems at the same time. This approach minimizes business disruptions, protects existing investments, and allows you to decommission legacy systems at your own pace.

Federate
BPI combines data from existing operational systems into a single, unified model.

Migrate
Critical inventory data is migrated into the flexible BPI graph database to provide an accurate, end-to-end view.

Retire
New network services are modeled in BPI, allowing legacy inventory systems to be retired at your own pace.

Automate
BPI's open interfaces enable operational workflows to be automated for maximum efficiency.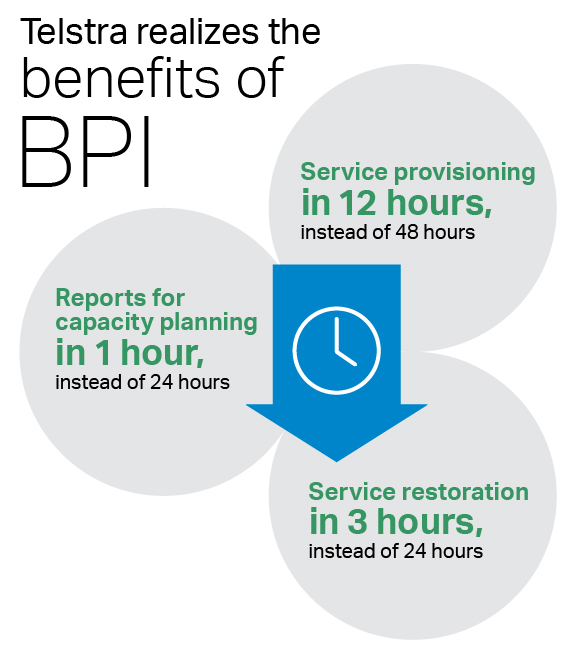 Proven success
Discover how Blue Planet Inventory has transformed operations at Telstra.
Features and benefits of Blue Planet Inventory

Productized with defined roadmap
BPI is a productized solution with a clear roadmap. You're not tied to service heavy contracts which require extensive customization for every deployment.

Open, standards-based approach
With BPI, you're not locked into a single vendor or a closed proprietary platform. BPI is vendor-agnostic, supporting open APIs to ensure interoperability and enable best-of breed ecosystems.

Cloud native architecture
BPI has been designed for the cloud. It's deployable as Software as a Service (SaaS) offering and on-premise. This enables you to rapidly roll out enhancements at scale. You don't need to adapt to a monolithic codebase retrofitted for the cloud.

Global delivery and partner options
BPI is backed by a worldwide delivery team with expertise in network, IT, cloud, and operations transformation. Our world-class Blue Planet partner ecosystem, Blue Orbit, gives service providers the choice to work with leading business and technology partners to tackle their transformational challenges.
Are you ready to break away?
Now's the time to migrate to a unified inventory environment—at your own pace—without the need to rip and replace.
Get started now