Break away from your legacy inventory system
Now's the time to migrate toward a unified inventory environment—at your own pace—without the need to rip and replace.
Blue Planet Inventory federates existing inventory systems and other operational data sources to produce a single source of truth, so you can fast-track the migration roadmap and retire legacy systems in a staged, systematic approach—with low risk and high reward .
Webinar
Automated Service Orchestration: delivering true value and new capabilities in a 5G world
How to break away from legacy inventory
Debunking misconceptions about inventory system migration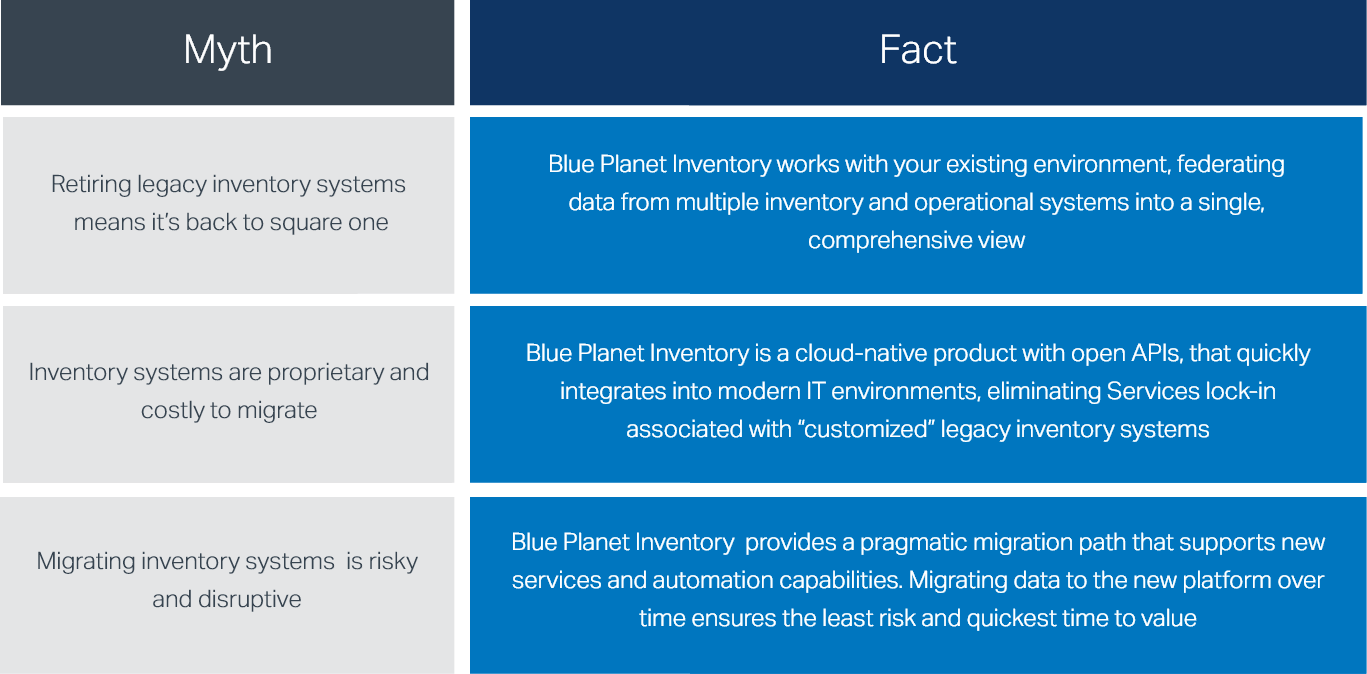 Your path towards a single source of truth for operational data
With increasing pressure to meet customer expectations, deliver new services, and simultaneously reduce costs, your operations team needs a modern approach to inventory management that paves the way for operations automation.

Federate
Blue Planet Inventory collects data from existing operational systems into a single, unified model.

Migrate
Critical inventory data is migrated into the flexible Blue Planet Inventory graph database to provide an accurate, end-to-end view.

Retire
New network services are modeled in Blue Planet Inventory, rendering legacy inventory obsolete.

Automate
Blue Planet Inventory's open interfaces enable operational workflows to be automated for max efficiency.

Proven success
Discover how Blue Planet Inventory has transformed operations at a major CSP, improving operational efficiencies, and enabling a more open, agile, automated network.
More about unified inventory
Continue the Blue Planet Inventory journey
Solution Snapshot: Inventory and Network Synchronization
Watch this short video to see how an end-to-end inventory view increases operational efficiency and customer satisfaction.
Ready to migrate?
Ready to see Blue Planet Inventory in action? Contact us for a discussion today.
Get started now