Today's virtual world is making inroads into the 5G world
Over the last months, we've all adapted to new ways of working, socializing, and living, as coronavirus pandemic precautions have been instituted across the globe. The relative ease with which our communications networks have dealt with the corresponding shifting connectivity demands is positive foreshadowing of networks' ability to handle the dynamic, bandwidth-hungry applications of the 5G world. Industry experts discussed our state of preparedness at a recent FutureNet World panel.
In March, industry tradeshows moved virtual, and FutureNet World was one of the first that embraced live open forums, launching their Webinar Series on the theme of 5G and automation. This month, the moderated panel session was devoted to the topic of "Automated Service Orchestration: Delivering true value and new capabilities in a 5G world". Industry experts had their say as to where they saw things heading. Given that Telia and Telefonica have both already launched commercial 5G service in Europe, and Blue Planet is engaged with several global operators on 5G automation initiatives, the panelists were speaking from a position of insight and experience.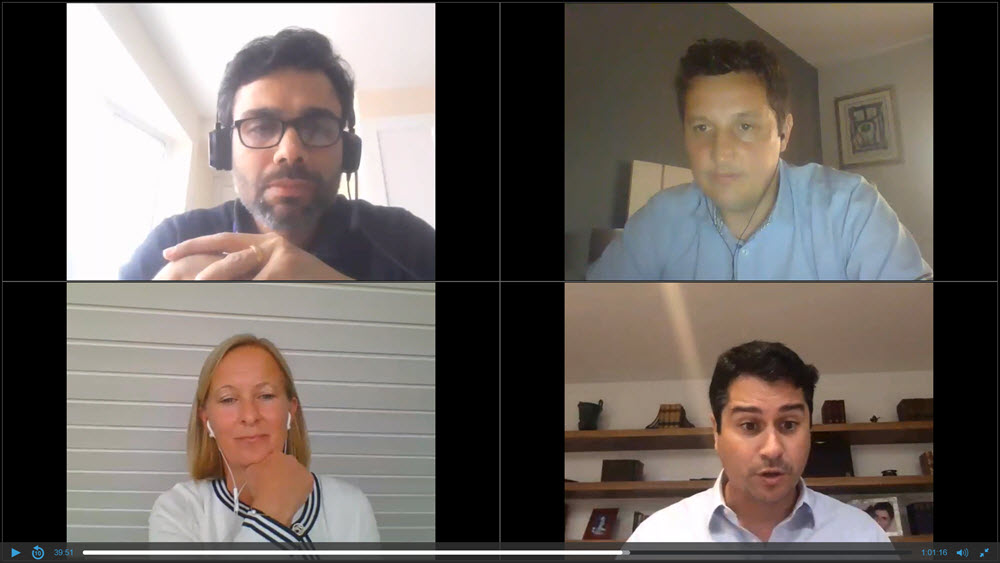 Figure 1: A sign of the times – participants share their views virtually (clockwise from top right: Luis Velarde Tazon, Head of Telco Cloud & Network Virtualization Architecture, Telefonica S.A; Kailem Andersen, VP Software and Services, Blue Planet; Asa Nielsen, Director, Head of Network Service Management & Automation, Telia Company; Anil Roa, Principal Analyst, Analysys Mason)
The consensus? You need to start from a baseline understanding of what is meant by orchestration and automation: The ability to manage services independently of the different devices (physical or virtual) in the network. The ability to do so across multiple layers. The ability to perform a set of actions autonomously.
Furthermore, in order to operationalize orchestration – and before automation can even be considered – it's essential to have well-known systems with well-understood behaviors. It's critical to get clear visibility of operational data across legacy systems. Only then can you design in software programmability for automation. You also need to adopt a continuous integration / continuous delivery (CI/CD) approach, in concert with micro-services based software, in order to migrate smoothly. Above all, you need open APIs to integrate capabilities together within the operational environment.
Are there risks in being too open? What are the biggest risks? Panelists shared that the key risk is in not starting the journey at all, being deterred by the enormity of the project! Although you need to have a holistic architectural framework in mind, you need to identify the initial system that needs migration and get going on that first step. There is a need to migrate to new systems that are able to support dynamic services. And then proceed in introducing automation step-by-step. Standards are very important in order to achieve consistency of interfaces and architectures, and to be able to reach a future state that is cost-optimized.
There is a long way to go – yet many benefits to be realized – by automating the delivery and assurance of new services that leverage low-latency high-bandwidth 5G technology. That is the motivation for the investment.
Key Success Factors? Telia stressed the importance of short-term tangible measures such as avoiding network incidents. Resource efficiency and capex gains are next. Telefonica cited total cost of ownership, and customer experience improvements through closed-loop automation.
When it comes to customer experience, the industry has been gaining substantial learnings from the dynamic management of shifting traffic patterns over wireline broadband access during this ongoing pandemic. Workplace connectivity demands have shifted from enterprise sites to home offices, and learning and socializing is being done remotely, driving steep increases in video applications from distributed locations, all throughout the day. The flexibility that is needed in order to continue to serve consumers with high reliability and performance is a model that can be carried forward to 5G operations.
With 5G there will be all the more demands for delivering dynamic services through efficient placement of virtualized network functions, in hybrid private and public cloud environments, with differentiated service performance guarantees. It's no small feat, but then again, we're already hitting our stride with automated service orchestration.

Figure 2: GSMA dashboard tracks the increasing number of commercial 5G launches globally
To gain more insights on 5G automation, checkout the panel playback recording and visit https://www.blueplanet.com/solutions/5g-automation.html.