Our involvement with AT&T's 400GbE trial and what it means for the industry
AT&T has successfully trialed 400GbE across its production network. Helen Xenos details how Ciena helped make it happen, and what this milestone means for the industry.
Pictured above: The Ciena team involved with AT&T's 400GbE trial, proudly showing off our 400GbE transponder.
Our industry has taken an important step closer to a future of open, flexible 400 Gigabit networks with AT&T's latest achievement. AT&T just announced it has successfully completed testing of a single-wavelength 400 gigabit Ethernet (400GbE) circuit across its production network, demonstrating its intent to lead the industry in providing next-generation speeds and helping transform the way their customers do business.
Ciena played a key role in this achievement, which resulted in the accomplishment of several important industry firsts and technology milestones:
The groundbreaking 400 gigabit Ethernet (GbE) single-wavelength technology that enabled the highest bandwidth service. (A second single-wavelength 400G was also present carrying four aggregated 100GbE signals.)
The deployed OpenROADM photonic network that was used to transport the wavelengths.
The SDN (software defined network) control using an open-sourced software platform.
A white-box packet switch that generated some of the traffic that was used across the network.
These technical details underlie the wider implications that this successful trial presents for the optical industry, and communication networks in general. Here are 3 important take-aways:
1. Single wavelength 400G is here and ready for live network deployment
The AT&T 400GbE trial marks the first public network appearance of our next generation WaveLogic Ai technology, featured in not just one, but two distinct product implementations. A single-slot WaveLogic Ai Muxponder (MOTR) was used to multiplex 100GbE client signals across a single 400G wavelength. In addition, a single-slot prototype 400G transponder was used to transport the 400GbE signal across a second single-carrier 400G channel. Transmission over 300km and across seven OpenROADM nodes was achieved using traditional EDFAs and NDSF fiber on AT&T's metro testbed.
Why is single-carrier 400G significant? To date, operators have been keeping pace with increasing bandwidth demands driven by video and cloud by transporting this traffic using 100Gb/s and 200Gb/s wavelengths. With WaveLogic Ai's ability to transport 400Gb/s on a single wavelength, they can now double the capacity they are carrying per wavelength. This means they can carry twice as much traffic over each WaveLogic Ai transceiver that they deploy, resulting in less equipment required, significant transport savings, dramatic improvements in power and space efficiencies, and simplified operations with fewer wavelengths to manage. In short, WaveLogic Ai enables more efficient scaling of high capacity networks.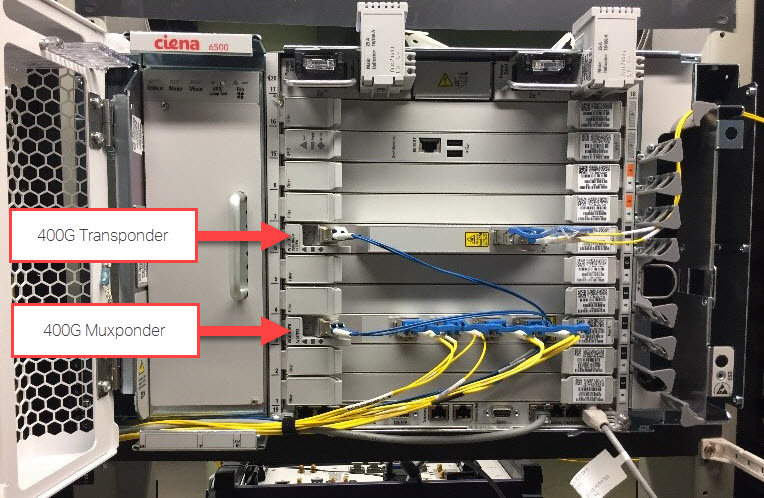 Pictured above, are the two Ciena WaveLogic Ai 400G modules that were used in the AT&T trial, operating in a standard 5RU 6500 shelf. The lower power afforded with the 400G-optimized coherent design means customers can now achieve 4 x service density with their existing 6500 equipment, where each slot is supporting 400Gb/s of throughput.
2. An ecosystem of suppliers is here and ready for 400GbE network trials
With the evolution of router interfaces from 100GbE to 400GbE, operators will be able to better satisfy business customers' increasing demand for bandwidth and provide a better experience to end users accessing or producing content over the Internet.
Similar to how "it takes a village to raise a child", it takes an ecosystem to bring new higher capacity Ethernet services, like 400GbE, to market. While the 400GbE standard is not expected to be ratified until later this year, there are already test set, component, and system vendors in place to provide support to operators as they approach the next stage of their network evolution.
Smaller form-factor pluggables are currently in development and are expected to facilitate economic, wide-spread deployment of 400GbE interfaces, on both routers and optical equipment.
3. Capacity and operational benefits of 400G can be achieved over a choice of architectures
The 400GbE trial was performed over AT&T's OpenROADM network and used an open-source SDN controller to create, route and re-route the 400GbE circuit, demonstrating the ability to gain the benefits of industry leading technologies over a software-controlled, disaggregated architecture.
Depending on their business and operational model, operators can have a very diverse set of networking requirements. For Ciena, this has resulted in developing solutions with open architectures, and allowing access to equipment and software in different form factors. The need for a higher capacity, next generation coherent solution, however, remains a universal requirement due to its impact in improving both operator profitability as well as the end customer experience.
This is an exciting time in the industry as live 400G trials and deployments start ramping, solidifying networks for the next wave of high speed applications on the horizon.
If you are attending ECOC 2017, you can learn how WaveLogic Ai enables the new software-driven optical network in the "Software defined coherent technologies for inter-datacenter networks" workshop, presented by Ciena's Qunbi Zhuge, designer of Advanced Optical Systems.
To learn more about how Ciena's WaveLogic Ai is changing the industry, bringing new levels of programmability and scale to networks for the first time, watch the below WaveLogic Ai Chalk Talk video.