Rapidly deliver value-added managed services
Network Functions Virtualization (NFV) offers many benefits to service providers, including improved service agility, lower opex and incremental revenue streams. Today, network operators are deploying a variety of Virtual Network Functions (VNFs)—like firewalls, routers, and SD-WAN edges—to offer value-added managed services, however, manual operational processes result in long order-to-service intervals and high opex that threaten competitiveness and profitability.
The Blue Planet Virtual Edge Automation solution automates and accelerates the initial launch and lifecycle management of NFV-based network services, which reduces the order-to-service interval to minutes, increases service revenues by up to 20%, and reduces opex by up to 80%.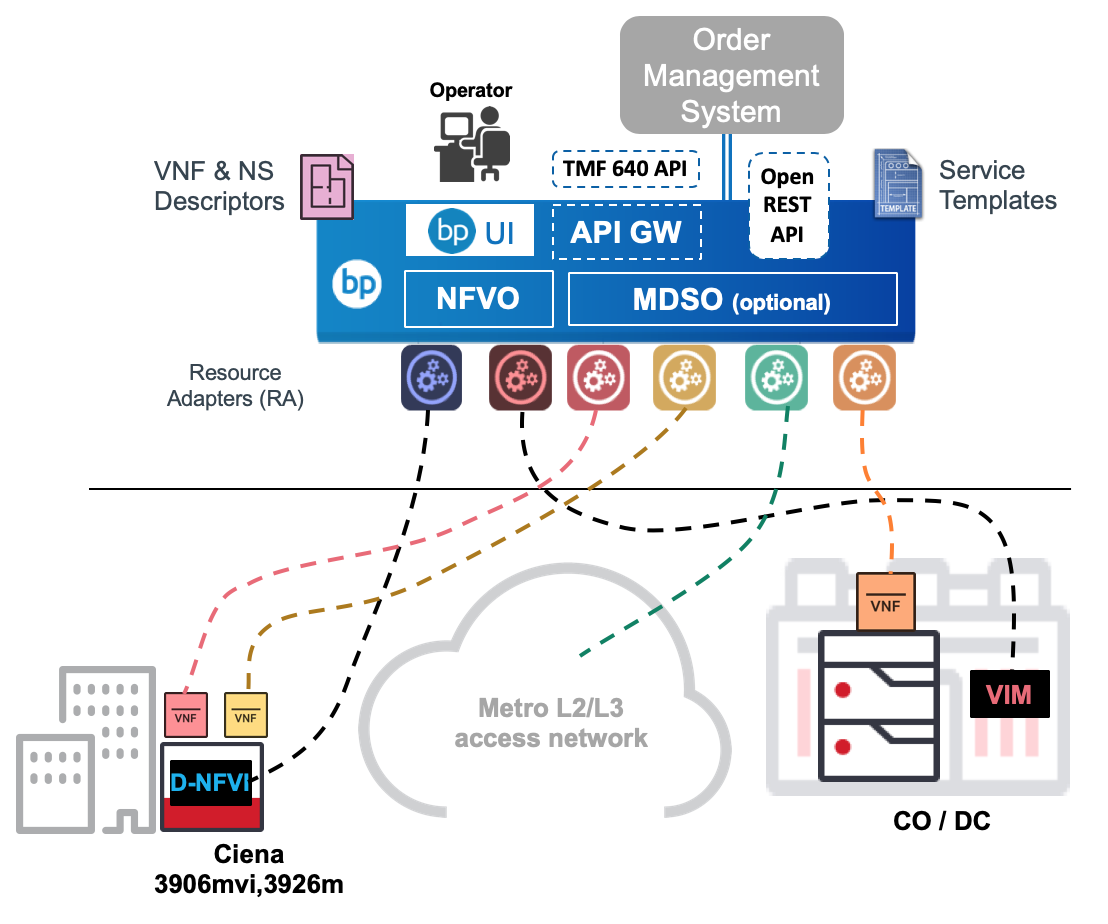 Key Features

VNF onboarding and network service creation wizards
Rapid creation of new revenue-generating service offerings consisting of single or multivendor service chains with easy to use tools

In-service VNF software upgrades and network service changes
Software upgrades and changes to existing running services are not service affecting, which encourages innovation and enhances the customer experience

Seamless integration with multivendor VIMs and VNF managers
Support for multivendor virtual infrastructure managers, as well as integrated or vendor-specific VNF managers, provides flexible deployment options

Support for a wide range of VNFs
Support for popular VNFs from a wide variety of leading vendors - including Riverbed, Velocloud, Fortinet and Palo Alto, among many others - enables an enriched set of managed service offerings and maximum freedom choice for customers

Support for legacy systems including existing OSS/BSS
Integration with your current OSS/BSS through TMF standard or custom API helps protect your existing investments
SOLUTION BRIEF
Delight customers and differentiate
Learn how the Virtual Edge Automation solution can help you accelerate service innovation, realize incremental revenue streams and reduce costs by automating the lifecycle management of NFV-based managed services.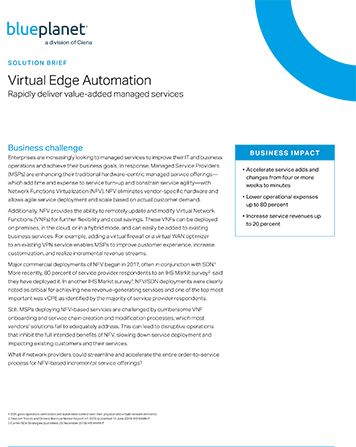 Get started now