Faster and smarter edge services
Communications Service Providers (CSPs) and cloud operators are working together to realize the full potential of a new technology—the edge cloud. Also referred to as Multi-Access Edge Computing (MEC), the edge cloud brings compute and storage resources closer to the end-user, wherever they are. The edge cloud aims to leverage high-speed access connectivity to realize innovative new use cases that deliver smarter and faster digital experiences.
But the biggest challenge to this edge transformation? Managing the operational complexity of edge services comprising compute, storage, and connectivity resources with agility, speed, and scale.
Blue Planet brings an intelligent automation solution to help CSPs and cloud operators overcome the operational challenges associated with managing the full-service lifecycle in their journey to the edge.
Closer, faster, smarter: Edge services delivered
Edge cloud requires new service delivery in minutes with real-time manageability. Blue Planet Edge Cloud Service Automation accelerates this journey for you—delivering visibility and control from end to end.
Service lifecycle automation for the edge
With automation enabled by Blue Planet, providers can accelerate the delivery of thousands of edge services based on real-time demands from customers. Driven by intelligent automation on top of multi-layer, multi-vendor, and multi-domain visibility, analytics, and orchestration, Blue Planet Edge Cloud Services Automation ensures that the edge is delivered, services are assured, and customers are satisfied.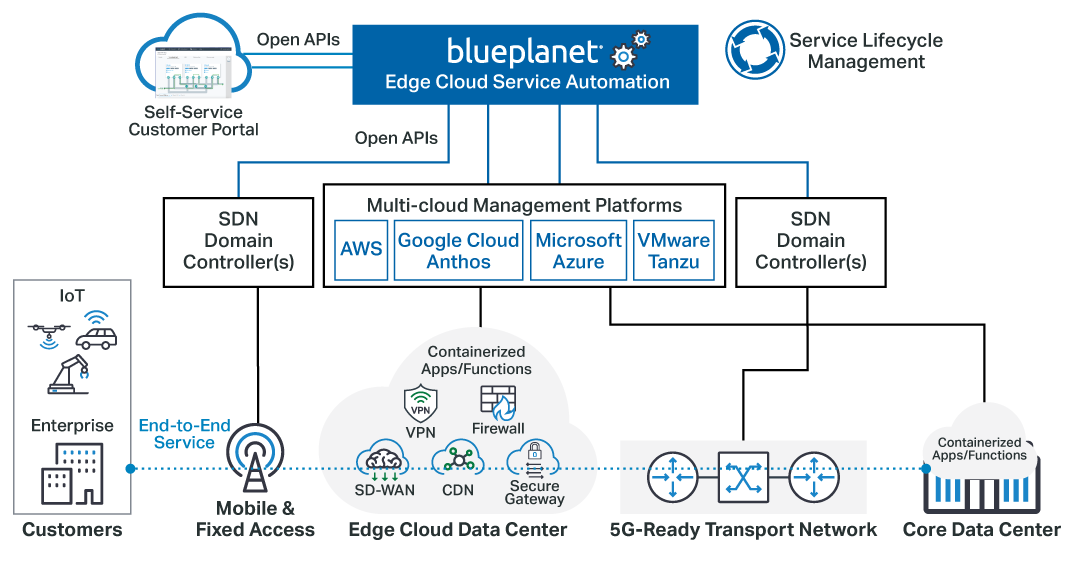 ON-DEMAND WEBINAR
The Edge: From Hype to Promise
In this webinar, you'll learn about the benefits of edge cloud for operators, which edge applications are expected to drive revenues, and how best-of-breed vendors can help operators push services to the edge.
Business benefits

Delivers agility, speed, and scale for edge cloud services lifecycle management with intelligent automation

Quickly meets customer demands, assures service performance, and ensures customer satisfaction

Manages and automates end-to-end services delivery, including compute, storage, and network resources, from a single standards-based solution

Delivers multi-vendor support with vendor-agnostic, open, and cloud-native solution

Integrates with multi-cloud platforms from AWS, Microsoft, Google, VMWare, and others to deliver numerous services from any cloud marketplace

Enables telecoms and partner developers to rapidly innovate and deliver custom services through a partner ecosystem approach
Get started now