What is Service Lifecycle Automation?
In a digital world dominated by the cloud, consumers and enterprises alike now expect communications services on demand using self-service capabilities, as well as exceptional service quality and reliability. This puts tremendous pressure on Communications Service Providers (CSPs) to rapidly activate services at scale and at lower cost than ever before.
During the past several years, CSPs have been transforming their businesses to meet these challenges and are well on their journey to becoming Digital Service Providers (DSPs). Responding to these challenges and becoming a DSP require a modern, streamlined operations environment that eliminates silos and intelligently and dynamically automates the entire service lifecycle—from planning and building through fulfillment and assurance. This Service Lifecycle Automation (SLA) approach is a critical component of their digital transformation that offers significant advantages over the status quo.
Why traditional operations must evolve
The manual and fragmented processes that CSPs currently use to create, deliver, and manage services cannot provide on-demand services. Such traditional operations are simply too slow, complex, and costly to be sustainable in a 5G world. Operators have made significant progress digitizing customer engagement systems and virtualizing network infrastructure, but most Operations Support Systems (OSS) remain highly customized and tightly coupled with network infrastructure domains (see Figure 1).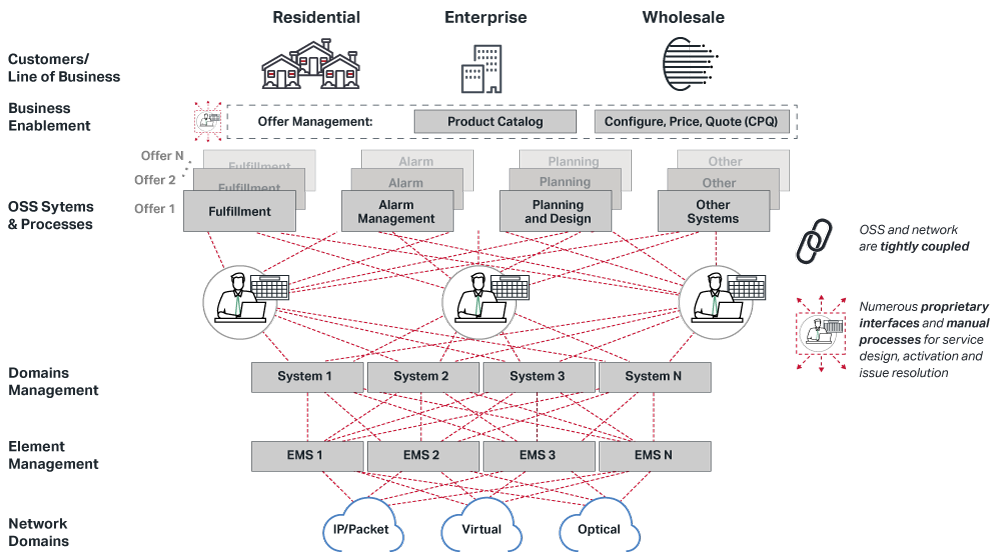 Technicians have been caught up manually accessing multiple OSS to gather and correlate the information they need to design, provision, and assure services. As a result, it can take up to 18 months to bring a new service to market, and then it requires additional months to activate a new service order. It's easy to see why manual and siloed approaches cannot support dynamic services.
By contrast, cloud platforms like Amazon Web Services, Google Cloud, and Microsoft Azure run automated operations that support continuous integration, testing and delivery of new capabilities, so they are able to turn up new services in hours. Businesses now expect the same kind of on-demand delivery of communications services from CSPs.
Moving toward zero-touch operations
Zero-touch operations are necessary for the delivery of on-demand services, including innovative new technologies like 5G network slicing. To enable these automated capabilities, CSPs are leveraging model-driven abstraction that decouples the OSS and network domains. Standards-based open APIs are then used to expose network capabilities and resources to the operations systems.
Figure 2 illustrates this new approach, which simplifies end-to-end management of services and enables service lifecycle automation. This results in elimination of inefficient manual processes, rapid service delivery, optimization of resources, and quick remediation of issues when they arise.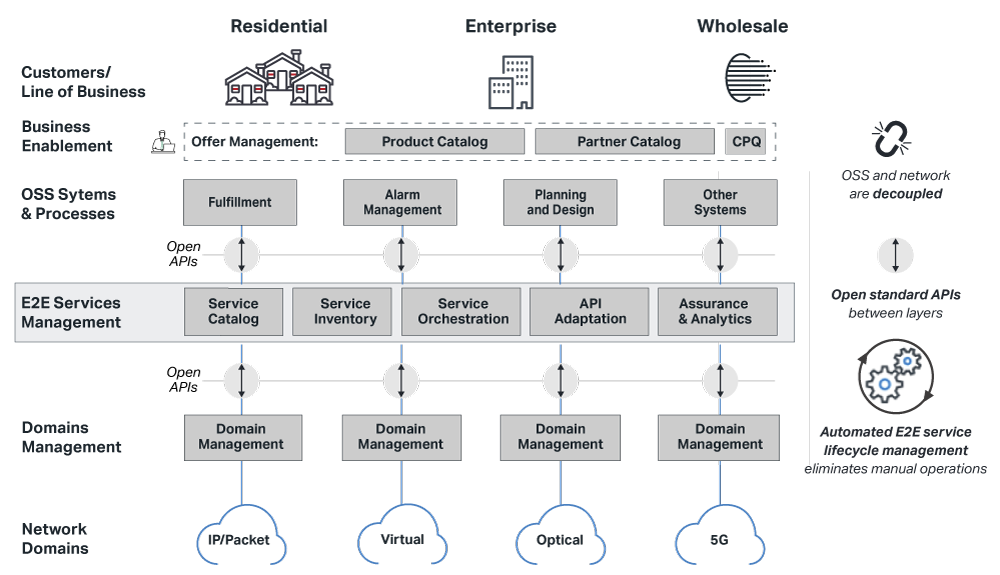 What's required for service lifecycle automation?
To fully digitize and automate the entire service lifecycle, CSPs need open and modular software solutions. They are looking for suppliers to provide cloud-native solutions that are easy to integrate and can interoperate seamlessly with other vendors' products using industry standard interfaces.
Open APIs and standard reference architectures from industry organizations such as ETSI, MEF, ONF, and the TM Forum are critical for the realization of intelligent automation because they allow CSPs to take a best-of-breed approach to selecting components. They want to be able to customize their own solutions and co-create services with partners, suppliers, and customers using agile DevOps practices and avoid vendor lock-in.
By deploying open and modular software and embracing automation, CSPs can optimize the key service lifecycle processes (see figure 3).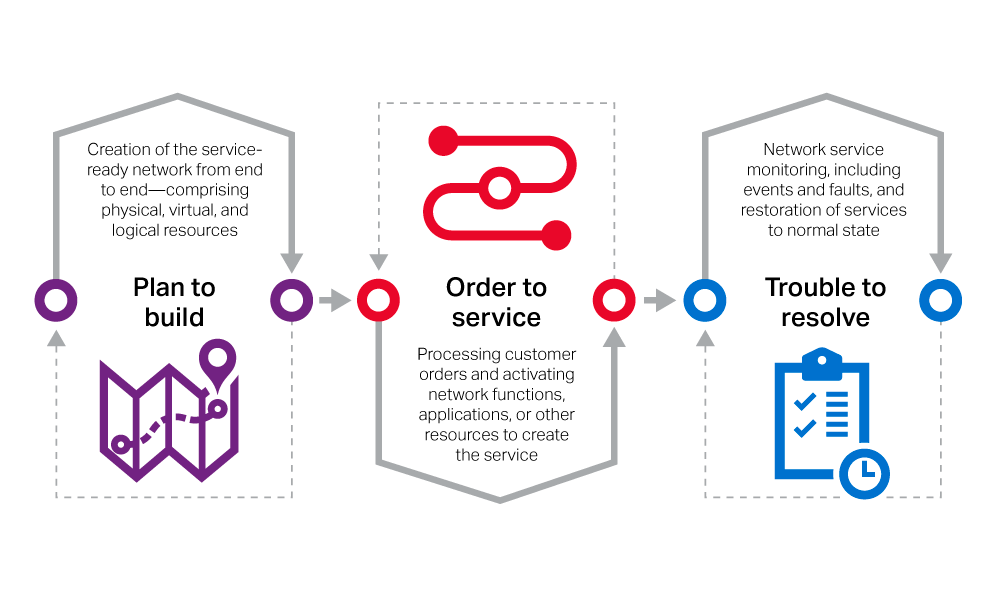 Blue Planet can help
The Blue Planetâ Intelligent Automation Portfolio helps CSPs transform with network and IT operations that can rapidly scale, self-configure, and self-optimize. Intelligent automation enables an evolutionary approach to modernizing network and IT operations, using open and modular software to fully digitize and automate the entire service lifecycle.
Blue Planet's unique approach leverages the wealth of network data collected from physical and virtual infrastructure to derive business insights. The analysis of data about network state and performance triggers policy-guided actions that feed back into the programmable network, optimizing network planning, service fulfillment, and assurance.
The portfolio enables inventory discovery and reconciliation that accurately identifies all networked resources, provides fully automated service order management and execution end-to-end across multivendor networks. It also improves reliability with increased visibility and closed-loop automation that continuously assesses real-time network conditions, traffic demands, and resource availability to dynamically remediate issues when they arise. Automation is achieved using analytics, policy, orchestration, and open APIs to link the discrete steps within each process workflow and between processes. The completion of each step dynamically triggers the execution of the next, and the process can continue indefinitely to ensure efficiency and optimization.
With Blue Planet, CSPs can reduce the time it takes to go from concept to cash from many months to just a few days or even hours. They can also lower their operating costs significantly, profitably deliver the on-demand digital experiences customers want at global scale, successfully manage the adoption of new technologies like 5G, and become full-fledge DSPs.
Read this white paper to learn more about Blue Planet Intelligent Automation.
Get started now