Enabling AIOps for network and service assurance
Managing a fast-evolving network with hundreds of customers and thousands of services can be demanding. Yet it also can provide you with a wealth of information when harnessed with the right product. It can assure your services and help grow your business.
Imagine having easy access to all the information you need to anticipate—and even act upon—potential issues before services are disrupted or a service-level agreement is breached. Or consider the advantages of being able to dynamically reconfigure and optimize your network so the quality of your video content never falters—no matter how many users are on the network.
Blue Planet® Unified Assurance and Analytics (UAA) can help you focus on these initiatives—and much more.
"Deploying UAA for fault management enables us to leverage automation and AI to rapidly analyse and resolve network issues, as well as to proactively identify opportunities to enhance the reliability of our network. This is a key enabler in providing the fastest detection and resolution of network issues for exceptional customer service."
Shane Sura, Vice President of Network Operations at Colt Technology Services
"Since deploying vSure (now part of Blue Planet UAA), it has allowed us to not only meet our mobile operator customers' SLA obligations, but also grow our mobile backhaul business and reduce operations costs."
Jesse Heck, Director of Operations at Dakota Communications Network
"We evaluated many of the OSS products on the market. vSure (now part of Blue Planet UAA) provided us with a comprehensive suite of tools to know which customers are affected in real-time due to infrastructure issues."
Richard Baughman, Vice President of IT, Shentel
Blue Planet Unified Assurance and Analytics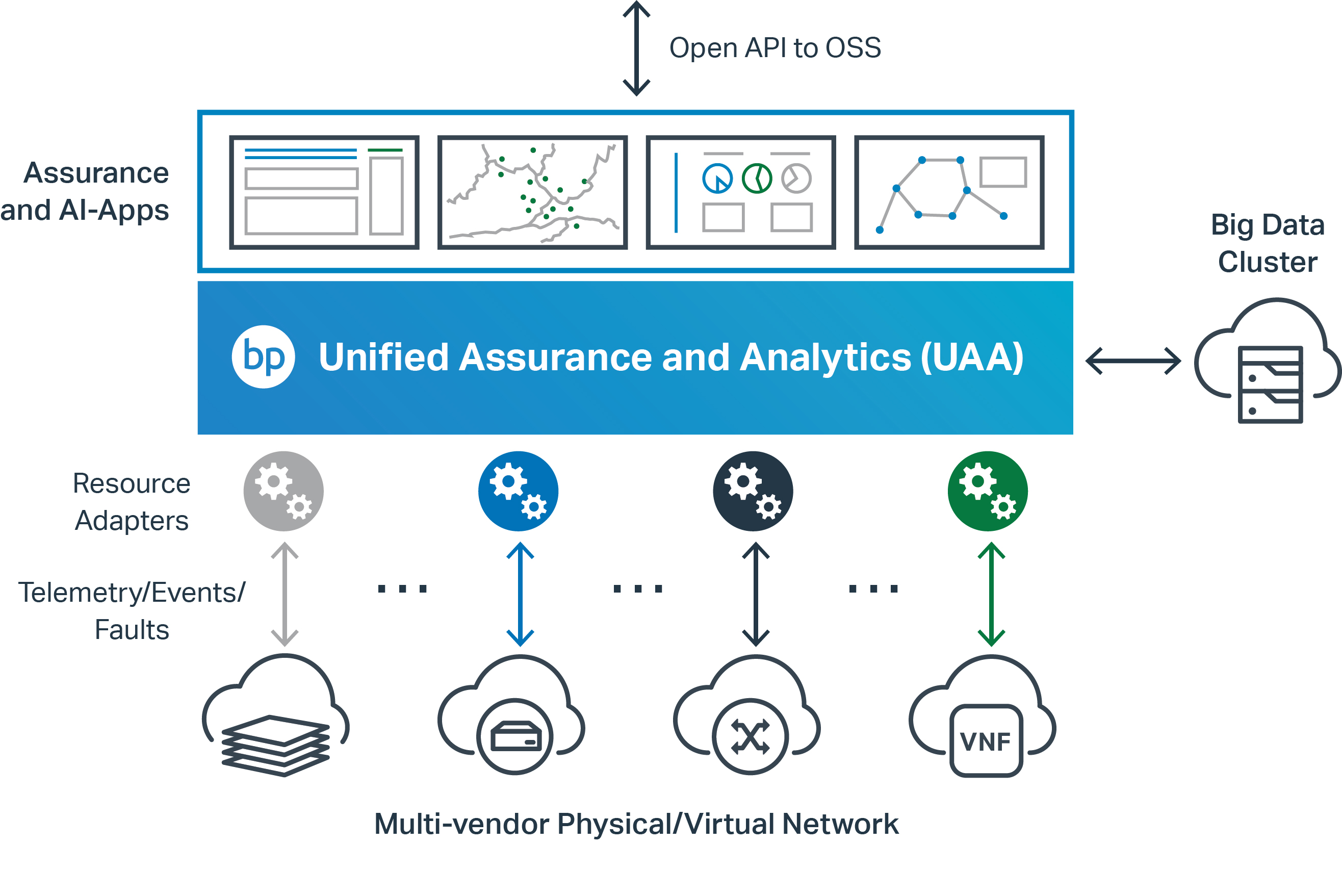 Blue Planet UAA is an open, vendor-agnostic software suite that leverages end-to-end monitoring and advanced analytics with the latest innovations in AI and Machine Learning (ML) to provide unprecedented insights that simplifies your network and service assurance and puts you on the path to AIOps. UAA is designed on a cloud-native architecture and provides flexible implementation options, allowing installation in an elastic SaaS model, or to be deployed in your cloud or on-premises.
As part of the Blue Planet Intelligent Automation portfolio, UAA complements and works with other Blue Planet products that include Inventory, Multi-Domain Service Orchestration, and Route Optimization and Analysis products to enable end-to-end service lifecycle automation across multi-layer, multi-vendor, multi-domain networks.
UAA provides a firm foundation in the journey towards the Adaptive Network™—an AIOps-driven network that can dynamically self-configure, self-optimize, and self-heal based on real-time demands and pressures. All this while keeping human control as a fundamental part of the product, allowing you to decide how much autonomous operations are required.
.
Blue Planet Unified Assurance and Analytics (UAA)
UAA utilizes the power of advanced analytics and AI to improve network insight and control for service providers and help them transform and simplify network operations.
Features and benefits

Comprehensive, end-to-end insights that correlates performance, faults, and events to applications, services, and customers

Enables AIOps with intelligent closed-loop automation and adaptive optimization through open integration with policy subsystems, network orchestrators, and domain managers

AI and ML driven intelligent analytics to suppress the noise, focus on critical issues, and lead the way to proactive and prescriptive assurance

Vendor agnostic product that collects and analyzes anything—applications, virtual and physical devices, legacy and next-gen technology, and more
Blue Planet UAA comprises the following software components:
UAA platform provides core functions for unified data collection, processing, and storage. It also supplies the ML library used by AI-powered assurance applications.
UAA Resource Adapters (RAs) collect real-time, multisource telemetry and assurance data and provide the interface between the network and UAA platform. Our RAs support over 1,300 products across more than 135 vendors today, and those numbers are growing.
Assurance and AI-powered analytics applications run on the UAA platform—you can combine them in any way to help address specific use cases. Applications include:
With Blue Planet UAA, you can invest in analytics and assurance projects, adopting a stepwise approach toward greater ROI. Our software development and services experts are always available to assist you in your journey to the Adaptive Network
Get started now